You can project the screen of your Windows laptop to another display screen so that you and your colleagues or guests can see your laptop on a different screen instead of being crowded around the laptop's screen. It is known as Casting to a device. It's a good idea for meetings, gatherings, or even movies. This post will guide you on projecting the Screen from and to a Windows Laptop.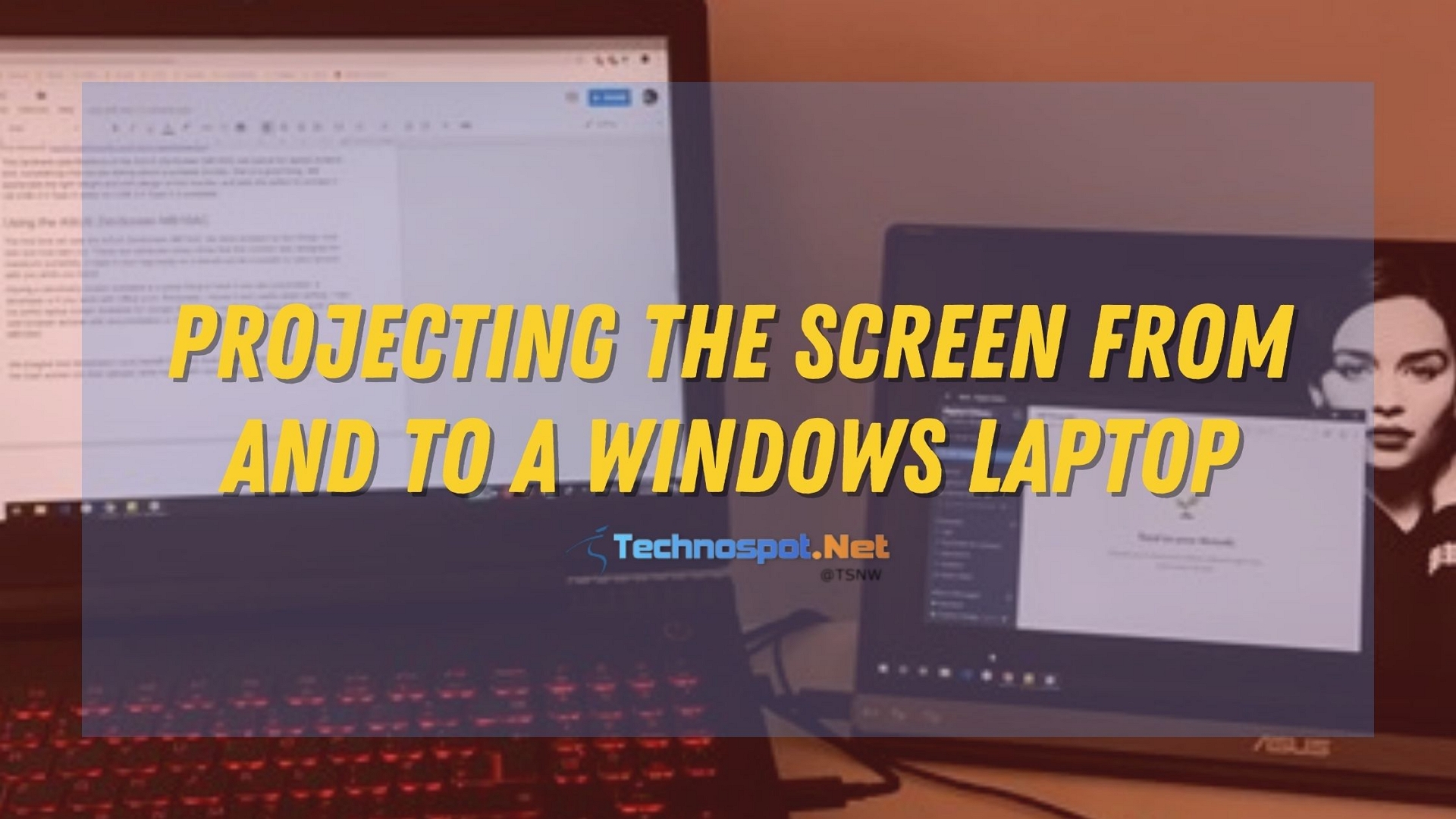 Complete Guide To Project The Screen From And To A Windows Laptop
Many laptops feature an External Display Output port. It can be utilized to share your display on an alternative screen. Also, you can cast screens from other devices on your laptop screen too. In this article, we are going to look at different ways you can utilize the screen projection feature on a Windows laptop
Below are some of the methods you can use to cast a screen from and to a Windows laptop.
Casting Prerequisite
Casting A Windows Desktop On A Smart TV
Mirroring Your Windows Laptop To Another Windows Laptop
Turning Your Windows Laptop Into A Wireless Display
Make sure you read this article till the end. Here's what's covered in this article:
1. Casting Prerequisite
Before casting can be done, a few prerequisites must be met for the casting process to be successful.
Your television should be an intelligent display screen and have Wi-Fi capability turned on to cast the laptop's screen to your TV display screen.
The Smart display should be on the same Wi-Fi network.
Your smart TV, as well as your personal computer, must have Bluetooth enabled.
Check that your smart TV and laptop both have support for wireless technology. You can test this through Connect to a wireless display option in the settings, which you can access by searching the same in the start menu.
Ensure that your laptop and the TV's drivers are updated to the latest versions to avoid any disturbances and bugs during the process.
If you cannot work through the Wireless & Bludtoioith, then check out this troubleshooting post.
2. Casting a Windows Desktop On a Smart TV
Once you have met the above-given requirements, you can begin casting.
Depending on the TV remote you own, you can select the Input or Home button.
Select Screen mirroring from the list of options. Different TV manufacturers can have different names for this option. You might need to select Apps first, depending on the model of your TV.
Go to Settings on your Windows laptop and choose Bluetooth And Devices from the left pane.
Now, you will see all the devices your laptop is connected to. Click on the Add a device button.
Select Wireless display or dock.
In the menu which appears, you can click on your smart TV's name to start casting.
Alternatively, you can use an HDMI cable to cast your screen on a TV. It will use your Laptop's external display port (you need to check if our laptop has one). You can also use devices like Chromecast, which supports Screen mirroring. You don't need a smart TV to use HDMI or Chromecast.
In case your screen flickers, follow this troubleshooting post.
3. Mirroring Your Windows Laptop Screen to Another Windows Device
You can cast your Laptop's Screen to another laptop, provided it is a Windows laptop. Here's how you can do it:
Go To Settings, open Bluetooth and devices settings, and click on the Add a device button.
Click on Connect a Wireless Display Or Dock Option.
The list of the available devices that can be connected appears; your other device is likely to be listed on it.
Toggle Allow input to On to allow the device receiving it to manage your laptop using its mouse and keyboard.
Select Change projection mode and click Extend from the menu, which appears if you would like to utilize your wireless Screen as a secondary desktop, not mirroring your current desktop.
Select Disconnect whenever you wish to cut off your connection.
4. Turning Your Windows Laptop into a Wireless Display
This Windows Wireless Display feature expands the versatile usage of your device and expands your visual workspace. It helps you connect your laptop to act as a wireless display and then receive videos from smartphones, tablets, or other Windows devices. It lets you transform your laptop into a second display for projects that require more screen space.
Suppose you are interested in monitor mirroring of your Screen on Windows. In that case, you will require both a source and destination device that can support wireless technology and be connected with the network, and you will need to follow a few specific steps, which are as follows:
Projecting To The Destination Device
To turn on the Project to this PC feature on the device that you would like to transform to a wireless screen, follow these steps:
Open Settings using Win + I and then go to System.
Click on Project on this PC. If a warning message appears that says, "This device doesn't support or connect wirelessly," this means that your laptop is not compatible with this feature.
Use your same Windows and Android devices to project to this PC when you allow them to from the drop-down menu and choose the option Available Everywhere On Secured Networks.
Use the Ask to project to this PC from the drop-down menu, then choose the option Every time a connection is required.
Select the Never option inside the drop-down menu of Require PIN for pairing.
Open the Connect application from the Start menu to allow devices to connect to Project to your Windows laptop.
Projecting From The Source Device
To project from the source device on Windows, you can follow the same steps discussed previously in this article to project from your Android smartphone.
Head over to Settings, then Connections and sharing options, select screencast, and now you will be able to see your laptop available on the list of options. Click on it, and you'll see a pop-up on your computer screen accept it to start projecting from the source device on your Windows laptop.
How to Customize The Wireless Display
If you are projecting from a Windows PC to another Windows PC, the Wireless Display will become available when the connection is set up in the Display settings. It means you can adjust its resolution, scale, and orientation and set it up as an extended or duplicate mode.
By following these steps, you can customize your wireless display:
Open Settings and click on System.
Then click on Display.
Select the wireless display from the Rearrange Your Display section, usually the last display on your list.
Select the scale you want under the section Scale & layout It is recommended that you use the same scale value for all displays.
Please specify the screen resolution you desire.
Please specify the display orientation you prefer, landscape or portrait.
Use the drop-down menu to select either the Extend (recommended) or the Duplicate option in the Multiple displays section.
Once you have completed the steps, you are ready to start working wirelessly on the display as if it were physically attached.
You will see a toolbar in the device from where you are projecting. To optimize your stream, click on Settings. You will see three options Watching videos, Gaming, and Working.
Is It Safe To Project My Windows Laptop On Other Laptop?
Yes, it is safe to do so. However, you should know that projecting your Screen on other laptops will make all that happens on your computer visible on the other Screen. So you have to make sure that the other device is safe and secure.
Can I See My Smartphone's Screen On My Windows Laptop?
Yes, you can see your Smartphone's Screen on your Windows laptop. To do so, you need to install the Wireless display feature on your Windows laptop. You can do so by going into the Settings and making sure that your Windows laptop and Smartphone are on the same Wi-Fi network. After ensuring this, head over to your Smartphone's screencasting settings to see your Smartphone's screen on your Windows laptop.
Windows Laptops come feature-loaded. The screen projection and turning your laptop into a wireless display feature is one such feature that can improve the way you use your laptops. We hope this article proved to be helpful for you. If it did, please make sure you share it with everyone who might find it helpful too.