Rd Tabs is a windows program which allows you to manage multiple remote connection from a single interface. Its similar to tabbed browser interface we have now in FF or IE or take any other. This software is very helpful to people like me who has to connect to a lot of computers like this every day.
Now with this I can manage and remember all the connection with all the settings right here instead of creating seperate RDP files for every computer.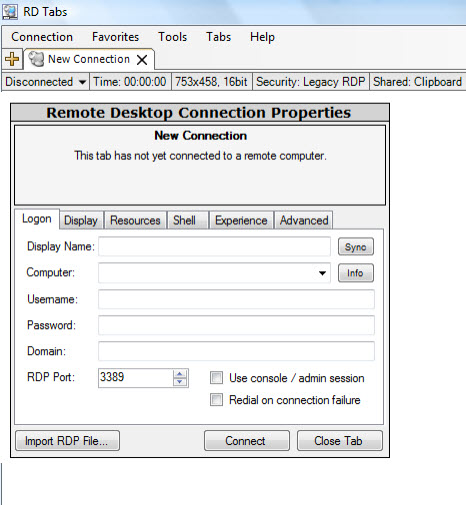 However thus utlity goes 10 steps from being just remote connection software. It has so many features in built like
It allows you to take screenshot of remote desktop or any region of the remote desktop. 
Then it allows you to see thumbnail view of all the connected session like the Opera's Dial feature and Chrome thumbains feature.
If you have really 100's of connection, it allows you to search using a search box.
Create a default connection properties which you can use it as template for any connection you make. This is useful so you need not to specify same settings every time
Morever the Server Security and Authentication tab allows you to select TLS settings or define a gateway if required.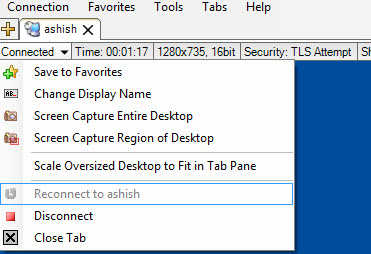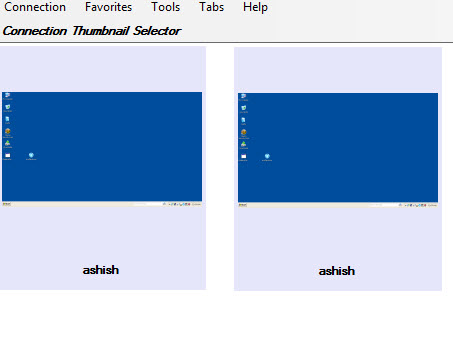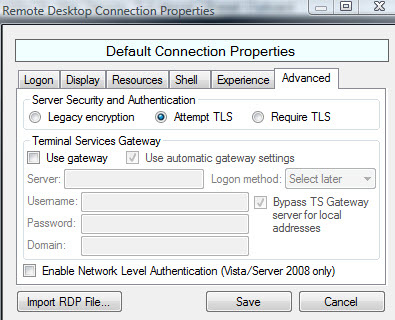 Here is a list of other features
Favorites with advanced editing
Command line scripting and encrypted passwords
Detached connection windows, remote terminal server information/management, RDP 6.0 support.
Baseline , If you have lot of remote connection to handle
get this tool
and start using it. Trust me it will solve hundreds of your daily problem in this area.
Related : Looking for multiprotocol tabbed interface for remote connection ? Try Terminals from codeplex