One thing that is coming good in Android  which will not only save lot of battery life but also control on your Data Usage. Starting with Ice Cream Sandwich version of Android you can now set mobile data usage limit on your phone.
Data Usage basically warns you of the carrier's data usage limit which many have on their phone. So with this option you can set the limit according to your plan and when your phone consumes or is pretty near the limit you get a warning about it.  The next thing it allows you to do is either kill data access to any of the apps you want or set data limit to individual apps. This way it makes sure that even if the apps starts running in background the data consumption is limited or zero.
One thing what you should know is Data Usage App can basically controls the data used in the background so if you are accessing an app it is not going to control it.
What you see in the Data Usage App :
Toggle Mobile Data
Checkbox to Set Mobile Data Limit, here you can either set only warning or hard limit the usage.
Graph which displays data consumption, you should be able to change data to compare or change the range.
Next will be list of apps for which you can change the data limit.
You can zoom in the graph to see  the data consumed by the app which is broken into Foreground and Background. Background Data for Individual apps can be controlled.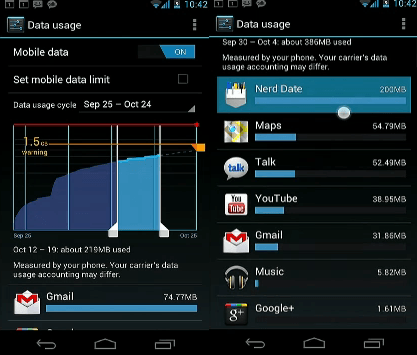 How to Set Data Limit ?
You need to go to Settings > Data Usage.
Here you will get to the graph for the data phone and apps have consumed till now.
Choose Set Mobile Data Limit to add your carriers data limit
Below that is a list of apps for which you can change the data limit using the slider.
Know more about Android ICS Features at KnowMyDroid