TweetMyPC is free software that allows you to control your Windows 10 PC from Twitter. It will enable you to shut down, lock, and run custom commands from Twitter on the computer. The commands are not case sensitive, so you are free to write the way you want.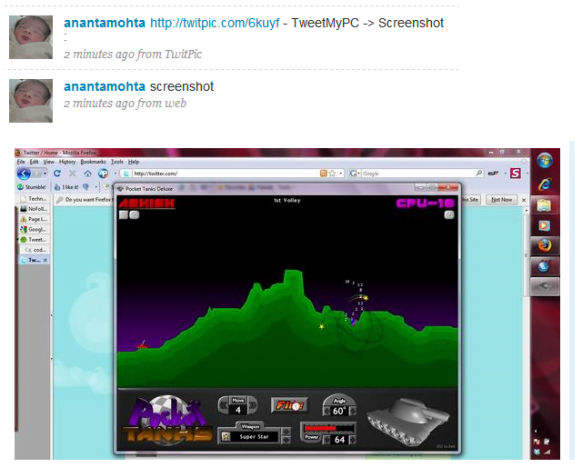 TweetMyPC: Control your Computer using Email and Twitter
Download the application from here and install it. Once installed, you need to connect your twitter account using this application. There is an option to use an email id as well. So if you want to run commands using twitter or email, you can do that too. Lastly, you can setup Save location for downloads. In this post, I have shown using twitter, but email also works.
TweetMYPC Commands
replies
physical memory
virtual memory
os
ip
standby
hibernate
screenshot
getprocesslist
kill <process id>
download <url>
getfile <filepath>
getfilelist <drive>
Custom Command
Most of them are the normal commands, but I found 1, 8, 11,12,13, and 14 pretty useful, and here are some more details.
How can you send commands from Twitter to Windows 10?
Here is a list of standard commands that you can use without a lot of configuration.
Replies: These are acknowledgments of the command status from the TMPC. It makes sure that what you tried happened.

Screenshot: This is useful if you would like to know if somebody is accessing your computer. It will send you a screenshot of how your desktop looks like at that moment. It is like taking a remote screenshot/screen capture of your computer.
Download Files on the computer:  This will be probably the most useful command of TMPC 2.0. This command allows you to download a file on your computer by a simple tweet, which looks like download bit.ly URL
This way, you can download any file while you are on the way home, or you are off for 2-3 days and still have it ready when you come back. It will use only bit.ly shortened url, so make sure you shorten the url before tweeting.
Searching for files getfile <filepath> and getfilelist <drive>: If nobody is there at your pc to help you out, this can be useful in case you want to search for a particular file. When you find it, email it to a predefined email id which you can configure.
It is useful when you are going to an important meeting and forget some files where were required.
Run Custom Commands or launch applications on Windows from twitter
This the second coolest feature of TMPC 2.0. Tweet My PC allows you to create custom commands. You can select any program which you want to run and give it a name.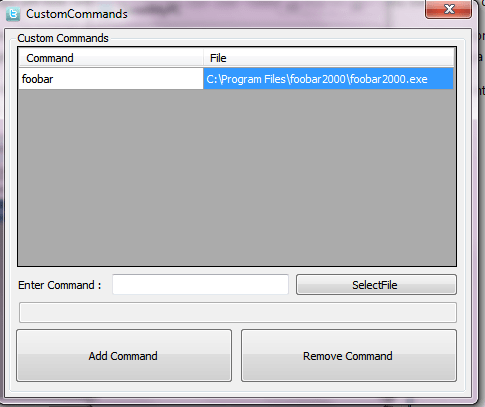 So, for example, when you reach home, you want to play music. Just link to a playlist and name it as PlaySongs. By the time you open the door, music will be on to set your mood. Awesome!!
It is a significant enhancement in how you can do some of the things on your PC remotely.
Few Suggestions using TweetMyPC
As a summary.
I feel odd tweeting lock or shutdown or even download publicly. I mean, those make sense to me but not to others. Why not have a separate account that can be used with twitter and I can keep on sending Direct Message to get my job done.
In Detail :
Many a time, I would like to lock or shut down my PC, but I would not want to tell this to the world, nor I would like to share what I am downloading. If it can support this feature over DM to myself or I can create a separate account to which I can send DM ( direct message ), and TMPC can read and do it. This way, I will have all my activities personal.
Why is only GMAIL being used? I would like to have any email providers configured. It is crucial if we need to target a large mass.
How about options to run the command with parameters. If I can select a program, I would also like to pass the parameter. If there are some options for that, I will set it right on TMPC.
A secure key that acts as a verifier for commands.
So what do you think? Would you like to control your Computer using Email and Twitter?