Want to know the tools to convert images to vectors? Well, you are at the right place. This article will cover the best tools to convert any image to vector format. Keep on reading!
A designer and branding professional must know how to convert images from one format to another. Before we get into this topic, it is essential to understand what a vector image is and why you need to use it.
What Is Vector Image and Why Do You Need It?
Vector images use mathematical formulas, points, angles, curves, and paths to define the object.
Vector images do not use pixels and thus retain scalability. It means no matter how much you zoom the picture; it doesn't fragment. Retaining file quality makes it particularly essential to the printing and branding industries. Due to their resolution-independent nature, these are used for banners, logos, etc.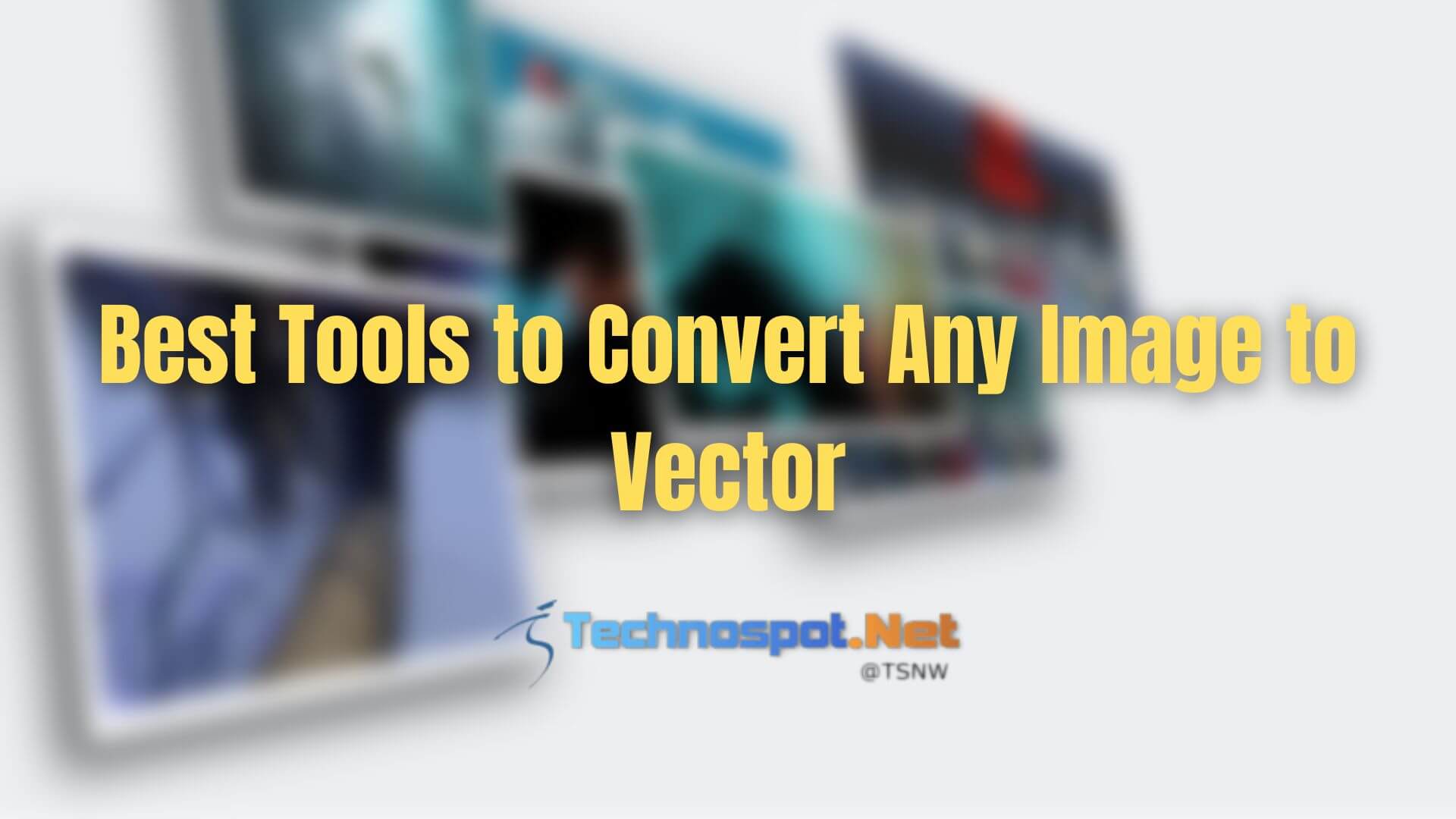 Best Tools to Convert Any Image to Vector
Are you unable to find the right app to convert images to vector files? Do not worry; the following are the best tools to convert images to vectors. Have a look!
Vectorization.org
Autotracer
Free Vector Converter
Vectorization.eu
Convertio
Online Convert
Image Vectorizer
We have listed these tools keeping usability, functionality, and feasibility in mind. Choose the one you find the best according to your work.
1] Vectorization.org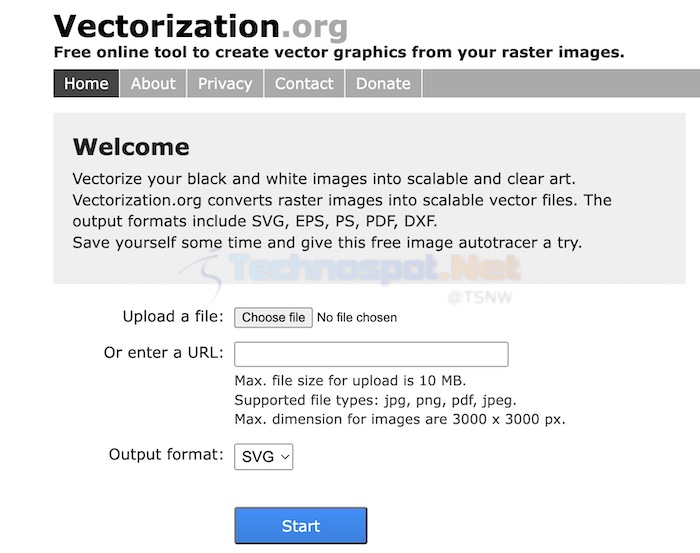 The first online tool in this list is Vectorization.org. It is an excellent website that allows users to convert raster images into vector files. The tool is simple and comes with a simple interface.
To use this online tool, you need to upload the file. For that, you can press the choose file option and select the image. You can also enter the URL of the file. After that, you must opt for the output format you want. Then, press the start button to initiate the conversion.
There are various vector formats available. These include SVG, PS, DXF, EPS, and PDF. However, it would be best to remember that the maximum file size you can upload is 10 MB. The raster image formats the tool support is JPEG, PNG, JPG, and PDF. Also, the dimensions of the image need to be within 3000*3000 pixels.
Another thing you need to consider is that the output image will be available in black and white color. Moreover, there are no options for editing the vector file.
2] Autotracer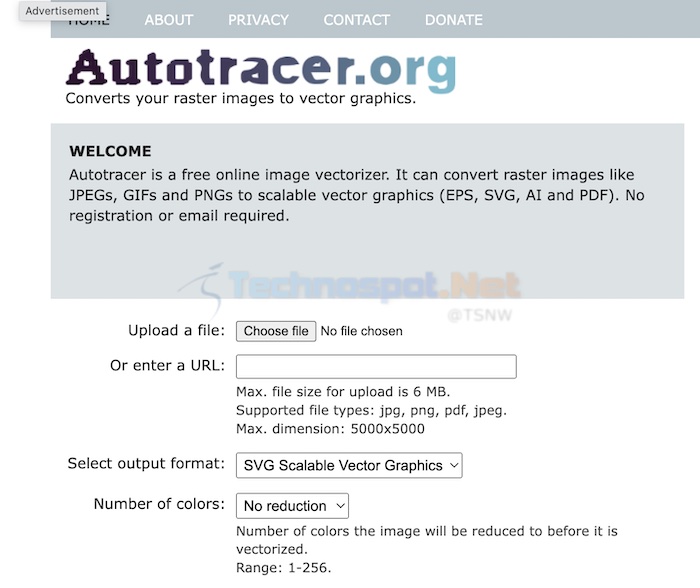 One of the best online tools to convert images to vector formats is Autotracer. Here, you can upload images in GIF, PNG, and JPG formats and convert them into AI, SVG, EPS, and PDF formats. Perhaps, the most exciting aspect of the tool is its simplicity. It is easy to use and doesn't require immense technical expertise.
The tool is available for free and doesn't even need any registration. Users do not need to install the app or file. They can enter the website and start using it. However, it is vital to understand the requirements before using it.
For instance, the tool supports images of up to 6 MB with dimensions of 5000*5000. Besides, you can use Autotracer to get color images. The availability of a wide range of colors is impressive.
Using Autotracer is relatively simple. All you have to do is upload the image in the given field. After that, you need to opt for the vector format you want. Then, you will choose the colors you want. Now, the file is converted and ready for download.
3] Free Vector Converter

Another excellent website that aids in converting raster pictures to vector formats is the Free vector converter. It is simple and easy to use. Moreover, the website is free and doesn't need users to install it. Users do not even have to go for registration to use it.
Free vector converter makes the process hassle-free. You can add the file you want to convert in the first box. Keep in mind that you can convert up to 50 files simultaneously. Afterward, you must select the desired destination format in the next window. Once the conversion is complete, you can download the file from the available link.
With this website, you can conduct two operations. Firstly, you can convert a raster image to a vector one. Secondly, you can convert a vector image to another vector format. The wide range of vector formats available is impressive.
However, there are some downsides you need to be aware of. For instance, you get the output vector image in black and white. You will not get colored pictures here.
4] Vectorization.eu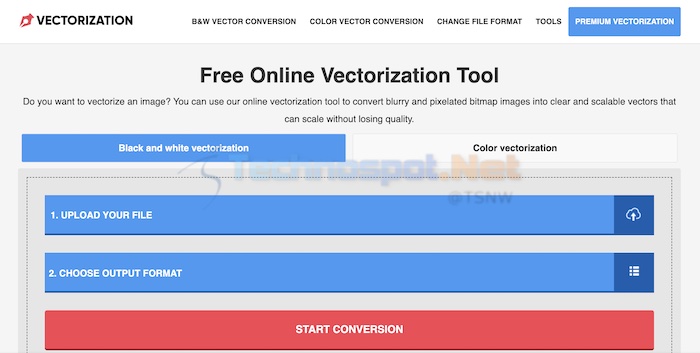 This tool can help you scale bitmap images into vector files while maintaining quality.
There are two options available – color vectorization and black-and-white vectorization. After that, the process is relatively simple. You can upload the file in the first option. In the second slab, users can opt for the output format they want. These include EPS, PS, PDF, and SVG.
Once you click the Start Conversion button, it will give you the vector format you want. After you see the green download button, press it. This tool can vectorize images, technical drawings, logos, and photos. The easy and fast conversion makes this tool appealing.
Apart from that, you can attain access to advanced vector tracing features. Users can modify parameters such as color precision, filter speckle, corner threshold, gradient step, splice threshold, segment length, curve fitting, etc. That way, you can detail the output image as much as you want.
5] Convertio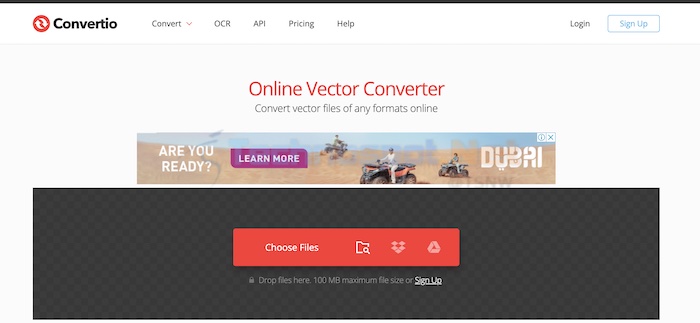 The process of image conversion to vector format is easy. Firstly, you need to add the file you want to convert. After that, one needs to choose the desired output format. When the conversion is done, you can then download it. Moreover, you can also save it directly to the cloud to maintain security and prevent data loss.
The website values privacy immensely and is thus layered with SSL encryption. That means you don't have to worry about malware or phishing attacks while doing your work. Apart from that, the tool is compatible with multiple devices. These include Linux, Mac, Windows, iOS, and Android.
You can add image files from URLs, Dropbox, Google Drive, and the local system. However, the maximum file size you can upload is 100 MB. You cannot edit the file using parameters, as these are not present.
6] Online Convert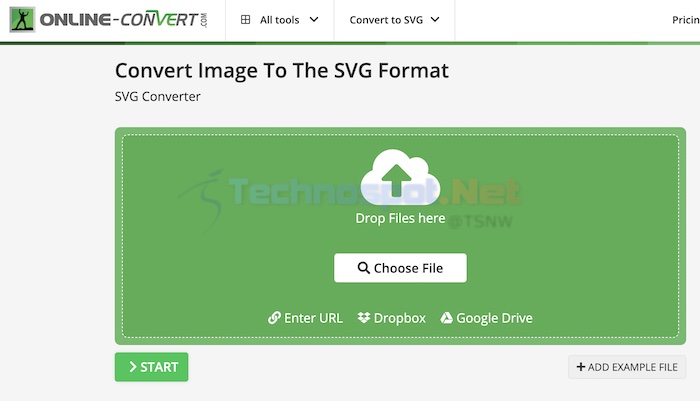 Do you want the best website to convert multiple images to vector files? In that case, the seamless support of multiple file options makes this tool great for designers and advertisers.
To use Online Convert, you need first to choose the file you want to convert. Here, three options are available: URL, Google Drive, and Dropbox. You can even choose files from the system. However, it is vital to note that the tool will convert it to SVG or Scalable Vector Graphics format only. Users do not have the option to choose the desired output format.
Apart from that, there are some optional settings too. For starters, you can change the image size in height and width. You can add color filters and apply options such as enhance, despeckle, equalize, deskew, sharpen, etc.
You can even remove the background if you want and add DPI. Another thing you need to note is that the output image will have a black-and-white coloration. If you want colored vector images, this tool is not for you!
7. Image Vectorizer

Image Vectorizer is the last tool on this list of image conversion to vector format. It can convert raster images to vector formats seamlessly. The output image is saved in the SVG format.
Image vectorize has a simple interface, making working with it easily and free from fuss. You can drag and drop the image or browse it from the system. You can also enter the file URL or upload it from OneDrive and Dropbox. After that, the tool converts the image.
One of the most advantageous aspects of the tool is that one can review and edit the final file. Apart from that, you can work from multiple devices with this website. It offers high-quality results without taking too much time. And the best part is that no installation or registration is necessary.
With the image vectorizer, you attain access to different processing options. For instance, you can play with color balance via the palette. Besides, you can set the number of colors necessary.
Conclusion
This concludes the list of the best tools to convert image to vector files. Vector images are primarily used by the branding, marketing, and advertising industries. Due to the ability of the vector files to retain the quality, these are highly preferred for a vast array of printing formats.
Don't wait anymore! Try out these exciting tools today!