Do you want to search or copy words from a PDF file and cannot do so? That is primarily because you are trying or copy or search from an image PDF. This post will share how you can convert images and PDF files into searchable text.
Why Can You Not Search in a PDF File?
Image PDFs are files that contain scanned or photographed images of the file. That means these texts cannot be changed, marked, or copied. On the other hand, searchable PDFs are the files where the text is retained. It is not in image form and can thus be modified or copied—several OCR or optical character recognition tools aid in converting images and PDF files to searchable texts.
How to Convert Images and PDF Files to Searchable Text
In this article, we have listed the top 5 tools one can use to convert PDF files into searchable ones. The compilation of the tools mentioned to convert images and PDF files to searchable text are the hours of countless research that we put into using each service listed below. These are:
AvePDF
Adobe OCR
PDF2GO
SodaPDF
OCR.Space
So, without further adieu, look at all the best tools to convert images and pdf files to searchable text.
1] AvePDF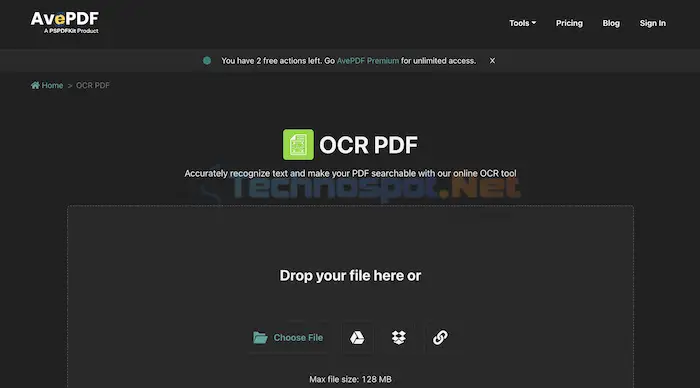 One of the best software to convert images and PDF files to searchable text is AvePDF. The tool is easy to use and involves simple steps to complete the process. Here, you can choose any of the four options to select your files for conversion. You can drop the files or choose from Google Drive, Dropbox, or URLs.
Besides, the platform takes the safety of the users seriously. It uses exceptional encryption methods for data protection. Moreover, all documents are automatically deleted from the servers after half an hour. You can even choose the language of the document during the conversion process.
Apart from this, the software offers other PDF tools. These include Hyper-Compress PDFs, eSign PDFs, Split PDFs, Password-Protect PDFs, Redact PDFs, etc.
Features
Uses high-grade encryption methods for safety
Convert into multiple formats
Available in multiple languages
Pros
User-friendly
High-speed processing
Cons
2] Adobe OCR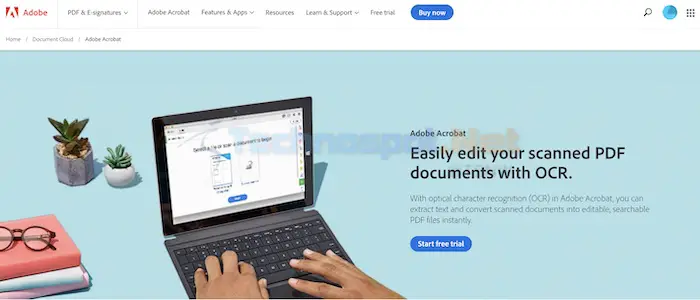 Another excellent software to use for the conversion of images and PDF files to searchable text is Adobe OCR. Using OCR technology, Adobe Acrobat can extract text from scanned documents and convert them to searchable PDF files. The software even offers a free trial.
One of the most exciting aspects of Adobe Acrobat is that it recognizes text formatting. Moreover, it won't disrupt the font and formatting of the scanned text. The automatic custom font generation will ensure the original printout matches the PDF.
Besides, the software allows users to work the new PDF with other applications. These include Docx, PPT, or TXT files. Moreover, you can restrict others from making changes to your PDFs with smart PDFs. The entire process is easy and doesn't take much time.
Features
Converts image file to text instantly
Recognizes text and formatting
Easy to work in other applications
Pros
Customizable interface
Easy to convert PDF files to searchable texts
Cons
3] PDF2GO

If you are looking for efficient OCR software, look no further! PDF2GO is a viral tool that converts images and PDF files to searchable texts. The process involves following some simple steps. You can drop or choose files from Dropbox, Google Drive, URL, or device.
Moreover, the software allows users to choose the language they want the file in. The tool supports numerous languages such as English, German, Spanish, French, Russian, etc. Apart from that, PDF2GO allows offers to edit and improve PDF files.
To edit the PDF file, you can edit, merge, split, sort, delete, and rotate PDF pages and the creator. Besides, you can improve PDF files with Compress PDF, protect PDF, etc. The 256-bit SSL offers high-grade security to the users.
Features
Availability of multiple file formats like TXT, PDF, GIF, etc.
Integration of various cloud services
Enables file processing from URLs
Pros
Drag and drop option available
Easy to use
Cons
Free versions are filled with ads
4] SodaPDF

Do you want to opt for the best OCR software? In that case, you can check out SodaPDF. This easy-to-use tool aids in the hassle-free conversion of images and PDF files to searchable texts. You can choose files from different sources like devices, Google Drive and Dropbox.
This OCR tool can be used online as well as offline. You need to download Soda PDF Desktop on your PC for offline usage. After that, converting the files and getting your work done is easy. The software also offers user-friendly PDF editing tools that can be accessed from different browsers. You can add, remove, and update text from the file.
With this tool, you can get editable PDF files with easy steps. Moreover, you don't have to worry about security as the tools protect sensitive documents.
Features
Available online and offline
Fast file loading
User-friendly interface
Pros
Allows merging of different types of files
Cheap yet reliable
Cons
The mobile version doesn't have all the tools (compared to the desktop version)
5] OCR.Space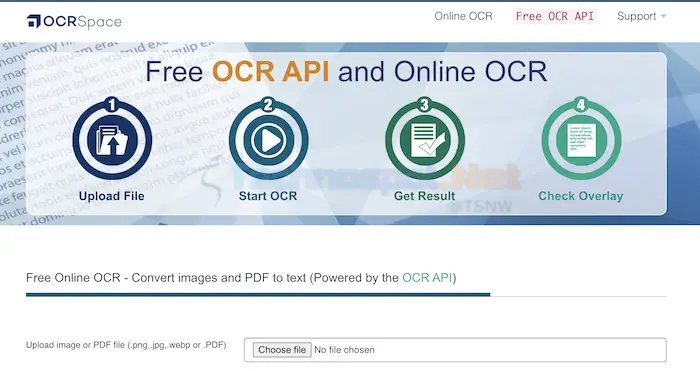 The last software on this list is the OCR.Space. This exceptional online OCR tool is free and can convert images and PDFs to searchable texts. You can upload the scanned text or choose the file from the device. There is also an option to paste the URL of the source file.
The availability of multiple OCR Engines differentiates the software from the rest. Different OCR Engines support various languages. For instance, OCR Engine 1 and 3 support the Arabic language. Likewise, there are 30+ languages available.
The PRO version offers features such as converting larger PDF files without size and page limits, custom OCR forms, etc. You can start with the free version and then move towards the paid one (if you want)
Features
Exceptional recognition capacity
Multi-language compatibility
Batch processing
Pros
Easy to use
Select the best OCR engine with no fuss
Cons
The pro version offers additional features
Conclusion
OCR tools aid in converting images into a text format that machines can read. You can now copy or modify the PDF files for various uses. It makes working easy and faster. To help you out, we have listed the top five tools that can help to convert images and PDF files to searchable texts.
However, the list doesn't end here. There are several other tools available in the market. Take a look at the features and see which one fits your needs the best!