An Optical Character Reader or OCR is the electronic conversion of a picture to text. You can find many OCR apps that help you to convert text from images into searchable files. These tools accept several image types, and later on, they can convert them into different file formats like word, excel, or plain text. Here is the list of best OCR apps to convert scanned images to searchable text format.
What Are OCR Apps & Software?
OCR app or Optical Character Recognition software are the tools that help in the conversion of images to printed text. The OCR technology can analyze the document, and then the text scanner app compares it with all the available fonts of the database. Then it will match any features of that font typical to its characters.
A few OCR software process it using a spell checker. This way, unrecognizable words could be guessed by the picture to text converter app.
What Is The Purpose Of Ocr Apps?
The primary use of the OCR tool depends on the process of converting paper documents into editable softcopy. Earlier, we used to retype the paper documents, which was a time taking task. These apps are also helpful in data entry, digitizing historical documents, vehicle plate identification, and helping visually impaired persons read.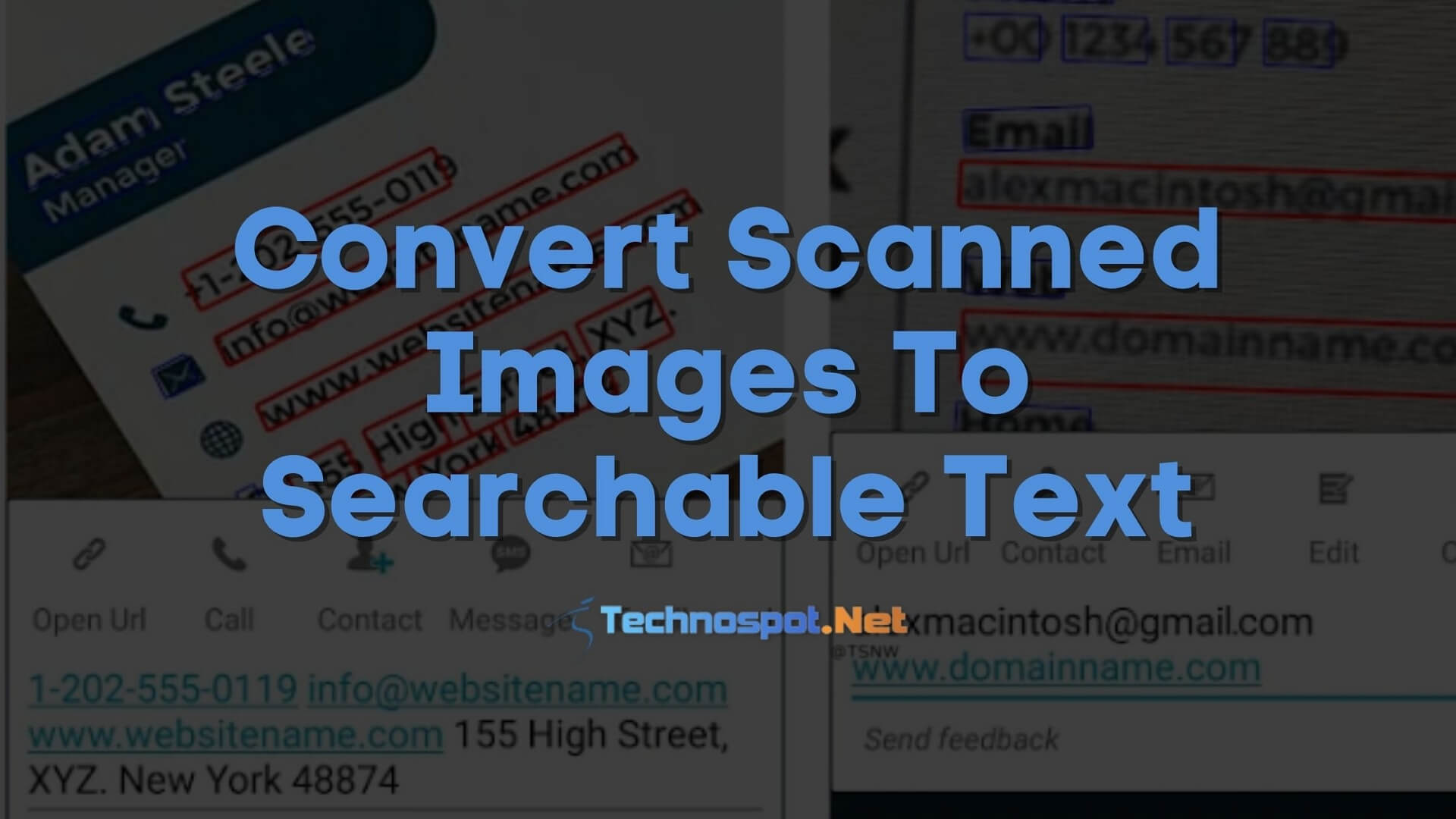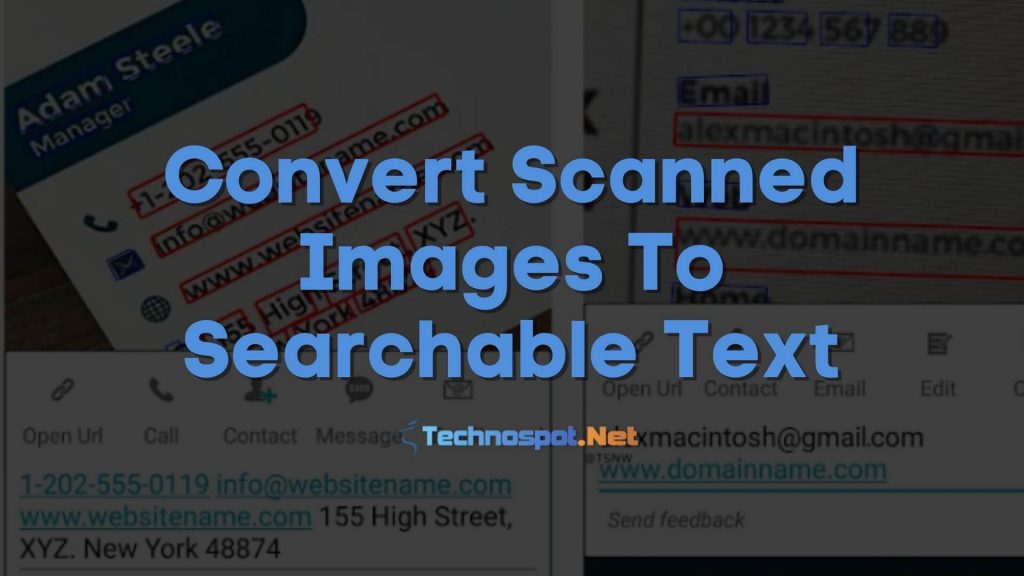 Best OCR Apps to Convert Scanned Images to Searchable Text
OCR tools can be used as productivity shortcuts for students, research workers, and office use. Following are a few OCR apps for Android and iOS.
Office Lens
Text Fairy
CamScanner
Google Keep
PDF Scanner
Adobe Scan
Smart Lens
Evernote Scannable
None of them are the best, but they all have their feature set. It would help if you gave them a try and then chose which works best for you.
1] Office Lens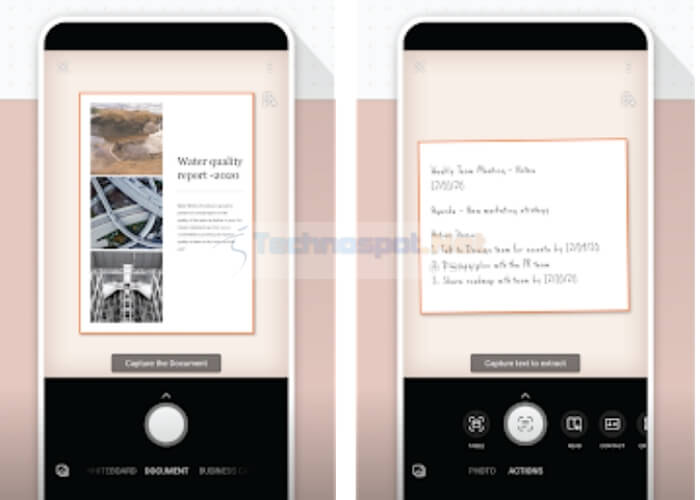 Microsoft Developed app Office Lens is quite an advanced app. It comes integrated with other Office suite apps. Office Lens app has a powerful OCR scanner to convert images to text. It works with Docs, Excel, OneNote, PFD, and PowerPoint.
App provides different adjustments for scanning print paper, whiteboards, photos, and business cards. It uses a technology that controls the glare and adjusts the brightness for better and accurate results.
With Office Lens, you can scan and save your data on OneDrive or iCloud. You can also edit converted texts in Word or OneNote. Hence you can call it the official OCR software for Windows 10. This app is an essential tool for people who use Office 365 because it is user-friendly and works smoothly. But without Office 365, this app doesn't work to its full potential.
Available on: Android, iOS
2] Text Fairy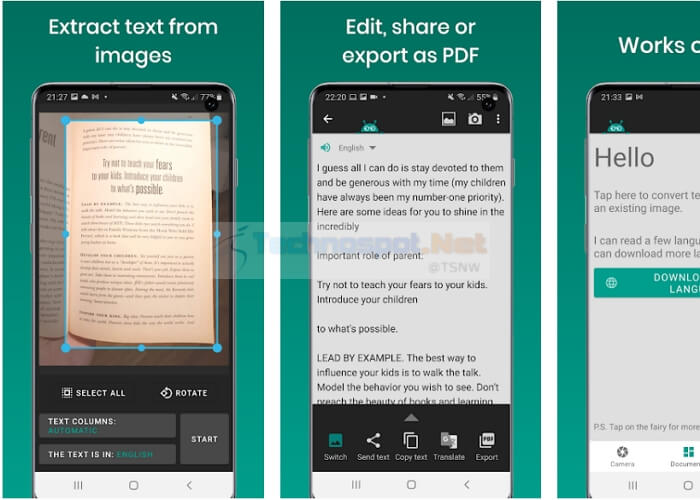 Text Fairy OCR Android app does exactly what it is built for. This app comes without any ads. The distinctive feature of the app is its correct image perspective.
If you are scanning the pages of a book bent at the center, this app will auto-correct its viewing angle, scan the image, and then correct it. Thus enhancing the accuracy of scanning. It also gives you an editing option for the text. If still there is a minor discrepancy left, you can export it to PDF.
Text, Fairy OCR scanner toll, works only on printed texts; it doesn't support handwriting. This app identifies around 50 languages. This app is an easy-to-use app with an interactive user interface and a minimalist design.
But Text Fairy OCR scanner app doesn't provide cloud or any other third-party app support and handwriting.
Available on: Android
3] CamScanner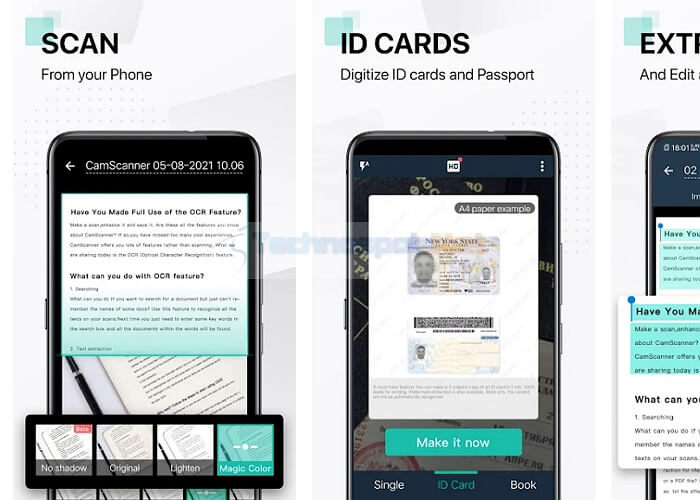 It's an all-rounder OCR app used for multiple tasks, e.g., document scanning and converting pictures into PDF. App's advanced OCR feature is nominally priced. The CamScanner app is a bit inconvenient when compared to other similar apps.
It is less accurate and is prone to make mistakes than the other OCR scanner tools. Text scanned using CamScanner cannot be edited in a .txt format file. To use this feature, you have to purchase the premium version of the app. The Premium version is four times more expensive than the pro version.
CamScanner provides a cloud storage account used to store documents and pictures. It offers good support, and the user interface of the app is convenient to navigate.
But its OCR system is somewhat less precise than compared to the other apps. Also, it is very limiting. To utilize the app's full potential, you need to pay while the same features are accessible in the other apps.
Available for: iOS and Android
4] Google Keep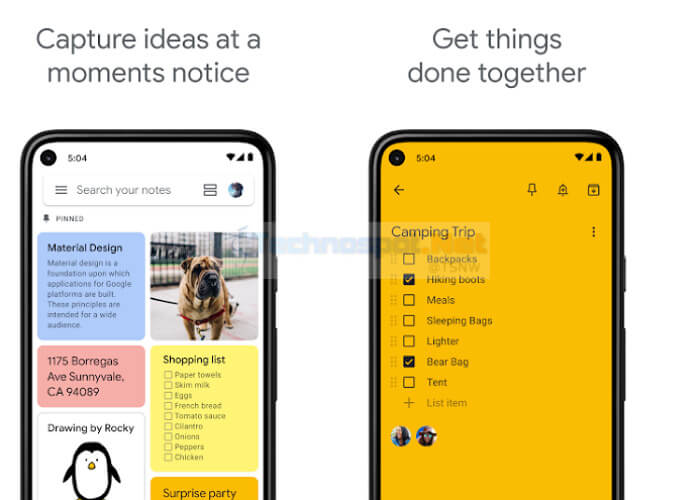 Google Keep OCR tool Android is best used for its OCR functionality and storing notes. It is a Google product that integrates with Docs, Calendar, and other services provided by Google. It is free and flashes no ads.
Initially, Google introduced it as a minimalist note-taking app. You can scan pictures with texts and then "grab the text" using three dots on the right-hand panel of the screen. Once the text is captured, you can add texts to the note, searching and editing. Later on, text can be exported to Google Docs.
It is a free and easily accessible tool, pretty accurate with a minimal margin of errors.
Google Keep isn't exclusively an OCR app, and you have to copy-paste items manually to a new document. To process the images requires an active internet connection.
Available for: iOS and Android
5] PDF Scanner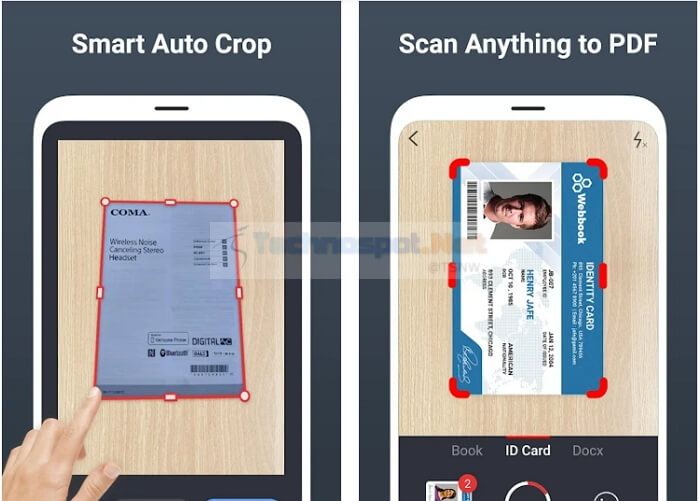 Basic PDF Scanner app is a standard doc scanner free app. For additional features, you need to make in-app purchases. You can scan images for text and convert them into PDF files quickly, and you can edit the texts before converting or saving them.
The app supports around 100 languages, and it doesn't require an active internet connection. PDF Scanner app has a brilliant interface. It can be used without an active internet connection. But this app is prone to some errors, and ads in the free version ruin the experience.
Available on: iOS and Android
6] Adobe Scan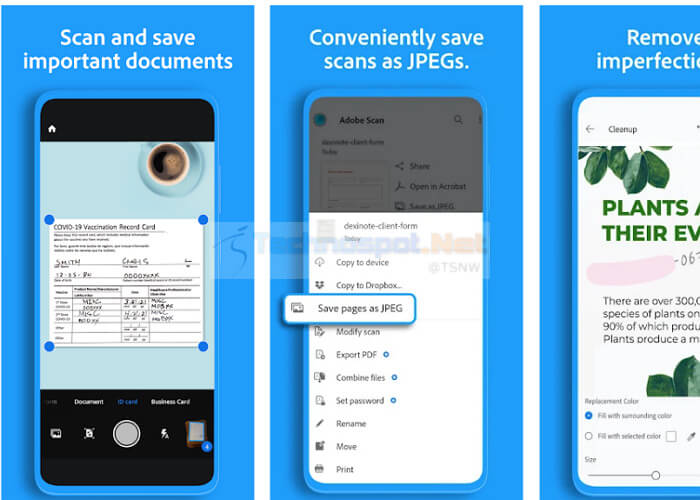 This tool is probably the most popular one when it comes to scanning and managing documents. You have to point your camera towards the text, and it will automatically scan and detect it.
It provides a built-in editor to highlight, interpret, comment, and edit texts. It has a minimal design and comes with 5 GB of online storage. Adobe Scan is free and works without margin or errors.
But it is not compatible with third-party cloud storage devices.
Available for: iOS and Android
7] Smart Lens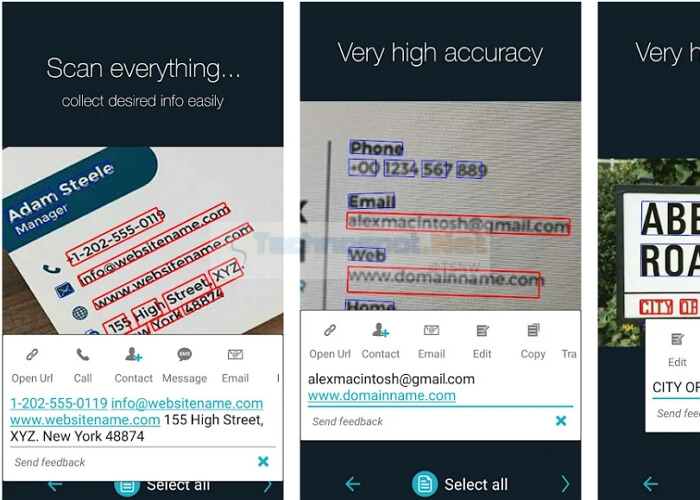 Smart Lens app allows its users to scan documents and convert the pictures into text. It also helps to translate that texts into other languages. You can use it to scan and sort business cards to detect name, number, address, and email id.
You can convert and scan any image or document of a foreign language as it comes with the language translator. It includes a QR code reader also, which helps to avail offers and payments. The paid pro version removes ads and allows you to use the app for unlimited scans. On the flip side, it doesn't support handwriting notes.
Available for: iOS and Android
8] Evernote Scannable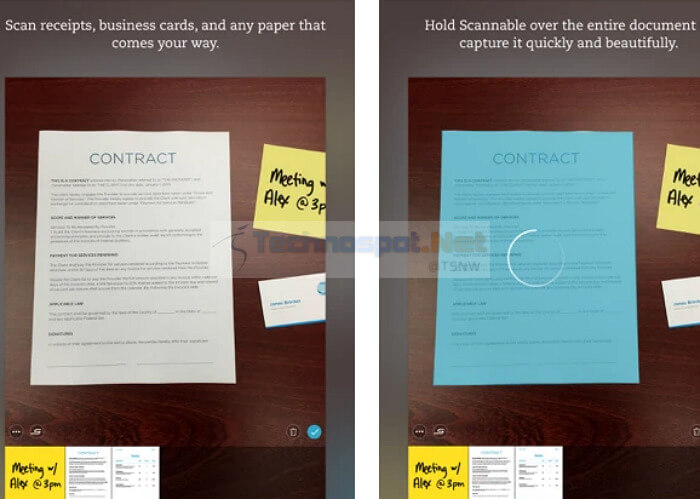 Evernote Scannable is an easy-to-use and intelligent OCR tool used to convert images to text. Evernote Scannable scans and identifies multiple documents and can be used for cropping, rotating, and improving the brightness of the scanned documents.
You can choose the format for storing scanned images. It can also identify visiting cards while scanning, and you can add the card's details to your contact list.
You can also add notes and drawings to your scanned documents. While in the Android version, some useful features like sharing docs on texts and emails are not available. It is a user-friendly app for iPhone, but its android version lacks many useful features.
Available for: iOS and Android
What Is An OCR?
OCR is an abbreviation that stands for "Optical character recognition" or "Optical character reader". It is the technique of electronic conversion of pictures to printed text.
How To Find The Best Image To Text App?
Text scanner apps mentioned above in the article helps in image-to-text conversion. Their accuracy differs in terms of the text they generate. So it is crucial to select an OCR app that will suit your requirements for optimal use of its features, tools, and other added functions such as cloud space that comes with it.
You often need to convert printed or handwritten documents into digital form while running a business or doing online work. You can do this quickly by using these OCR tools.
You can extract text and convert scanned documents into editable PDF files. Can use editing features like text recognition, add comments, page reorders, etc. You can compress PDF Files without compromising their quality and convert these PDFs into multiple formats.
Try these OCR tools and see how they work for you.