Do you find it challenging to find the right emojis quickly while having fun conversations with your friends? If so, many online tools can instantly help you get the right emojis for your Text. Here are the top online tools to convert Text to emojis that will help you communicate your messages with emojis instantly.
Best Online Tools to Convert Text to Emoji
Multiple tools are available online to get the correct emoji Letters for your Text. So, after a careful review, we have listed the best online tools to convert Text into emoji Letters accurately and quickly that are as follows:
Editpad.org
Emoji Translate
Emojitizer
What makes them unique? Let's check it out!
1] Editpad.org
Editpad's emoji translator fills your Text with relevant emojis instantly.  You must type the sentence, and it generates the results with a single click. In some cases, it creates multiple words for relevant keywords. So, you get to choose your preferred one there.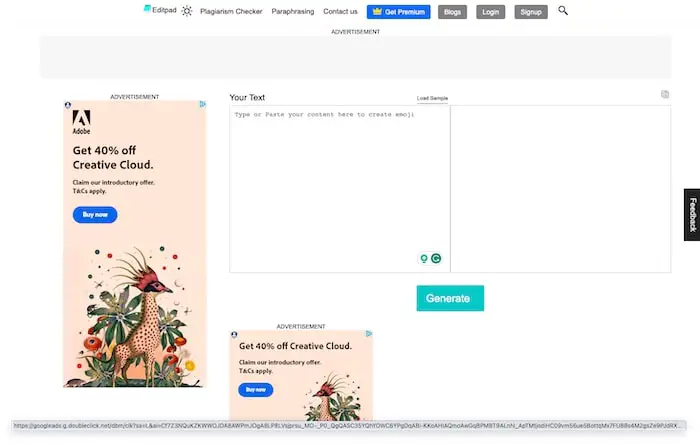 Features
Use the Sample to Check: If unsure how this emoji translator will work, select the sample option and get a sample answer. There is no word limit in that case.
Generates Multiple Emojis: Several keywords, like' Writing, ' have more than one emoji to represent them. In that case, this tool creates multiple emojis.
Copy the Data: You can easily select and copy the emoji-filled Text generated in the tool with a single click and share it.
No Installation: You don't need to install the tool on your device to use it. Instead, you can easily access it online and use it.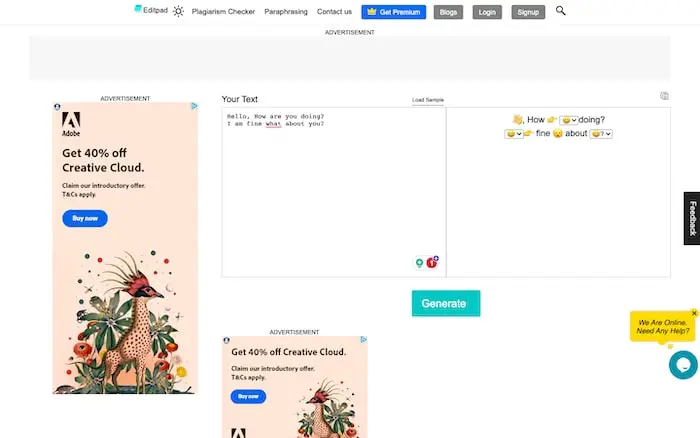 Pros
Cons
Bland interface with no animations
You can check it out Here.
2] Emoji Translate
Emoji translate is the easiest to use Text to emoji converter. You get results in two quick steps. It helps you convert Text from over 100 languages that you can check on the website to get their relevant emojis. Plus, it is timely updated to add newly developed emojis into the search results.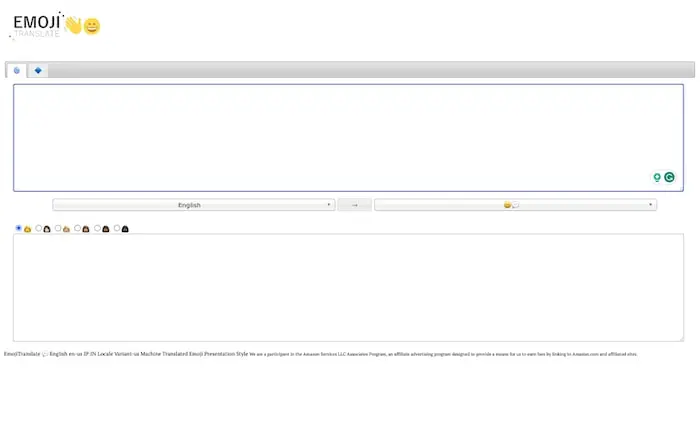 Features
Simple Interface: If you don't have experience using online tools, you don't have to worry. Emoji Translate has a simple interface that is suitable for use by an amateur.
No Sign is Required: You don't need to give your email to create an account and sign in. You can directly open the website and use it.
Supports Multiple Languages: It's unnecessary to know English to use this tool. You can type Text in hundred levels to get results.
Pros
Free to use
Beginner-friendly
Cons
You can check it out Here.
3] Emojitizer
Emojitizer is a popular Text to emojis converter that lets you get emojis in three modes. They provide a strict Match, Length ratio, and loose match. It gives you real-time results. In addition, you get three operations that make you a favorite among teens.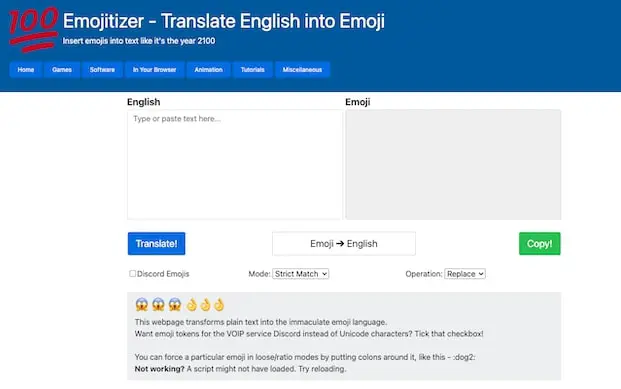 Features
No Sign-in Required: It requires no sign-in details to use the tool. You can directly use it without giving your email ID.
Instant Results: You can get real-time results as you type your Text without making you wait for a second.
Simple Copy: A copy option is below the results section to help you share it on other apps. You don't need to spend time selecting the outcome first.
Multiple Operation Choices: There are three operation choices: replace, append, and prepend. So, you get your emojis as a replacement for the keywords or as an addition to the typed keyword.
Pros
Free to use
Suitable for beginners
Cons
You can check it out Here.
Conclusion
These text-to-emoji converter tools are an easy and instant solution to help to add fun or simplify your text. They don't have a complex usage process, nor do you have too many payments for using them. Overall, they are your go-to tools to help you ace the trend of emojis in your conversations in the most fantastic way.