Video conversion from one file format to other, or simply changing the resolution are types of things we often need to do. There are several reasons to do such things, like in order to get your favorite video on your phone, or portable video player, etc.
Here is a desktop application named as Eusing Free Video Converter, this is one of the most convenient and easy to use video converter I have ever seen. The interface might seem to be little tricky for the first time you try out the conversion using the Eusing Free Video Converter, but later it is damn simple.
The interface is as shown below.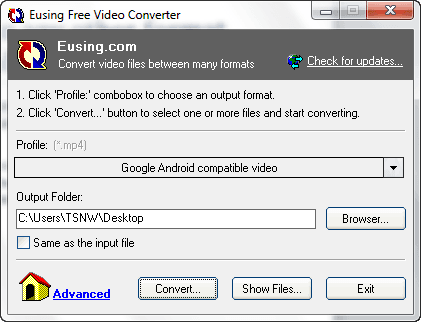 Launch the program, click on the 'Profile' field, to get the list which has all the available output file formats, decide on the location of output file, and click on 'Convert' button, it will now allow you to select the files (yes, batch conversion is possible), now sit back and relax, till the applications informs you about the conversions done successfully.
Here is the feature list for the program (as seen on the product page) –
Converts multiple different files all to the same format at once.
Convert videos between various formats.
Convert video to audio.
Convert between audio formats.
No external codecs needed.
Display of estimated encode time, remaining time and encode speed.
Specify additional command line parameters for advanced users.
Easy to use.
So, if you often need to convert videos in some other format, go ahead and give it a try, Eusing Free Video Converter definitely is a great tool for video conversions.