As we all know, an internet connection is required to access web pages. But what if you want to view or edit its contents offline? Well, plenty of online tools convert web pages to PDFs. We have handpicked some of the best online webpage for PDF converters to help you out. So without further delay, let's check them out one by one.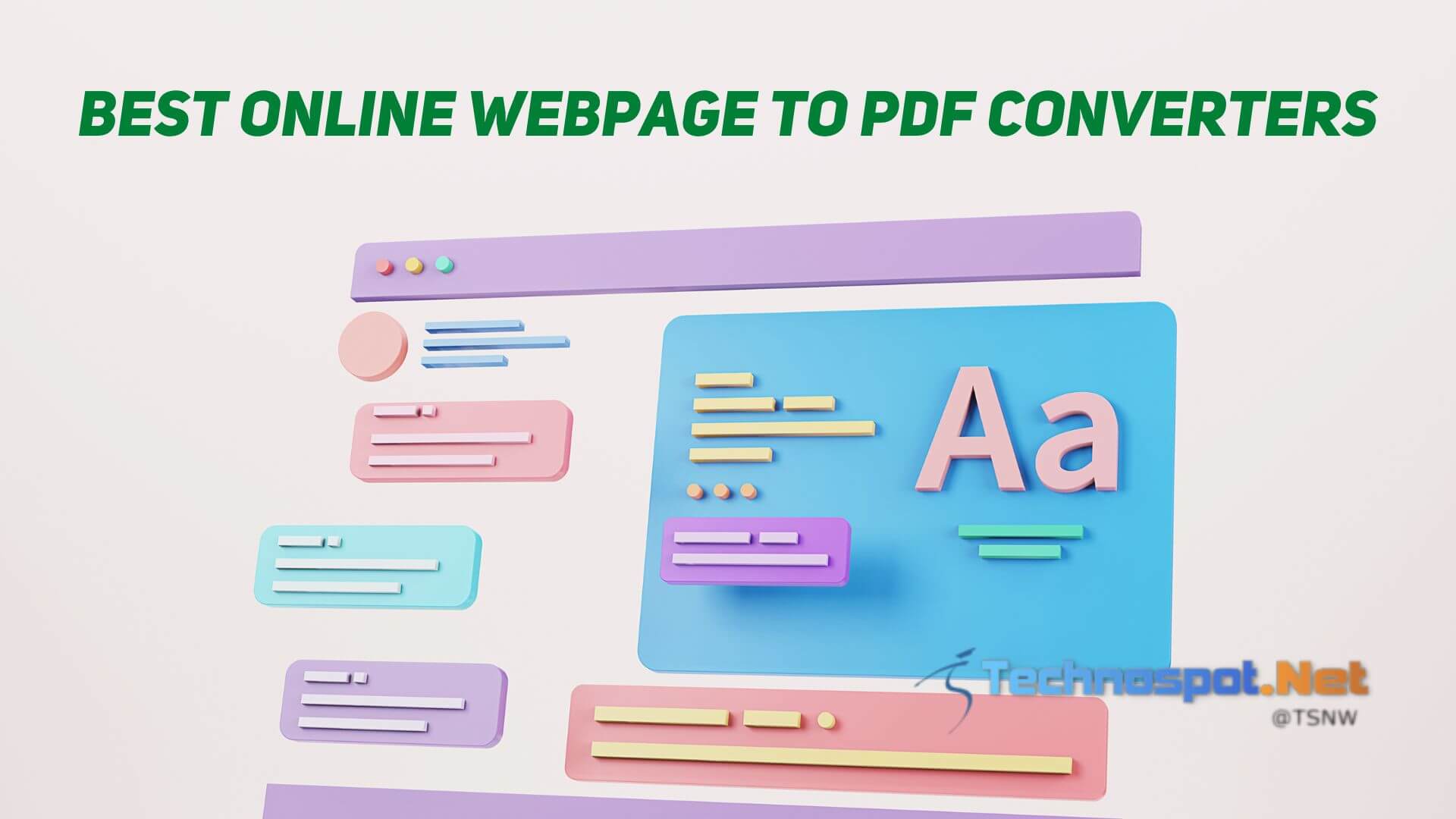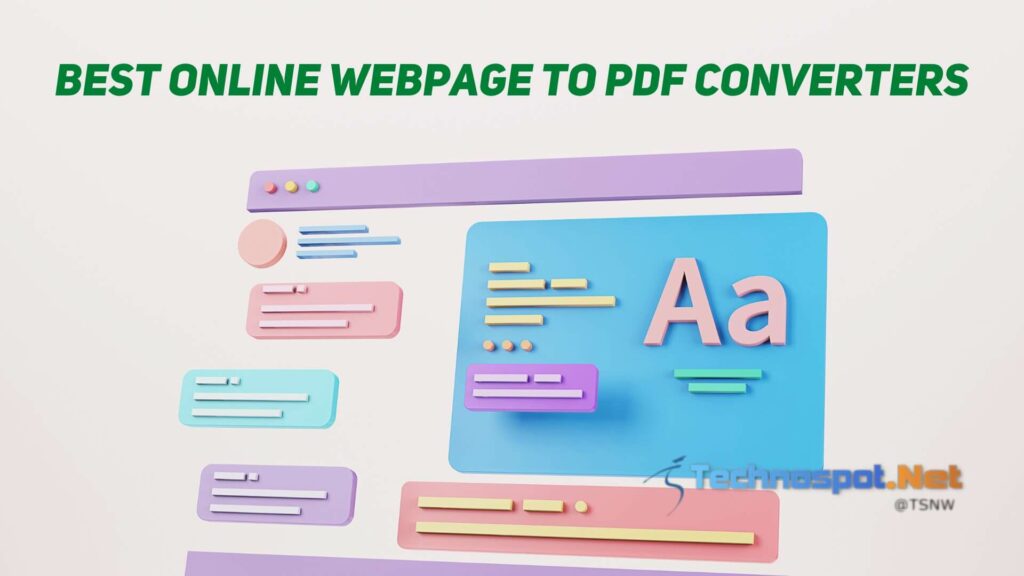 Five Best Online Webpage to PDF Converters
Out of all available tools, here are the top five online web pages for PDF converters.
FreeConvert
Convertio
ILovePDF
Webtopdf
W2P
Check out each of them, and then pick what works best.
1] FreeConvert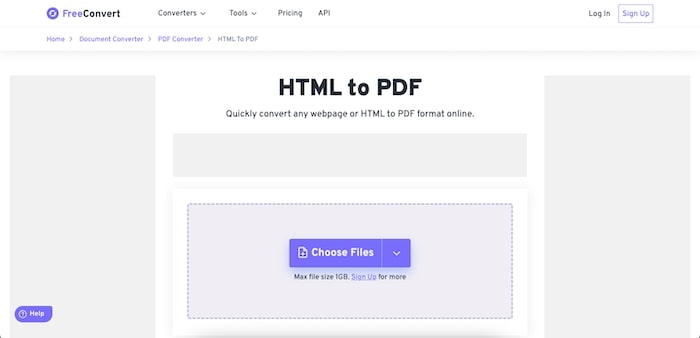 If you want a free online tool to convert web pages into PDFs, our first pick is FreeConvert, and the reason is simple. You can upload HTML files or webpage URLs to convert them into PDF format. The converted PDF files follow the exact format of the webpage, be it background images or CSS styles.
Features
Allows you to adjust the page size before converting
Let you convert the PDF into Landscape or portrait
Ability to add margins
Ideal for hiding unwanted cookies
safe & secure conversion on every platform
Supports conversion of files up to 1GB
Pros
Minimalist interface
Easy to use
High-quality conversion without any losses
Cons
Contains ads
The free version is limited to 25 conversions per day
2] Convertio
Do you prefer the drag-and-drop feature for webpage conversion? If yes, then Convertio is what lets you do that. You can paste HTML links or upload saved web pages to start conversion. Additionally, you can choose from 11 output formats for desirable conversion.
Features
The free version doesn't have any limitations.
Allows you to save the converted file directly on google drive or dropbox
Supports multi-language OCR
Along with the primary language, you can also choose an additional language
It can convert multiple web pages without any intervals or delay
Pros
Fast and safe conversion
Additional language support
No watermark
Cons
Fewer conversion customizations
Not comprehensive features
3] iLovePDF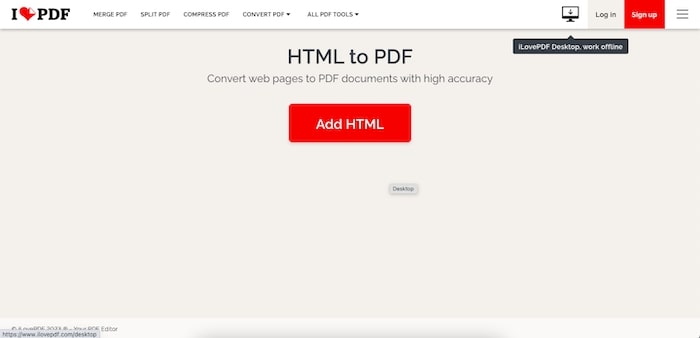 iLovePDF is another free-to-use online HTML converter that completes the work within minutes. Paste the webpage's URL to start conversion. You can rely on IlovePDF for its unbeatable accuracy.
Features
Allows you to adjust the conversion's screen size as per your device
Several page-size presets are available
You can choose from landscape and portrait mode
Its one-long page feature converts multiple pages into a single significant page
Ideal for adding a page margin
You can remove ads and overlays for a precise conversion
Pros
Multiple customizations presets
Preview available
No limitations in the free version
Cons
Can't upload saved webpages
Slower conversions
4] Webtopdf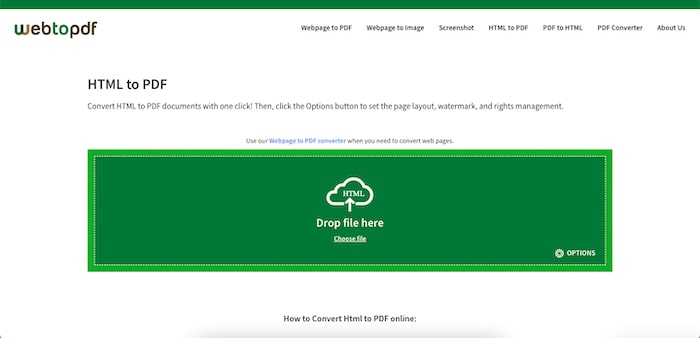 With a poor internet connection, Wetopdf also delivers high-quality HTML conversions. Within a few seconds, it converts web pages into PDFs. Just drag and drop the web page file to start conversion. Moreover, you can adjust the output settings as per your requirement.
Features
The saved files are automatically deleted after one hour to enhance security.
SSL encryption keeps your files safe and secure
Before downloading the converted files, you can preview it
Allows you to add a custom watermark
You can password-protect the converted files
Pros
Plenty of customizations are available
Removes java script and unwanted links
Supports all operating systems
Cons
Fewer conversion formats
Lacks OCR support
5] W2P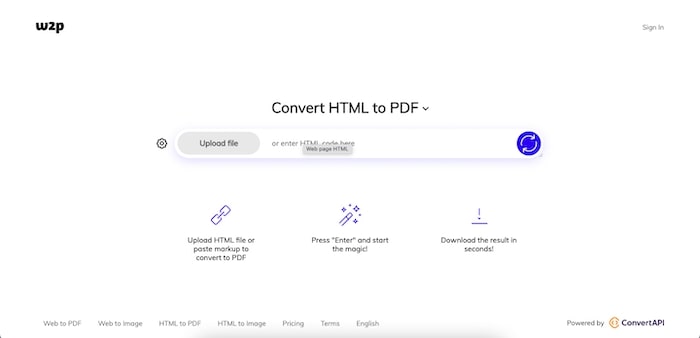 For our final pick, we have W2P. With its help, you can convert HTML files into PDFs within seconds. Its soothing and easy-to-use interface makes it even better. Additionally, it offers plenty of customizations to generate the best possible output.
Features
Allows you to adjust the conversion delay to increase the webpage loading time
You can remove the webpage background, cookies, and javascript
Along with the page orientation, you can also adjust the page size
The custom page range feature enables you to convert specific pages
Ideal for adding page margins
Pros
Multiple customizations
User-friendly interface
Fast conversions
Cons
No preview
No advanced security features
Conclusion
So this ends our list of the top five online Webpage to PDF converters. All of the above-listed tools are safe and easy to use. If you are looking for a converter with the most customizations and highest security, Webtopdf must be on your list. For a user-friendly interface with fast and ad-free conversions, check out W2P. Also, comment below which tool you found the best.