Everyone would agree that it may take creative geniuses hours upon hours to create their masterpieces, but you can now make one in minutes. But, now you can use your smartphone to turn any selfie or photo into an instant painting, thanks to some photo-to-painting apps.
This post will examine 10 of the most acceptable applications and websites choices that enable you to convert any photo into a professional-looking painting quickly.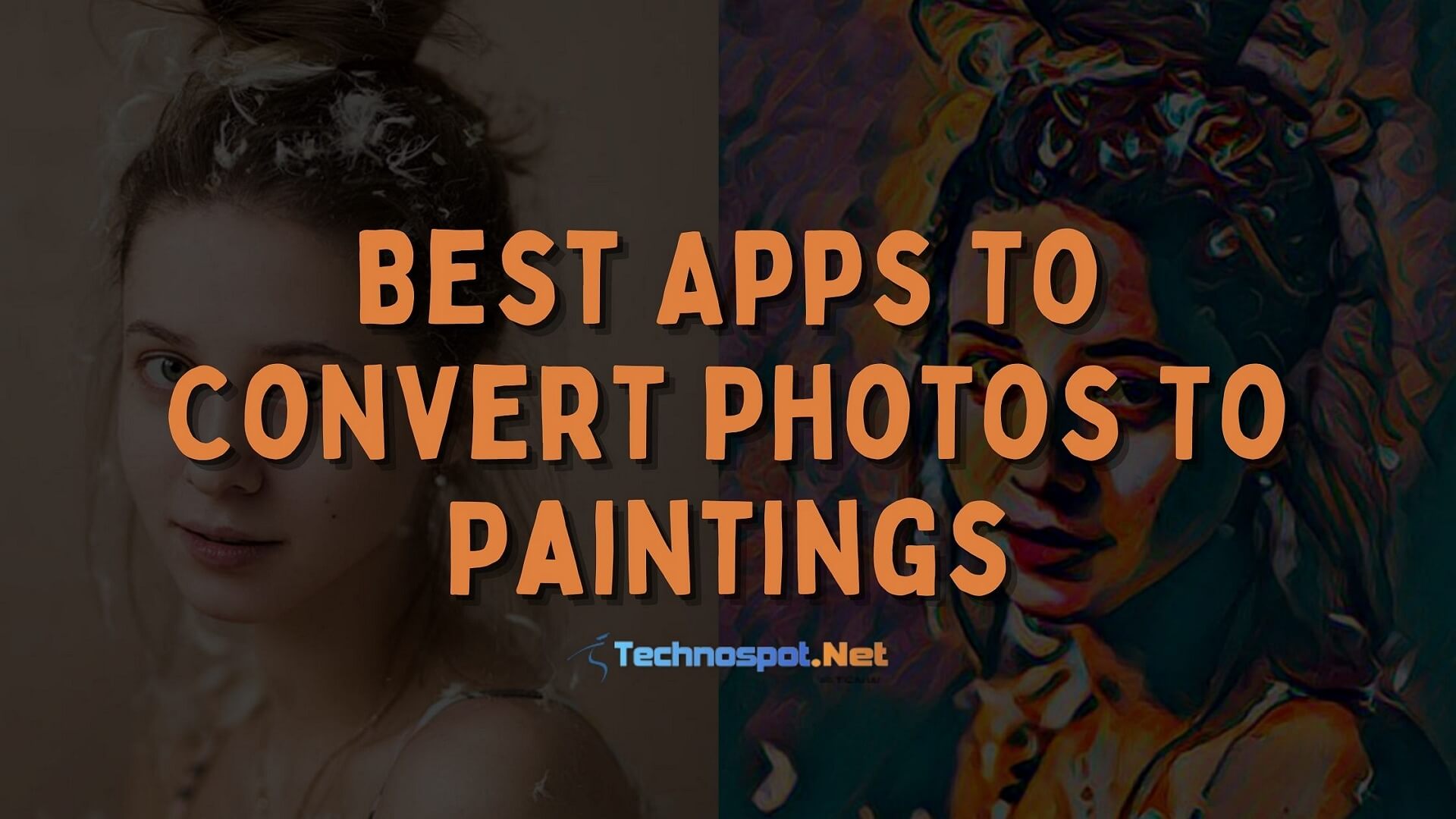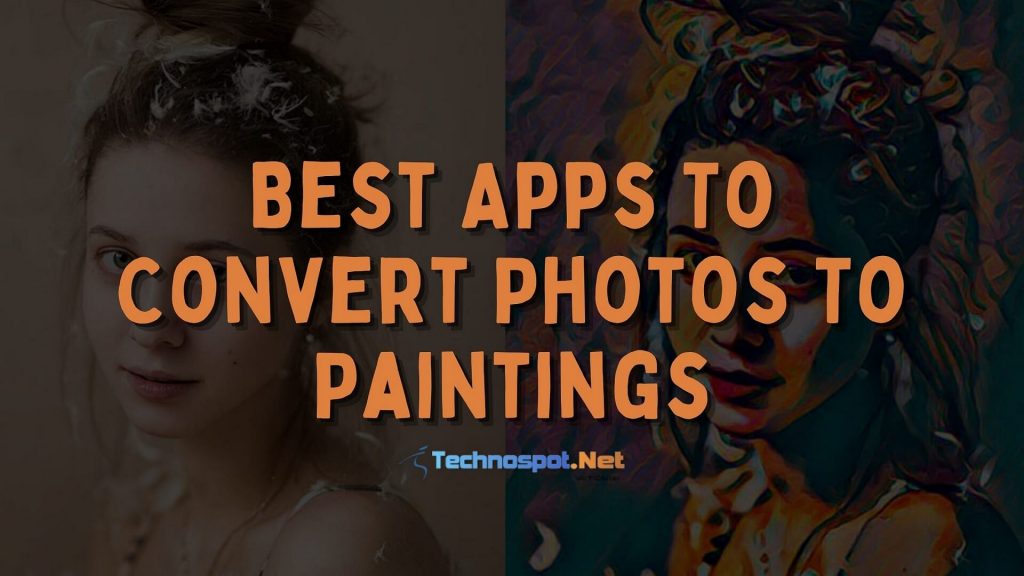 Best Apps To Convert Photos To Paintings
Below are some of the best apps to convert photos to paintings; these apps are used by millions of users worldwide and work flawlessly. These are:
Prisma Photo Editor
Brushstroke
PicsArt Photo Editor
Glaze
GoArt: Art Photo Editor
Clip2Comic
IColorama
Artomaton
Waterlogue
1] Prisma Photo Editor- Android, iOS
Prisma started the art-style filter frenzy because it is straightforward and accomplishes a couple of things, none of the other applications on our list.
When you choose a photo and a filter in Prisma, the filter is applied immediately, and you can get a preview of the final image. You may then move your finger left or right to indicate the strength of the filter from 0 to 100 percent. There are also the typical picture editing choices like exposure, contrast, saturation, etc.
Prisma now offers more than 300 painting styles to apply to pictures. These are typically modeled on well-known artists' styles like Picasso, Munch, and Salvador Dali.
Pricing:
Unlimited Access: $29.99
Premium Monthly: $7.99
Prisma Premium – 1 Year: $35.99
Premium Annual: $29.99
2] Brushstroke- iOS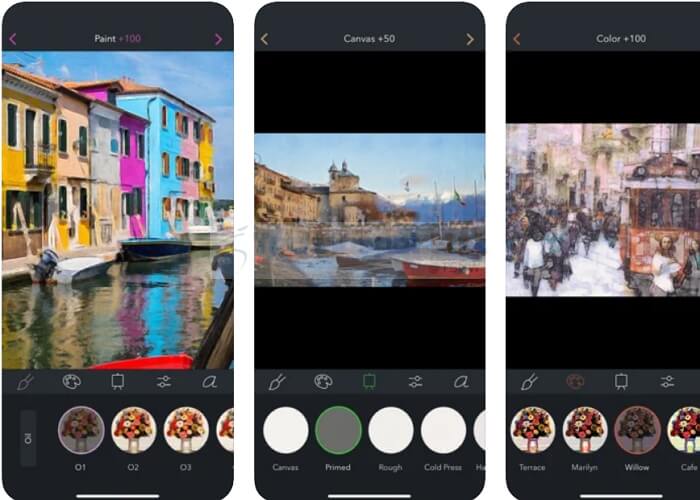 Brushstroke is an iPhone app that's perfect for converting your pictures into unique pieces of art. Brushstroke is fast and straightforward to pick a print, and the app will immediately start the change.
Brushstroke also comes with several filters and creative apps that you may use on your photos. This way, you'll create a distinct appearance every time.
Filters for color, canvas, and effects are represented through icons you swipe to explore and touch to add.
Pricing: 2.99$/monthly
3] PicsArt photo and video editor- iOS, Android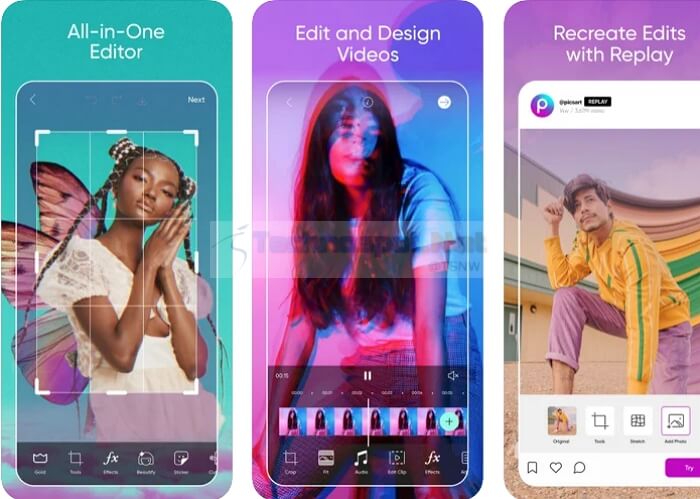 If you want to do more than turn a photo into a painting, PicsArt is a great choice. The software works as a comprehensive photo editing service replete with selfie and video editing features, collage layouts, and various beautifying tools and filters.
Within these filters, you'll discover a few different choices that will enable you to change the look of your chosen photo into that of an artist's painting. You may tweak the photo to near perfection and alter the filter for unlimited creativity in minutes!
Pricing: $48/yearly
4] Glaze- iOS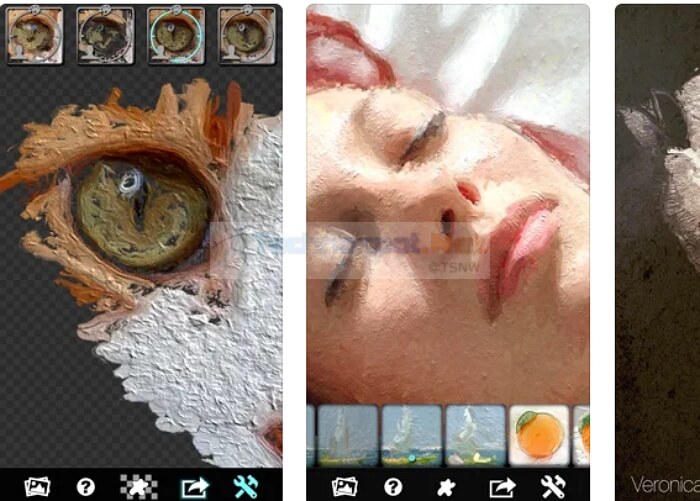 The Glaze photo-to-painting app for iPhone has been around for a long time, but it's still a fantastic photo-to-painting app. It is a free photo to painting software that transforms your photos into textured paintings.
Users may apply painting styles to pictures and fine-tune the effects using the glaze's extensive range of image editing tools.
Pricing: Free
5] GoArt: Art Photo Editor- iOS, Android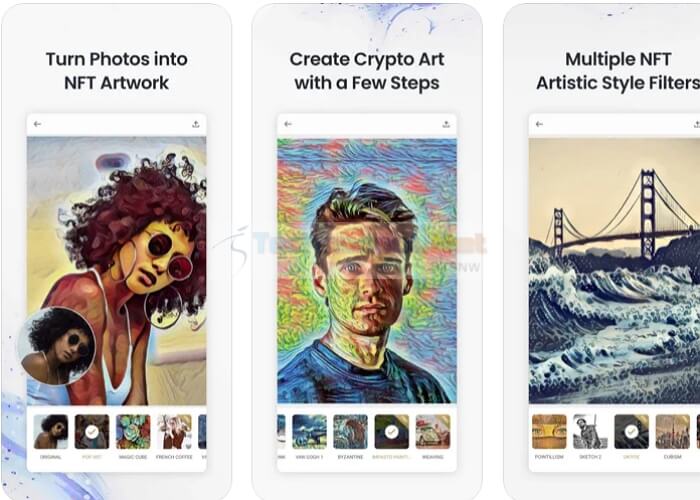 GoArt has been created with a significant emphasis on the ability to print the art you produce. It offers several important advantages and a few possible problems with your photo requirements.
The software utilizes AI technology to turn the photo into an artistic artwork. Although it produces a clear and quality picture, this may take a few minutes to process, unlike other immediate alternatives.
Once you're done, you'll see there's a watermark on the photo. You may save up virtual money in the app to remove it or subscribe to the premium version for its total value.
Pricing: Free
6] Clip2comic- iOS, Android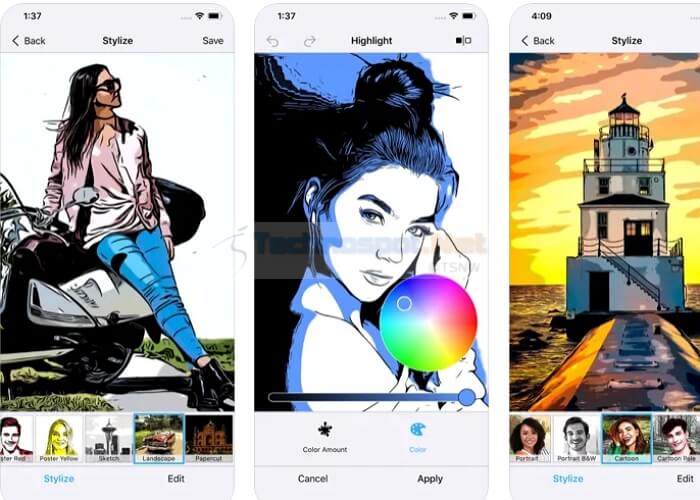 Clip2Comic would be welcomed by those who wish to make their iPhone pictures seem like cartoon graphics. All the options are simple to browse. The software provides ten styles that may be accessed under the Stylize menu. The free version has a significant drawback since there will be a watermark on every stored image.
If you aren't sure which effect to use, you may utilize a live preview cartoon camera function.
After downloading Clip2Comic Premium, you will have access to another helpful function – it enables erasing outlines, altering the size of strokes, and tweaking colors.
Pricing: $1.99/monthly
7] iColorama-S- iOS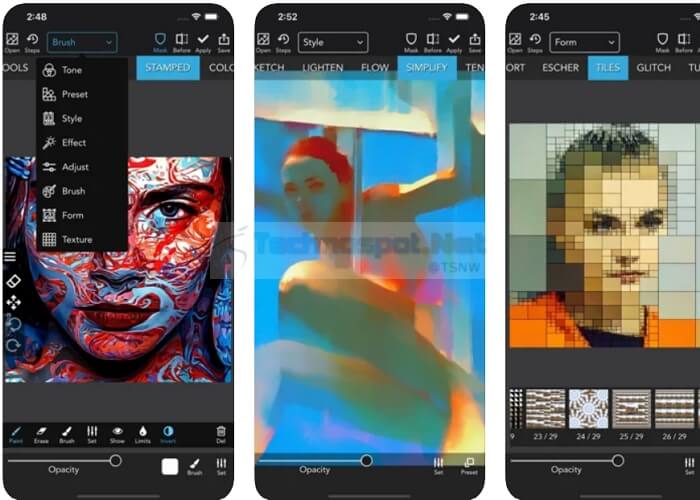 iColorama-S is an excellent tool to convert photos into sketches; there are 14 styles to select from. A user may also use any of the 300+ effects to improve pictures. You may start by importing an image and selecting its resolution. If you wish to make a sketch, you will locate this tool under the Style tab.
While you may conclude that the software is too costly and there are comparable free alternatives accessible, notice that the program comes without ads and doesn't ask you to make any extra in-app purchases, you won't have to pay more than the original fee.
Pricing: $2.99
8] Artomaton- iOS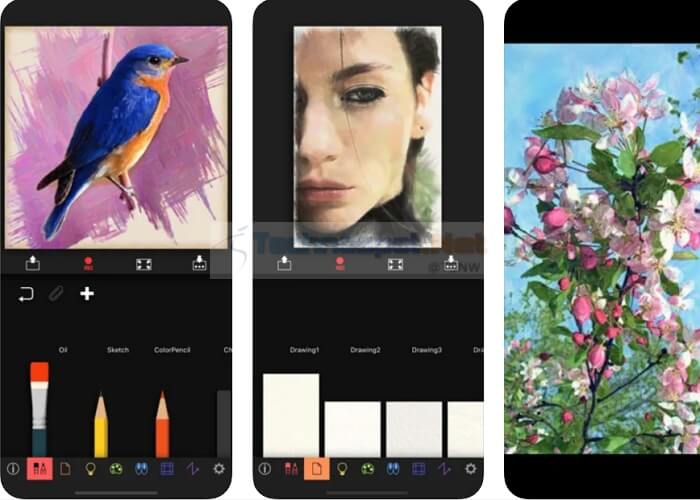 Automaton utilizes Artificial Intelligence to improve photographs and videos. One of the significant benefits of this software is that it enables storing big pictures with a resolution of up to 4096 pixels. Users may improve their photographs with the assistance of 5 helpful tools. There are also 15 other canvases available.
For more significant impact, you may add filters, for instance, charcoal, color pencil, marker, oil, or drawing. There are also sophisticated picture editing tools available. You may adjust line thickness and density, as well as border size and length of strokes.
9] Waterlogue- iOS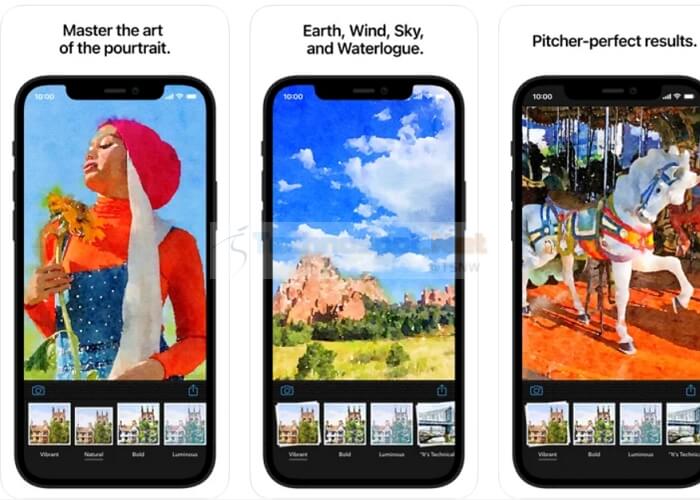 Waterlogue has been created especially for people who love watercolor paintings. It comes with a basic UI. The program includes 14 styles and enables altering images by changing colors, wetness, and pen outlines.
The entire procedure takes less than a minute. After generating a sketch, the software will add color and adjust the degree of detail.
A user may also modify borders and adjust the brightness value. Once a picture is converted, save an output file in a high-resolution format.
The software utilizes 14 distinct presets, each with different colors and pen outlines. The settings also alter the consistency of the Paint. It enables you to have specific colors flow together or keep forms more distinct.
Which Photo Editing Program Is Best For Beginners?
PicsArt is one of the best photo editing programs for beginners; PicsArt provides a lot of functionality; you can use tons of filters, make adjustments, add text, and a lot more.
As we can't all afford to employ an oil or watercolor painter to convert our pictures into paintings manually, you may utilize excellent software that enables you to do exactly that.
If you have the necessary expertise and need a wide variety of customization choices and capabilities, you may start with one of them mentioned above in the list.