Many a time, it's required to copy files to multiple locations than just one. Like I like to put my essential document in 3-4 places. Some are used for backup, some for online backup, some to be sent to mail, etc. In Windows, we don't have this feature, nor in the user interface or command prompt, but there is a small software that does this job. N2NCopy is an option that will ease up things for you.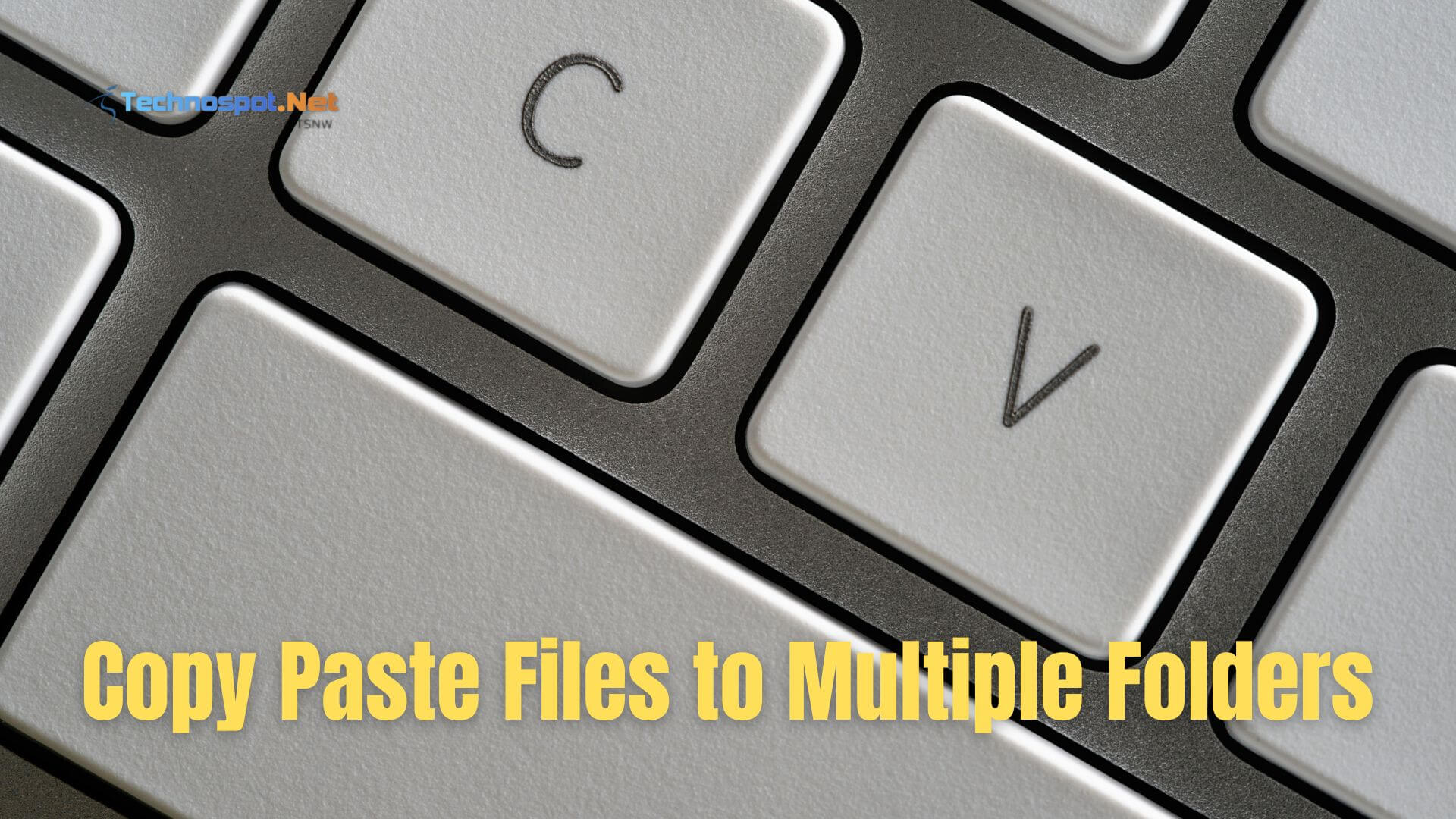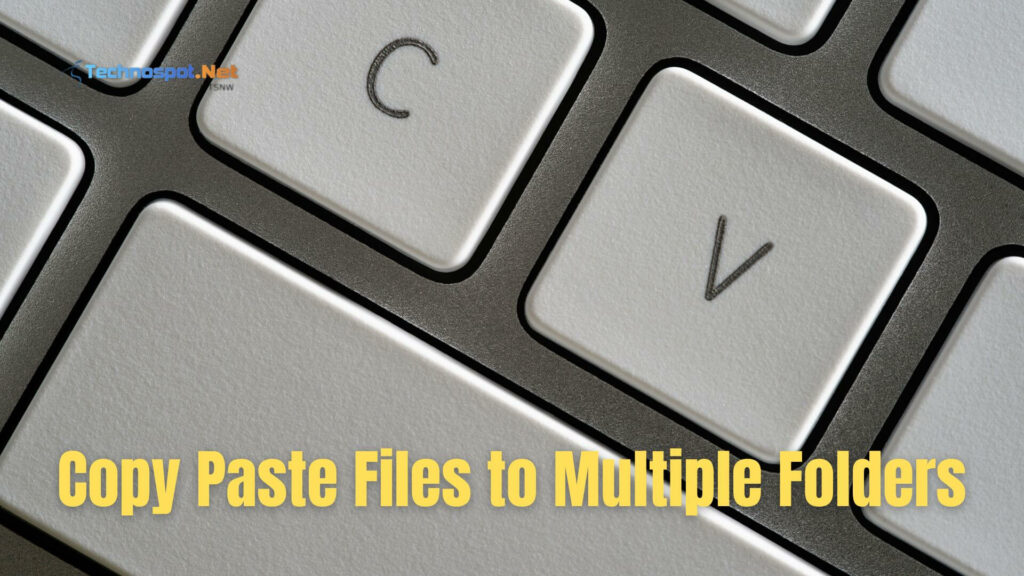 What is N2NCopy?
N2NCopy is one of the leading free software that allows users to conveniently copy or move files from multiple folders to multiple locations. Users here are free to specify the multiple resources involved and can provide multiple target locations to move the related files or folders efficiently.
One can easily pick up the specific files from one or more folders and move them to all target folders. It is a portable software option you can download as a ZIP file from the official website. The platform is available in two languages from which users can easily opt for their preferred one. However, there is no pause and resume during the copy process.
Copy Paste Files to Multiple Folders with N2ncopy
n2nCopy allows you to copy and paste files to multiple locations or folders in one shot. When you start the application, a small rectangle of green and blue block click up, showing the list of files to be copied and where it has to be copied.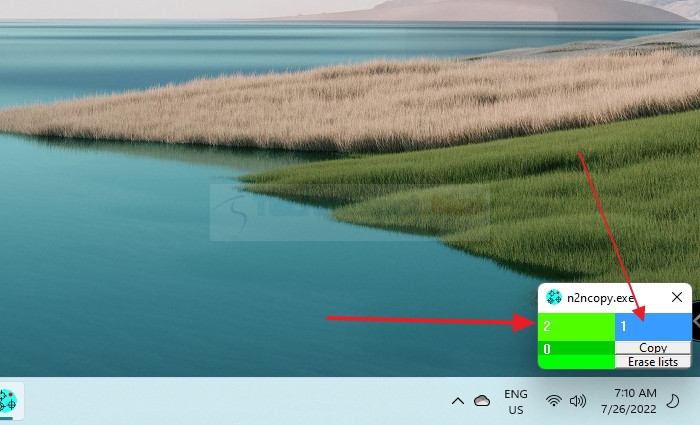 So, where do you add files and destination folders? It's the rectangle that does the job. The Green block is where you drop the files that have to be copied, and the blue block are the folders where all the files have to be copied.
Once you drop some files, click this block. It gives you a simple interface with basic options. You can see the list of files or folders that must be copied and the destination folders. If you wish, you can permanently remove any files that are not required.
The next option is to select what you want to do when it detects a duplicate file and whether you want to move it or copy it. Once you are sure of these, just run the task. It will copy or move multiple files to multiple destinations or folders.
It is helpful software which I recommend you download and use. It can not only save time but also make you more productive.
What are the different Options and Settings available on N2NCopy?
N2NCopy features straightforward navigation where you can conveniently drag and drop the preferable files and folders for convenient usage. Yet the platform is designed to run smoothly on the different platforms. It may show some interruptions while accessing from the laptop.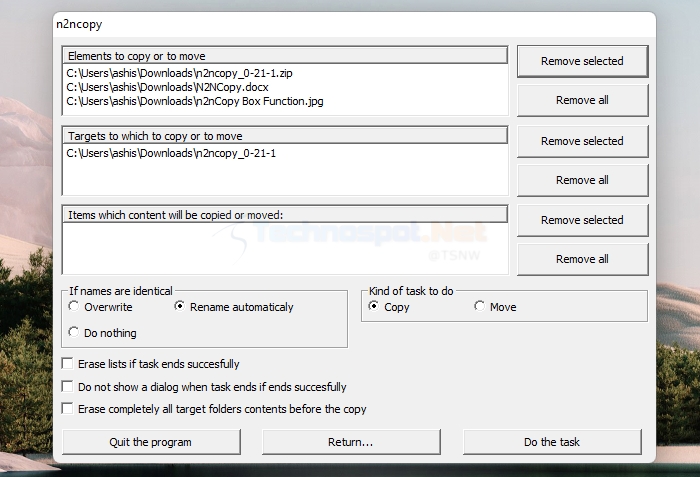 If you are also using the software from your laptop and are currently facing issues with the same, you can right-click anywhere on the N2NCopy window. Once you will do it, you will get the different options on your device, such as:
Add target folders to your list
Switch between Copy and Move
Add a Folder from which content is to be copied or moved
Add files and folders to copy or move
One can easily adjust the settings of this wonderful tool by tapping on the related folder. To enable smooth access and to open the settings of this tool, you have to double-click on the N2NCopy window. Once you will do it, you will get the following options here.
You can remove files or folders from the given lists.
Users can easily Overwrite and Rename the identical named files and folders.
Users can easily switch between the Copy and Move options.
You can easily select from the different checkbox options mentioning some serious notices.
Users here are free to return to the main window of the N2NCopy by tapping on the Return button.
What are the features of N2NCopy?
Multiple File Transfer
N2NCopy is an assurance of convenience and reliability. File transferring always remains a big issue, especially when you have several files on your count. N2NCopy is an absolute platform that allows users to conveniently enable multiple files and folders to different locations.
Fast Speed
The file-sharing speed offered by the N2NCopy is quite fast. One doesn't need to wait too long to transfer the n number of files and folders from one location to another. Just a few seconds, and your file sharing process will be accomplished. However, a lot will depend on the SSD or HDD speed.
Multiple Format Support
Format of the files is one of the significant obstructions that block one's way while moving or sharing files from one device to another N2NCopy is designed to provide absolute file format support without failure. It is one of the finest collaboration apps that ensure supercharge teamwork. The tool perfectly integrates with the different documents, sheets, and slides, making it easier for the users to create content and collaborate more effectively with the other users.
Is N2NCopy free to use?
Yes. N2NCopy is a free-to-use tool that anyone can easily access without any issues. The tool can be easily downloaded from its official website and can be easily used for enabling multiple file sharing across different platforms. The app doesn't feature direct or hidden charges, which makes access even more convenient.
What more I would like to see in this application :
Allow setting options on individual folder levels when it comes to duplicate files. I want to overwrite, and in some places, I would like to rename it.
Allow keeping a set of destination folders always available. If I don't want to use it, I can uncheck it instead of removing it and then adding it at a later stage.
Conclusion
So, guys! Enjoy a secure and hassle-free multiple file and folder transfer process effortlessly with N2NCopy. The tool is designed to be simple and quick to use and enable quick file sharing without making many efforts. It is a compatible option that goes well with the majority of the platforms and also supports different file formats to work on it effortlessly. Use this tool for sharing multiple files and folders simultaneously.
Download a copy of n2ncopy for yourself