One of the common ways to create a Windows Bootable USB is using the media creation tool. However, it takes a very long time as the download happens in real-time. In this post, we will share how you can create a Windows 11/10 bootable USB or a DVD from an ISO file. The software is called Windows USB/DVD Download Tool.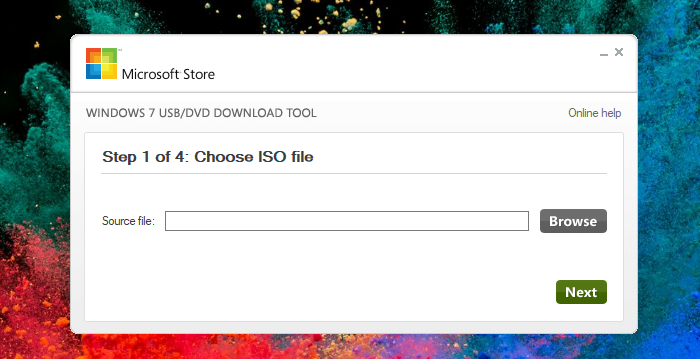 Create a Windows 11/10 bootable USB or a DVD from an ISO file
Microsoft announced this ISO tool when Windows 7 came in, and it still works.  It lets you create a bootable USB or DVD from an ISO of Windows 11/10 or any version of Windows. While the Media creation tool works, the biggest problem is that it gets stuck while downloading the ISO file, and if there is any problem, it starts downloading again. That's very annoying.
Using Windows USB/DVD Download Tool, you can start USB installation a lot faster. However, you will have to download the ISO separately. Since Microsoft supports the download manager, it means you will be able to resume the download if there is any interruption.
Download Windows 11/10 ISO by following our guide here. You will need to generate a download link.
Download the ISO Using Windows USB/DVD Download Tool from here
Click on the browse button to select the ISO file
In the next step, you will need to choose the USB drive.
Post this, the software will format the drive and create a bootable USB drive from the ISO file.  This way, you can go for a USB installation quickly without much hard work. When you need to boot from the USB drive, change the boot drive order and select the USB device as the first boot device.
I will strongly suggest keeping one bootable USB drive around. In case you are not able to access Windows 11/10 PC from your hard disk, you can use the USB to boot into advanced mode, and then repair issues.
Related: Quickly create a copy of any Windows bootable USB using from Win2Flash