Picasion is an online tool to create animated gif images, and is probable the simplest too to create gif animations using images and photos. All you need to do is visit the Picasion, upload the photos from your HDD or you can import them from Flickr or Picasa. At the max 10 images can be used to create the gif file.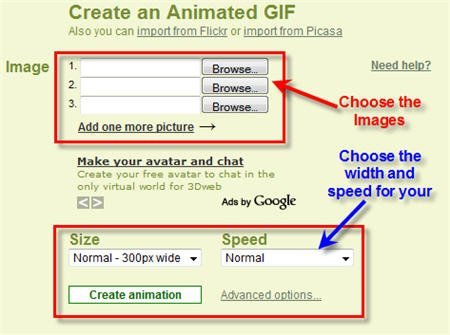 Later you need to
Choose the size (width) of the animation (a custom size can be opted using the Advance option),
Choose the speed,
If you want your Gif to be added to their public gallery use the 'Advance Option' adjacent to 'Create Animation' button,
Finally click the 'Create Animation' button.
The new page appearing in front of you will have your animation, its embed code, direct URL link, and an option to save the Gif on your computer, as shown below.
Here is the animation which I created for myself.
So, go ahead and try Picasion, it's easy and fast, you can also use it for sharing your photos as slideshows or for creating small animations to make your presentations more impressive and good looking.