Comic strips are like comics in that they have a range of interconnected characters, drawings, and dialogue boxes. To make comics, you require this comics strip creator software. Most of these programs come with predefined characters, background scenes, and dialogue boxes.  This article will look at some of the mobile apps and online tools that will help you create comic strips easily; make sure you check all of them.
What else do you need apart from the Strip generator?
Besides the strip generator, options to alter the appearance and size of characters and fonts and text size are also offered. With specific software, it is possible to combine the predefined characters and background scenes into comic strips. The creation of comic strips is relatively easy in each of these programs. Additionally, most of them can save completed comic strips in PNG, JPG, BMP, etc., images formats.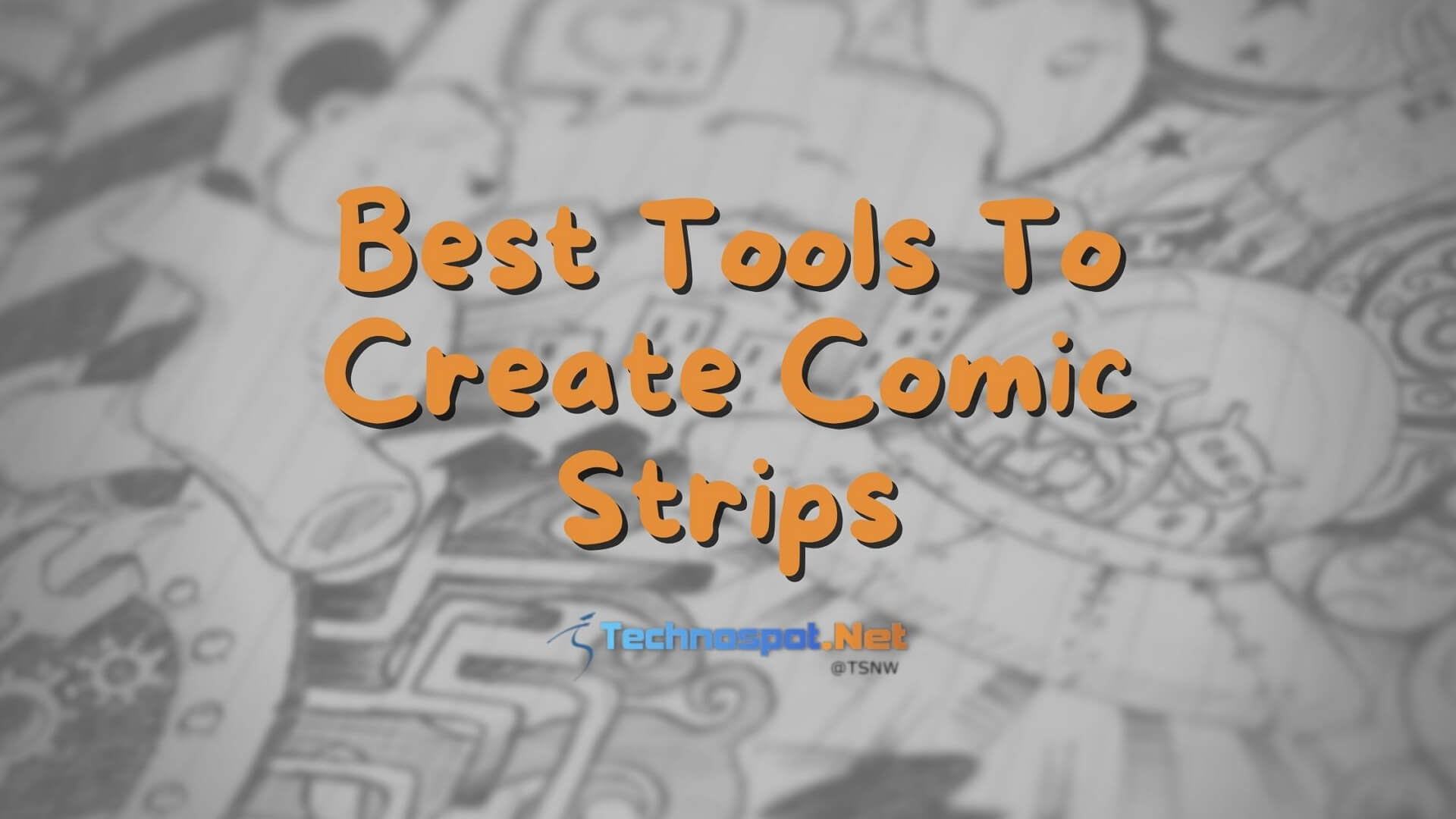 Best Apps and Tools To Create Comic Strips
Comic strips can be made by using several apps, which can be web-based or mobile. Below is the list where you will find some renowned apps with a few simple and unique features.
Cartoon Comic Strip Maker
Comica
Comic Strip-Comic Maker
Super Hero Squad
Pixton
Strip Generator
Make Beliefs
Make sure to try each, and then decide which works best for you.
1. Cartoon Comic Strip Maker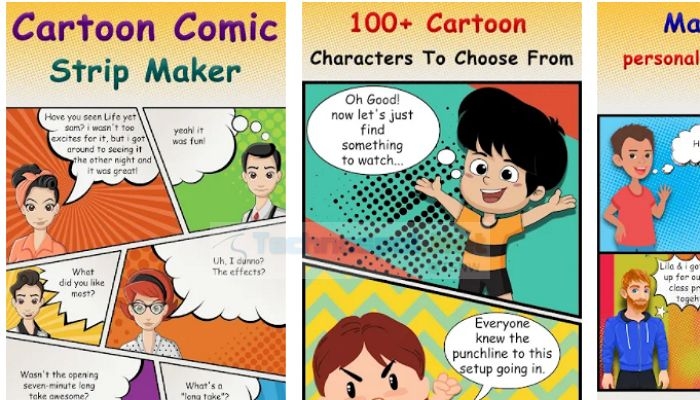 It's a basic app that does exactly what its title suggests. You can create your very own comics with this app and send your clowns to colleagues. Using its drag and drop feature, you can create your comic book, cartoons, or memes with this application. What you have to do is to pick a cartoon character you want to use with stunning backgrounds.
The app comes with specific features that allow you to make the comic you want to publish in a fun manner. You can post your humorous comics via social media and inspire laughter with your pals.
There are few built-in functions and HD animated backgrounds offered. You can have more than 100 characters available to pick from in the app with different kinds of text bubbles. Finally, you can save your comic in JPEG or PDF format and share it with your friends.
But there are no customization text options available in the app, and you can't import and customize gallery photos.
2. Comica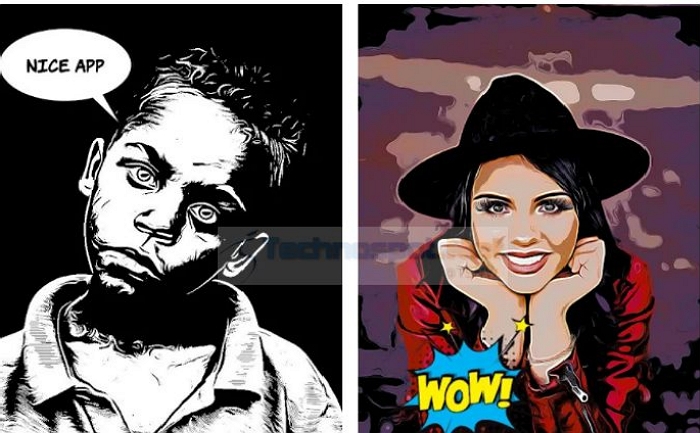 Comica is a free meme creator application that offers a simple user interface. It can add a real-life touch to your comics. Comica lets you bring real-life images from your gallery or click on a photo to create your comic. The app is light and straightforward, and it runs smoothly on any phone.
You can also take an entirely new picture using this app. There are a variety of filters to select; you can apply text balloons to make the appearance of a comic effect. Comica offers contrast, brightness, and a detail slider to alter the filter to achieve an ideal edit.
There are eight kinds of text bubbles that you can use to write your dialogues and create tales for your entire scene. Once you've finished your comic, then you can save it to JPEG or PDF file format. But in this app, Inbuilt comic characters and multiple fonts are missing, and there is no option to make a comic book using it.
3. Comic Strip-Comic Maker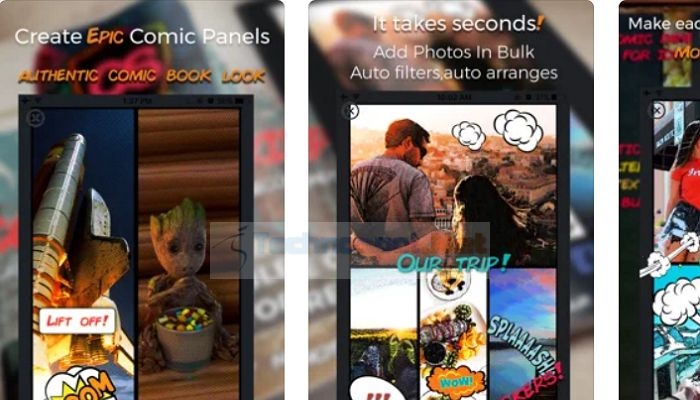 It's like a Comica app with additional features like filters, fonts, sources, chat bubbles, etc. Comic Strip-Comic Maker is simple to use. First, select the cartoon character you want to create, open your camera and take an image from the gallery.
This app uses a combination of filters that give a fantastic appearance to your photos. One great feature of this app is that it lets you select images in bulk. Then, it employs automated filters and performs automatic correction to produce an ideal view. Then, you can apply stickers and filters, text bubbles, titles, and much more. And then, you can share your comics when they are completed.
4. Pixton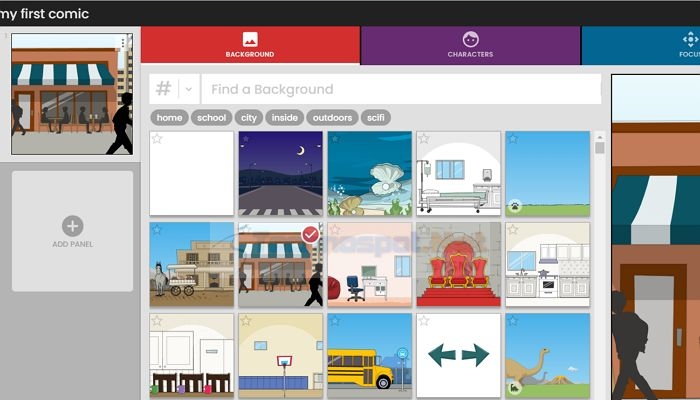 Make and share your comic strips in no time. There is no drawing required. The comic characters are created by selecting from the pre-set set of characteristics and expressions, i.e., comic hair color and skin tone, height, girth, body parts, etc.
Pixton is a drag-and-drop animation creator that lets anybody, regardless of ability to make comics. The users can sign up in the Pixton communities to share their work with other people. In addition to the free accounts for individuals, Pixton provides a paid service, Pixton for Schools, that lets teachers create private spaces in which only their students can make comics and share them with others.
5. Make Beliefs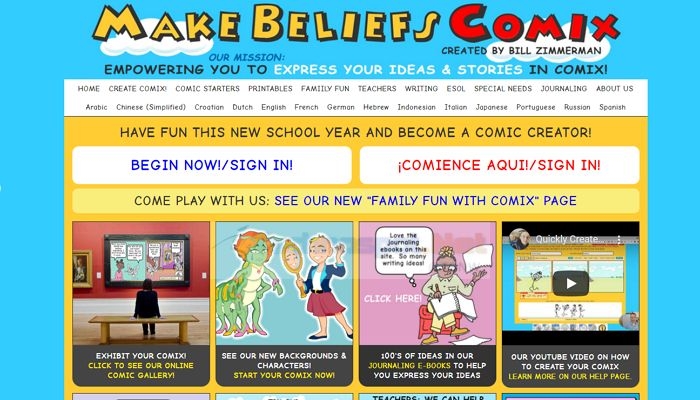 The Make Beliefs is a no-cost comic-strip creation tool that offers students various designs, characters and prompts you for creating your comic strip. Make Beliefs provides drawn characters and dialogue boxes to students to place in every comic strip box.
The editing tools allow users to modify the size of the characters and dialogue bubbles, move elements forward in each box, and change the sequence of each of the boxes within the strip. Students who are struggling to start the story can take advantage of writing prompts via creating beliefs. It is most remarkable that Make Beliefs allows users to compose their comic strip's dialogue using English, Italian, French, Spanish, German, Portuguese, or Latin.
Visit Make Beliefs Comic Maker
Can I Share The Comic Strips I Create Online?
Yes, you can share the comic strips created with mobile apps and online tools. These tools allow you to export your comic strips in shareable formats like JPG, PNG, PDF, GIF, etc.
Can Comics Created With Online Tools Be Used Commercially?
The Comics created with free online tools cannot be used commercially; you have to obtain a license. Some comic strip creator tools let you use the comic strips you create for business purposes, but these are paid.
Conclusion
You can easily create and share your original stories, comics, funny memes, and even what you have got through comic maker applications from the list above. You can pick any app or multiple apps based on the kind of comic you would like to create. It could be a picture story, a simple comic, a rage comic, or even a chat story. We hope you can choose the best free comic creator apps available on the web or mobiles (Android and iOS).