Sometimes we have a long slide show, but not every slide is essential. What if you want to show only a few selected slides out of them. Instead of copying it into another slide show, you can customize to choose particular slides in PowerPoint. It works with Office 365, Office 2019, and previous versions of Microsoft Office. Here is how to create a custom slide show in Microsoft Office PowerPoint.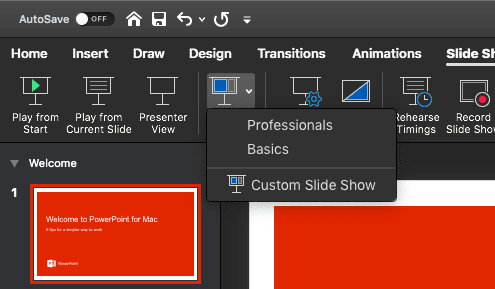 How to create a custom slide show with Office PowerPoint
The biggest advantage of this feature is that you do not need to create a separate PowerPoint slide, nor you have to remove any of the slides for an existing one. Where can it be useful? Let's take a case where you need to show some important part to an audience that doesn't need to go through basic points. It is extremely useful in that scenario.
Steps to create a custom show using the Slide Show menu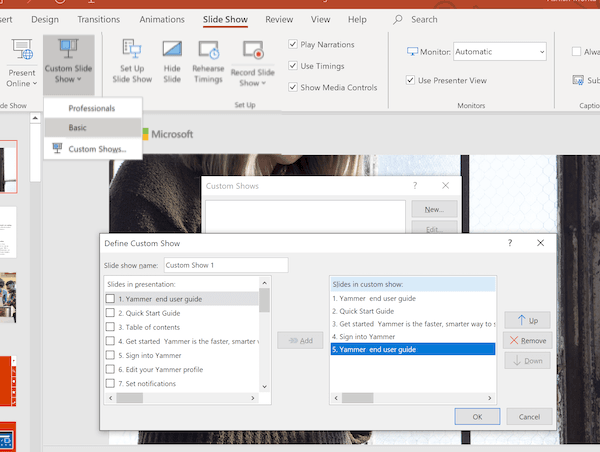 Before you start, make sure to note down the slides you want to keep. It is important that you keep slides that are part of the intro and end. Else it may look absurd.
Open your presentation.
Switch to the Slide Show menu section in the Ribbon Menu.
Click on Custom Slide Show drop-down icon, and click again on Custom Slide Show
It will open the Custom Shows window.
Then click on New to open Define Custom Show window
Here you can add slides in any order, add a name to the show, and also remove if you add any of them accidentally.
Also, you can make a copy of an existing custom slide show and edit for other types of audiences. Custom Shows window will display a list of all custom slide shows you create.
Depending on Windows or Mac, the looks may differ. Also, it is easier to add multiple slides in Windows compare to Office on Mac. Office on Mac has a number of steps.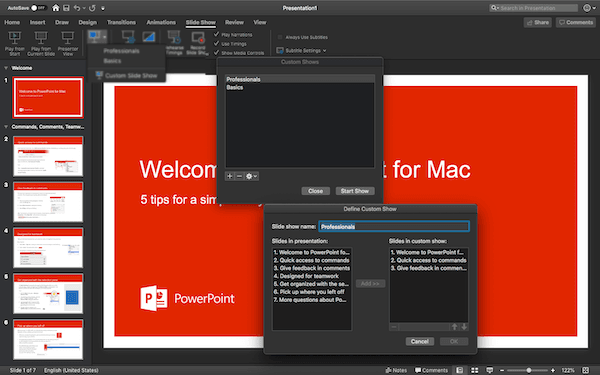 How to Play or Run Custom Slide Show:
Click on Custom Slide Show drop-down icon.
This time, you should see some of the recent shows you have created. Click on it to run it.
If you cannot see, then click on Custom Slide Show
Select the presentation from the list and run it.
I hope the tutorial was easy to follow, and you were able to create custom PowerPoint Slideshows.