Pranking family and friends and seeing the look on their faces will always be priceless. It can be for escaping from a relative that you don't like or just pranking them to see their astonished faces and record it laugh at it later. In this post, we are looking at some of the online tools to create Fake Air Tickets.
Editing on photoshop or in any other way will take you too much time, and then you will have to print it out and different ways to prove it to be real. But some online websites generate fake airline tickets or boarding passes in a few simple steps.
Yes, it is so simple to generate fake airline tickets online, and those look like actual boarding passes. And now there are some online tools that will make it way too easy for you! Not only tools, but we also have some straightforward PDF template websites that are easy to edit.
They will take all the information, and sometimes they will also email it to you for your concerns.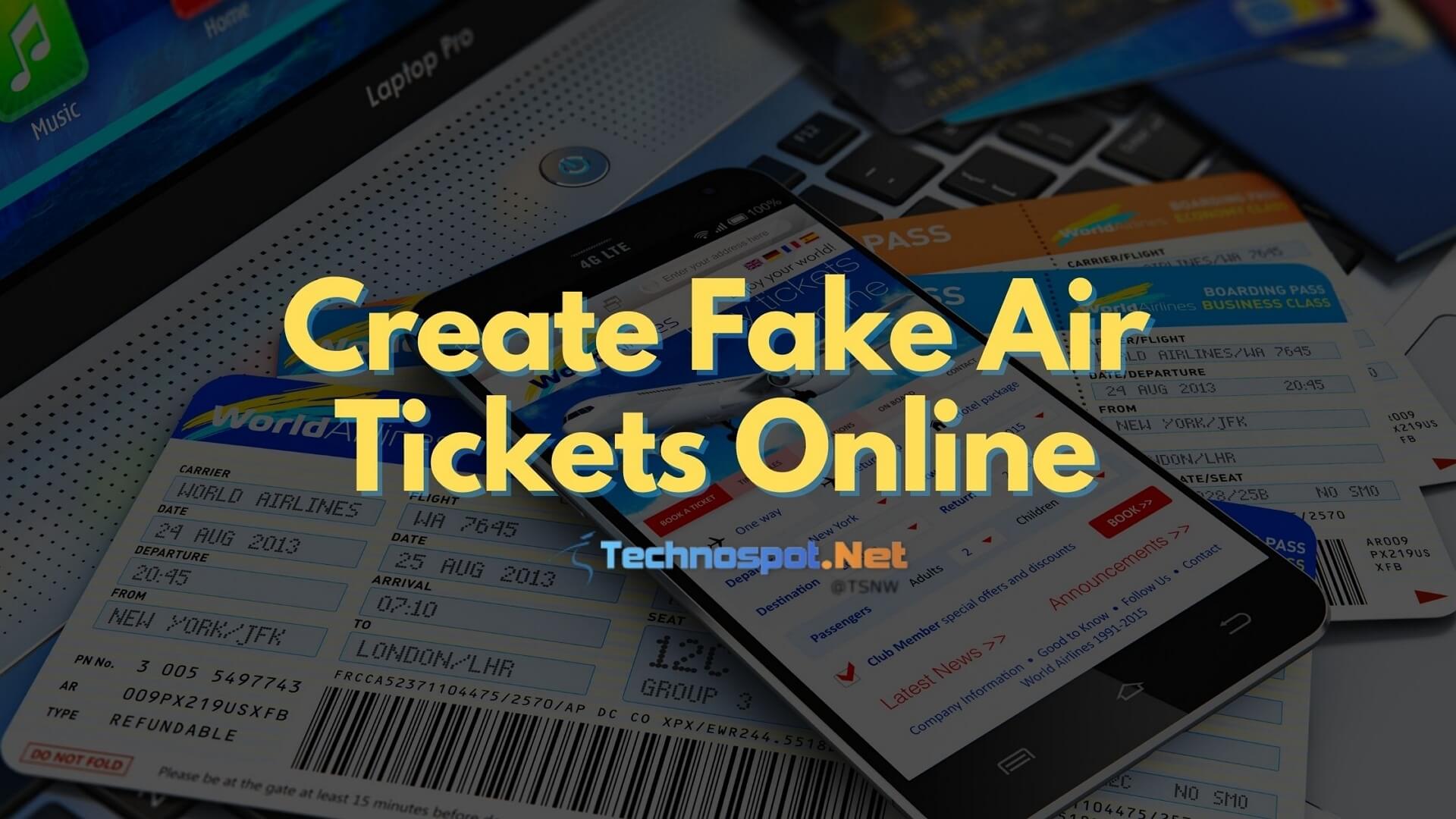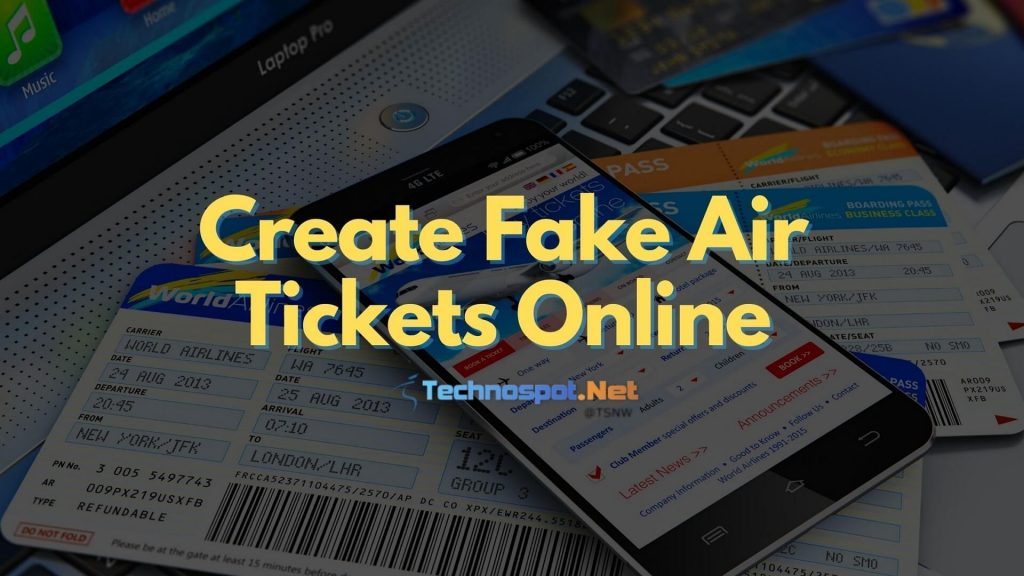 Create Fake Air Tickets Online
When you go on the internet and look up the phrase Generate fake air tickets there will not be so many websites that let you create a fake one for free. These websites charge you from $5 to $20 for a fake air ticket.
So, here is a list of websites and templates that allow you to generate fake air tickets that look real. These websites are also accessible for iOS and Android users both.
Ticket-O-Matic
ReturnFlights
KeyFlight
Jotform
Let's know more about these websites.
1] Ticket-O-Matic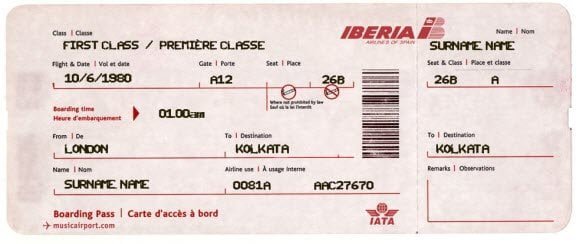 The most famous website for creating fake air tickets can help you prank people. This website is easy to use and only takes three steps to give you the ticket.
The ticket which will be generated will look like boarding tickets and will contain each detail of the ticket like seat carrier logo, standardized identification, time, goal point, and so on. Here's how you can use the website
Visit the Ticket-o-matic website.
Click on Start Now to proceed.
You will be redirected to a page to fill in all your information.
In the From box, you can click the List of Airports, check the one you like, and insert it. Do the same for To.
Choose an Airline from the drop-down box.
After filling in your information, click on Done! to confirm.
You will now be shown a page similar to this one.
You can choose JPG or PNG, or you can choose it to email to you.
And voila, your fake air ticket is generated!!
2] ReturnFlights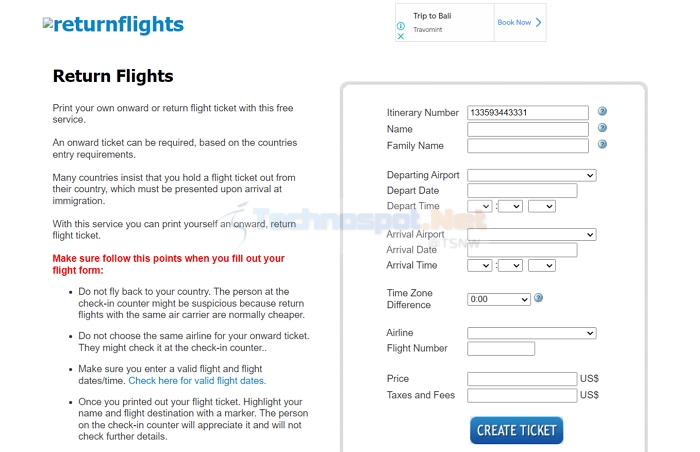 This website is a little more complicated than the previous one we used. When we say complex, we mean more and more real-looking fake air tickets.
Like the previous website, which used the same things for onward and the return flights, this website takes things on a bit of spin.
Other than the necessary information, it would help if you gave some more subtleties like flight number, value, schedule number, etc. You must be very much aware of the significance of the constant flight subtleties while topping off the structure. Here's how you can use this website:
Visit the Returnflights website on your PC or smartphone.
Start filling in all the information like full name, departure and arrival details, airline, flight number, price, and taxes.
After filling in the information, click on CREATE TICKET.
This button will automatically save your ticket in a ZIP format on your device.
On Opening the ZIP file, you will see an HTML file. Click it to see the web page where the fake ticket will be displayed.
Even though you can't download the ticket, you can screenshot it and send it to the concerned person. What's more, there is a receipt of your payment so that you can send it to prove your prank.
3] Key-Flight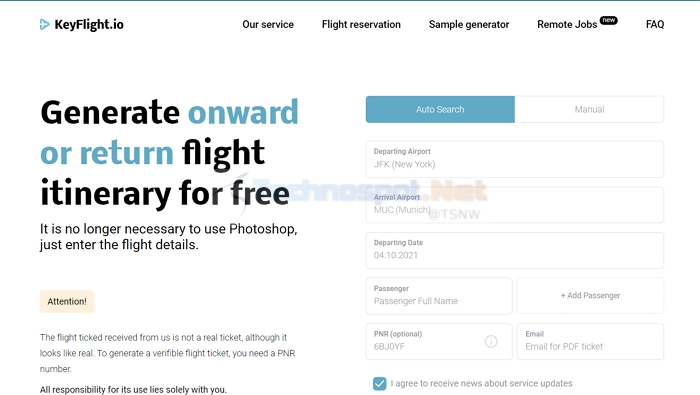 This website sure stands out from the rest because of how the website is made and not just that in this website you can also add passengers, which will be more believable. The website is more professional and uses a more complex algorithm to stand out for your fake air ticket. Remember that you should not share the connection because the ticket deletes after 152 minutes, so download PNG / JPG or a PDF.
You will see that you have to pay for the ticket on the website, but that is not the case. You have to pay for the ticket if you use it for Visa purposes or any other serious official purpose. You can use the sample generator for prank purposes. You can follow these steps to use Key-flight.
Visit the Key-flight website on your desktop or smartphone.
Click on the Sample generator option from the menu on the top right corner to generate your free fake air ticket.
Fill in your Information such as departing and arrival airport, date, and passenger details.
Click Search Flights.
You will be redirected to a page where you can choose a flight of your choice.
Click on Generate Ticket for free.
Click on Simple Ticket on the top bar.
After that, you will be redirected to a page to download the ticket as a PDF.
Then Voila, you have an Air ticket that is fake but looks way too real in your hand.
4] Jot Form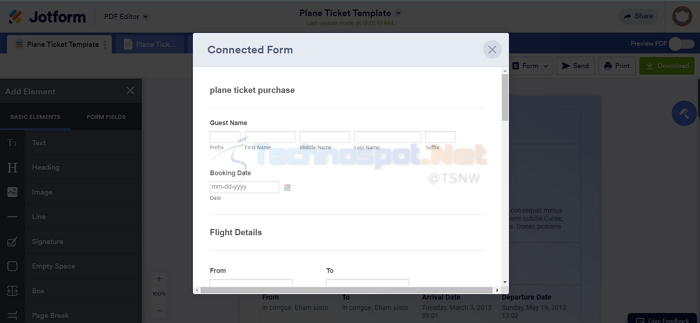 Now that we have listed all the websites that allow you to generate a fake Air ticket now it's time for the online templates that make your job easy. Jot Form has endless AIr TIcket template you can choose from and edit according to your needs and wants.
It has more than 29 templates to choose from. It also has a Boarding pass, so be free to choose that too if you want. Here's how you can use the site:
Visit the JotForm website on your PC or smartphone and select the templates option from the menu in the top bar.
Then choose a PDF template.
Choose Ticket from the Left Pane.
Then choose what type of Ticket you want to form. For example, you want a Plane Ticket. Then you will be redirected to a page where you will be asked to fill in the details like guest name, date, arrival, and departure airport and airlines.
After the form is filled, you can either send it directly from the website, print it out, or maybe Download it.
The advantage of this website is that everything is based and focused on you, and you can edit anything you like or do not like and add a payment breakdown.
Can I Use Fake Air Tickets For Visa Verification?
Even though it can be used, you should not because the ticket may get verified. It should not be ideally used for such purposes as the process is not entirely legal. The authorities take visa verification pretty seriously, and any illegal activity is punishable.
Is It Legal To Create Fake Air Tickets?
It is legal to create fake air tickets only until you use them to prank your friends or family. Any use of phony flight tickets for verification, documentation, or other verifiable or official means will land you in serious legal trouble.
Conclusion 
We have shown you different ways of getting a free air ticket, and we hope it helps you. If anyone tries to break it down too much, you may get caught, so be cautious and use it at your own risk.