Sometimes, you need to use the audio of one program to be used by another application. For example, if your friends want to listen to music over Messenger or Skype. The only option is to turn on your mic and play the music loud so they can listen. The problem is that the sound quality is not right and will also carry external noise. In this post, we will share software that can create fake speakers and fake microphone in Windows 10 and Windows 11 using Windows virtual microphone.
How To Create Fake Speakers and Microphone in Windows 11/10
Virtual Audio Cable Software allows you to create virtual speakers and virtual mic for PC. Even though they are programs, they are identified as hardware by any other program. That includes Windows Media Player or any messenger service like Skype or Yahoo Messenger. So now you can do two things:
Play music on your Windows Media Player or VLAN and stream it to Virtual Speakers
Stream to a Virtual Speaker and Record it using Audacity.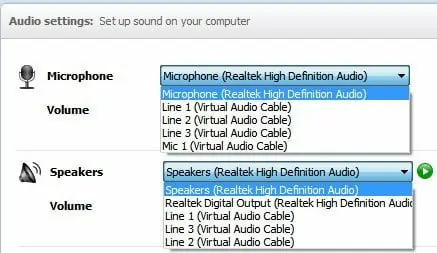 How to set up Virtual Audio Cable
Download it from here and Install it with admin privilege.
Then, launch the Control Panel of the application.
By default, it will create one cable for you. Check the box that says Mic under Connected source lines.
Leave the rest of the settings to default.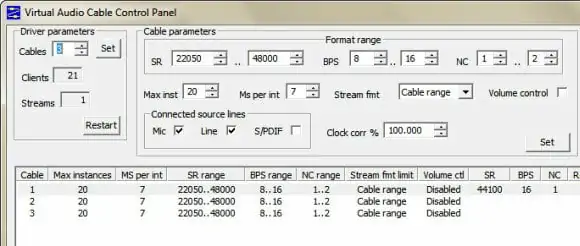 Here is an example using Windows Media Player and Yahoo Messenger. It works almost the same way for any other software. You need to figure out how to configure speaker and microphone settings for those apps.
Play Music on Your Windows Media Player and Stream It to Messenger
Launch Windows Media Player. Press Alt and Go to Tools > Options >Devices > Speakers.
Change the speaker choice to Line 1 (Virtual Audio Cable).
Keep a song ready to play.
Now Launch Yahoo Messenger and Go to Preferences > Video and Voice.
In Microphone, select Mic 1 (Virtual Audio Cable).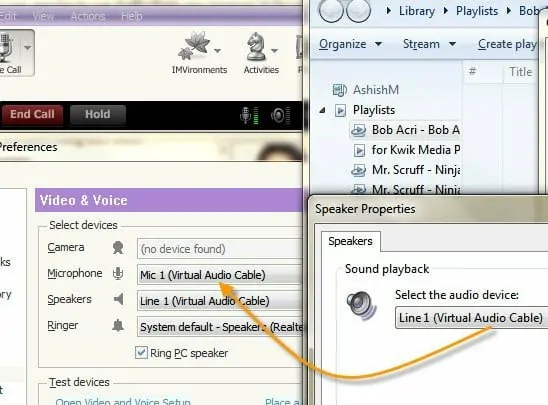 When you play music from Windows Media Player, it is streamed out using Line 1 Audio and captured by Mic 1 Audio to the messenger. Since this is a virtual microphone Windows and not a physical mic, it will be noise-free.
Stream What Your Friend Is Saying to a Virtual Speaker and Record It Using Audacity
This method is helpful if you want to record your friend's speech. Keep the messenger settings the same, but in Audacity, you need to change PlayBack Device to preference to Line 1 (Virtual Audio Cable). Make sure to close Windows Media Player, or else it will mix both sounds.
So here is how it works. The audio from your friend is streamed to Line 1, a virtual speaker. Audacity records the sound from this virtual speaker. It is the same as recording online audio using your real speakers as your output and mic as input. The difference is you will get better quality here.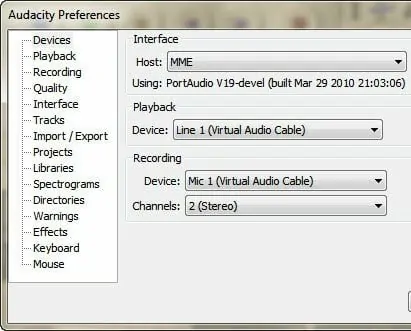 What else can you do?
Play Music from two media players, use two different virtual speakers, and then record it.
Create virtual audio cable in Windows 11, Windows 10, and any other version the software works on.
Record Calls on Skype, Yahoo, or similar instant messenger programs using the fake mic input.
If you have encoding software, stream directly from virtual speakers to it.
How does it work?
VAC contains a Windows WDM/KS virtual device driver that creates virtual audio devices. This driver is a kernel-mode module that must be installed with administrator rights.
Being a WDM/KS filter, VAC represents the lowest-level audio layer in Windows. It can be effectively used by any upper-level layer (KS-aware applications, WASAPI, MME or DirectSound subsystems, ASIOwrappers, and so on).
Is it Free?
Yes and No, both.  The free version has a limitation on several speakers you can create, and it emits a female voice after every few seconds. If you use it for personal use, you can ignore it, but if you use it for professional work, you can buy it.
What About Video?
The software only supports audio, but if you want to stream a video to your webcam or create a virtual webcam that the messenger program can use, I suggest you look at the list of Webcam Tools we discussed. This software only teaches you on how to make a fake microphone.
This application Works on Windows 11, Windows 10, Windows 8.1, Windows 7, Vista, and XP: 32 and 64-bit systems. You can download both free and trial versions.
Do Microphones Need Loudspeakers Or Headphones To Work?
They do not, but these devices usually co-exist. You cannot hear anything if you don't have a speaker or loudspeaker. That said, if you are wondering if you need to keep the speaker on record, the answer is no. You can use the virtual Microphone to send audio to the recording device, which will record without playing it to the speaker. This way, you can have peace of mind while listening to something else.