Red Dodo is a free online service which allows you to create free mobile screensavers and wallpapers using some custom templates available with them. You can add a custom text and select colour options. The first step is a to select any of these templates.
When you click the one you like it opens the generator where you need to select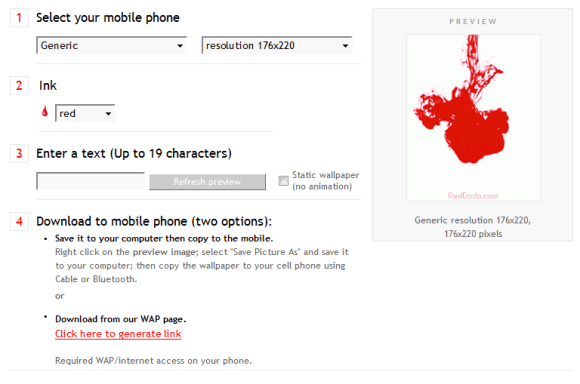 Mobile Type : LG, Nokia, Motoroal, Panasonic, Samsung, Sanyo, Sony Ericcson or if its not listed just select generic type.
The next option you get is select colour and then text of 19 characters.
You can also create a static image
To download you can do it in two ways. First is to save to computer and then on phone or get a wap address of the image  which can be downloaded to phone directly.
The resolution of wallpaper are : 240×320, 176×220, 176×208, 176×144, 128×160, 128×128. Remember you might not get the same option on all the wallpapers. To create one for your mobile check out Red Dodo
Related  :