When it comes to workplace computers, Windows PCs provide the perfect fit. Numerous features let admins exercise greater control over computers in their workplace. One such feature is the Hidden tasks feature in the Windows Task Scheduler, which allows users to create tasks that will not be visible in the task scheduler library. This article will discuss how to create hidden tasks in Windows 11/10. Please make sure that you read this article till the end of this article.
What Are Hidden Tasks and Why Are They Created?
Hidden tasks in the Windows task scheduler work like any other tasks in the Task scheduler. What makes them different is that they don't appear in the task scheduler view. There can be many reasons to create hidden tasks in Task Scheduler. Hidden tasks allow admins to hide tasks that otherwise confuse users and cloud their view of essential tasks. You can also prevent the accidental deletion of crucial scheduled tasks by creating hidden tasks.
Who Can Create, View and Delete Hidden Tasks?
Any user on the computer can create, view, and Delete hidden tasks for their user accounts. Administrator accounts have the unique privilege of creating hidden tasks for users and user groups. The users and groups can only view the Tasks created by the admin. They cannot be edited or deleted.
Now that you have a fair idea about hidden tasks in the task scheduler and how to use them to facilitate workflow in the workgroups. Let's proceed with learning how to create a hidden task in Windows.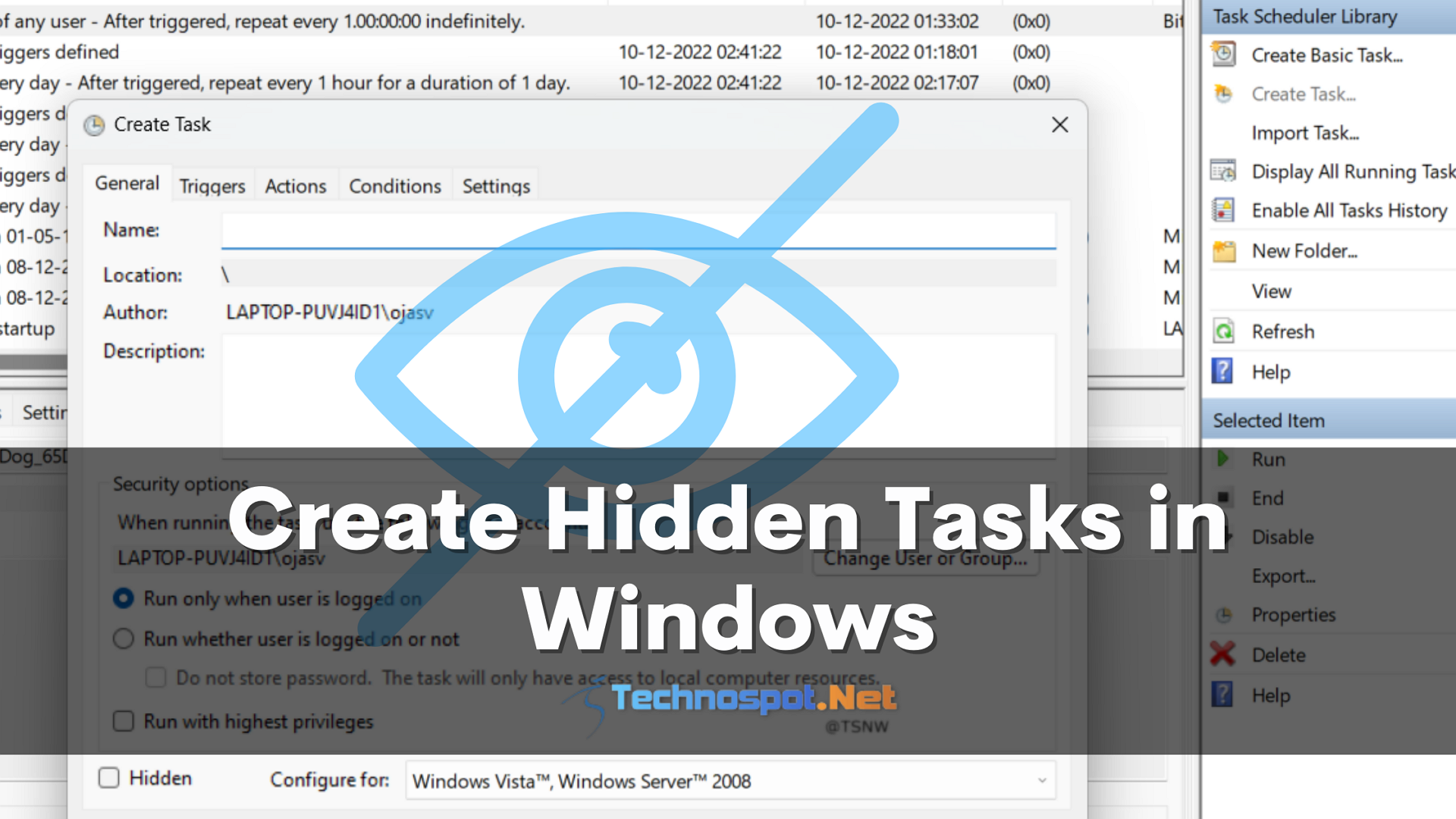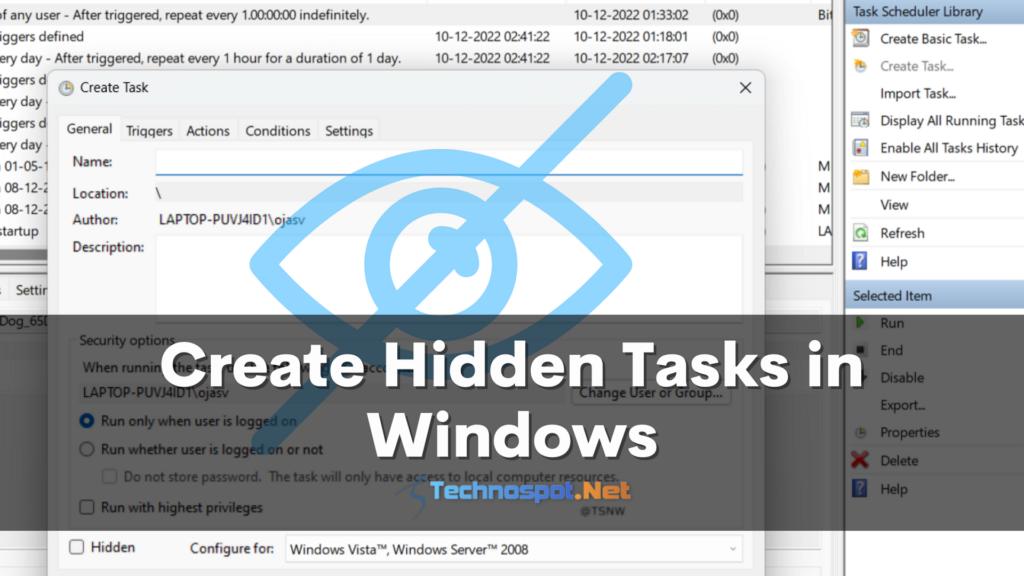 How To Create Hidden Tasks in Windows
Anyone can Create hidden tasks in the Task scheduler. It is a straightforward process that only takes a few steps. You can also edit the existing tasks and make them hidden. Here's how to create hidden tasks in Task Scheduler:
Firstly, open the Windows start menu and search for Task Scheduler. Open it.
In the Task Scheduler, head to the left pane and click on the Create Task option.
Now, a new Create Task window will open. In the General tab of the Windows, tick the box next to the hidden option at the bottom.
Proceed by creating the task by giving it a name, setting a trigger, then an action, conditions, and modifying settings.
To create a hidden task for another user on the computer, click on the Change User Or Group option. Type in the user name and proceed with creating a task.
If you have multiple such Tasks, you can mass export them when switching to a new Windows PC.
Conclusion:
A task scheduler is a handy utility used by applications to schedule tasks essential for their proper functioning. Many malicious applications have used the hidden task feature to create tasks and run applications without you even noticing. Keep checking for any hidden tasks to prevent such a thing from happening. We hope you found the article to be insightful. Please make sure that you share it with everyone.