How about combining several chunks of images into one large one? These fragments frame a picture, make it artistic, and often give a vintage effect. That's what Mosaics are all about. But you would not like a messy mosaic that doesn't meet your expectations. Hence, finding the best tools to create mosaics online is essential. While you are searching for them, we have the best photo Mosaic online tools.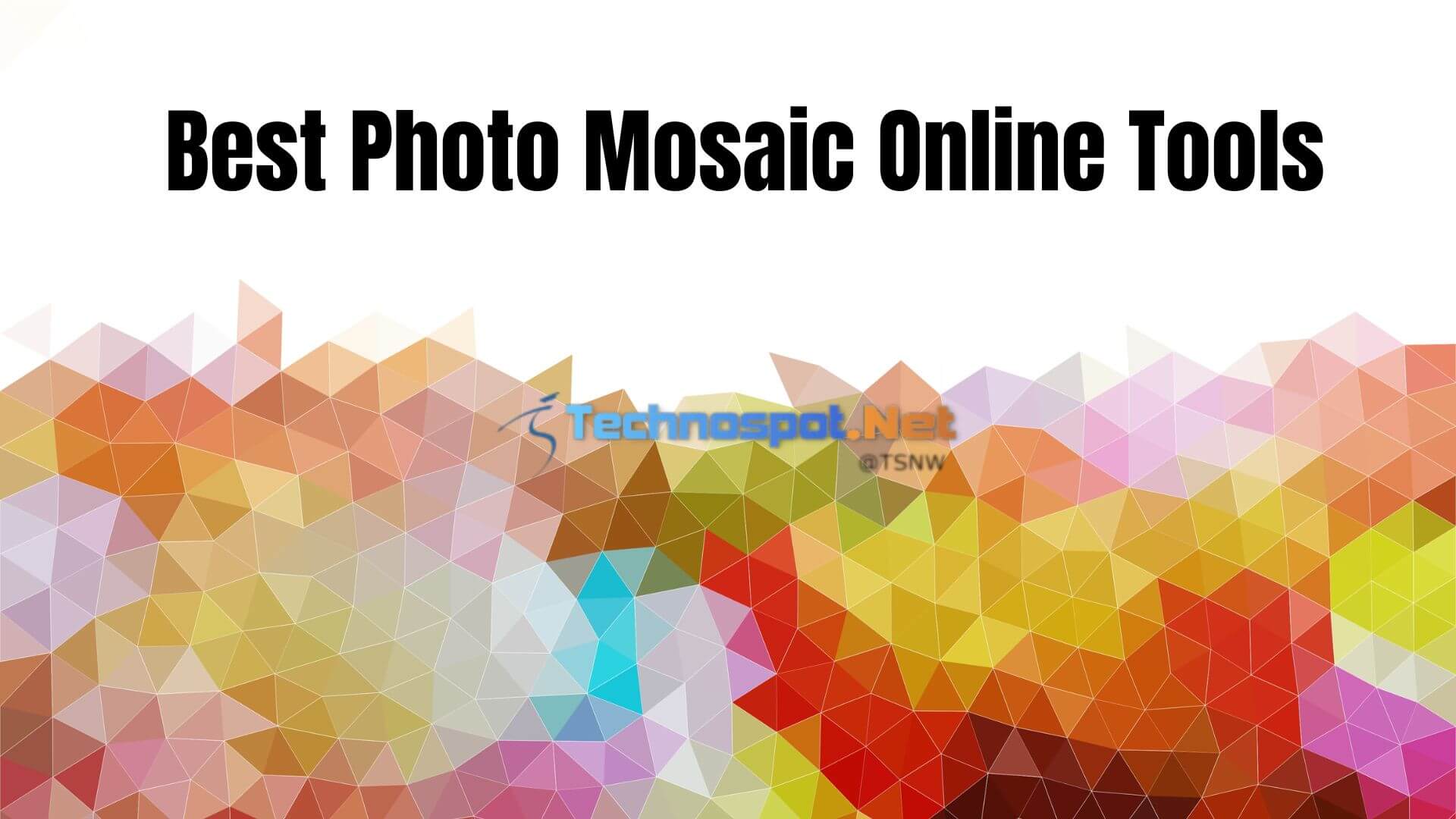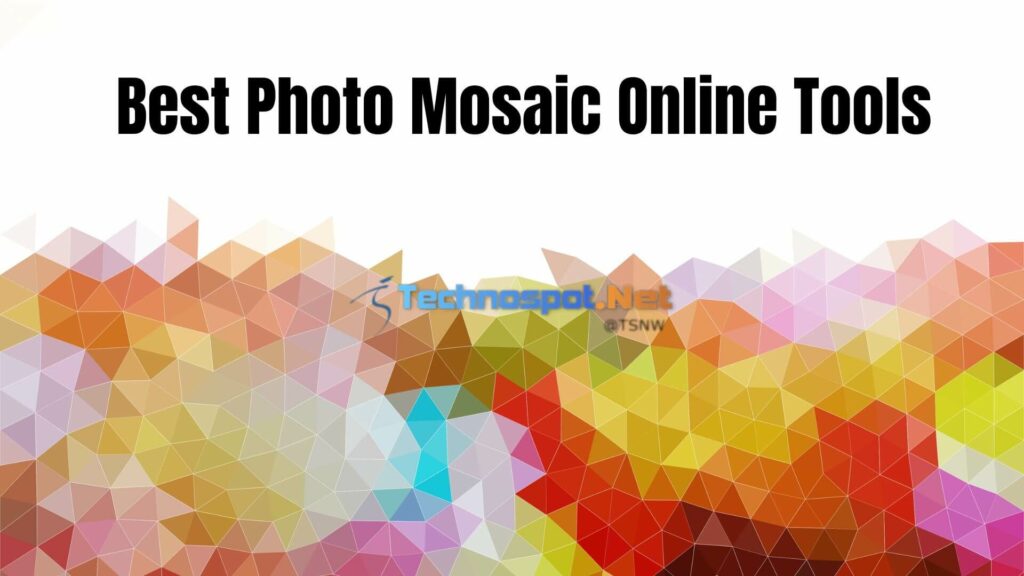 Best Photo Mosaic Online Tools
Are you looking for online tools to help create mosaics from your images? Then check out the list below:
Mosaically
EasyMoza
Fotor
Picture Mosaics
WidsMob Montage
You would be wondering what makes them remarkable and best under the category. Let's have a sneak peek into it!
1] Mosaically
How about a completely free online photo mosaic generator compatible that's optimized for all devices?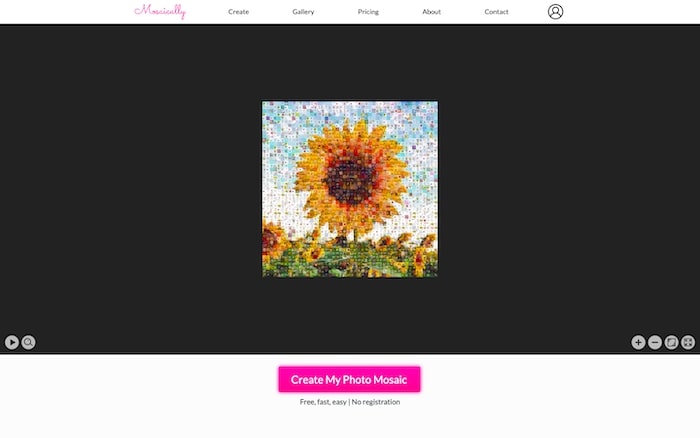 Well, Mosaically is one whose website is perfectly optimized for iOS, Android, tablets, Windows, Mac, and similar devices. You can create high-resolution photo mosaics. After which, it has direct options for you to share it on social media or with your colleagues. To create a photo mosaic, visit the Mosaically website and upload your images. You can then choose the big picture and then add the constituting images.
For trials, you can use its Stock images of different categories. After creating your Photo Mosaic, you can keep the generated image private or public. There might be people who would be curious to check out yours. You can thus publish it publicly. They can also zoom in to see its minor components. However, Mosaically requires a stable internet connection throughout the process.
2] EasyMoza
How about a registration-free online Photo Mosaic Generator with a built-in photo library?
If yes, then EasyMoza should be your go-to choice!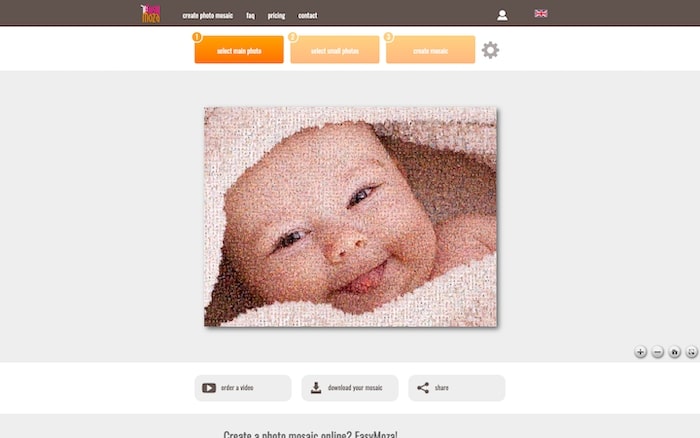 Unlike most software, EasyMoza is free to use, allowing you to create beautiful Photo Mosaics easily. The software works online, and you don't have to register yourself. To create a Photo Mosaic on EasyMoza, you need 50 images.
Visit its website, and select your photos. Choose a centerpiece or main picture you want to see as a mosaic. But if you don't have 50 images, you can pick some from its photo library. It consists of over 100 flower images and 100 animal images. The image processing time is longer than usual, which might be problematic for you.
3] Fotor
How about an advanced Photo Mosaic generator with a photo editor to add stunning effects?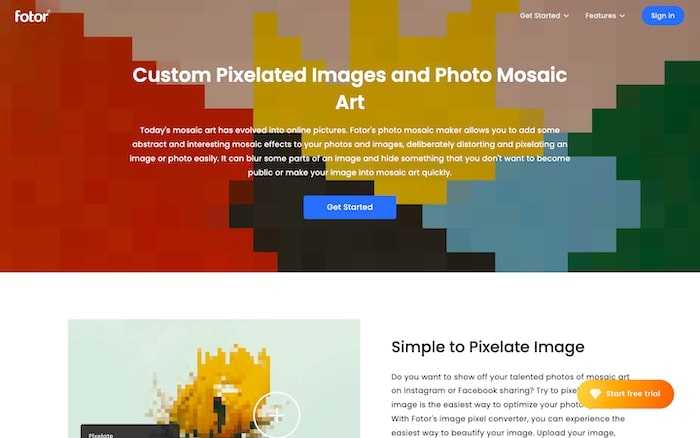 You might be looking for an online Photo Mosaic tool through which you can also add amazing effects to your Photo Mosaic. What sets Fotor apart is its effects gallery which no other software provides on this list. Several photographers prefer it because it lets you work with Fotor RAW files.
Fotor intentionally distorts your image to increase the visibility of the main photo. However, you can embellish your images by applying unique effects to enhance your project.
All you have to do is, upload the images and choose the Mosaic effect. Your pictures will become pixelated, resulting in a beautiful photo mosaic. Apart from that, you can also customize the format and size of your Photo Mosaic. However, this software also has long processing times.
4] Picture Mosaics
Are you a designer looking to create a photo mosaic automatically and manually? 
If yes, then Picture Mosaics is what lets you do that!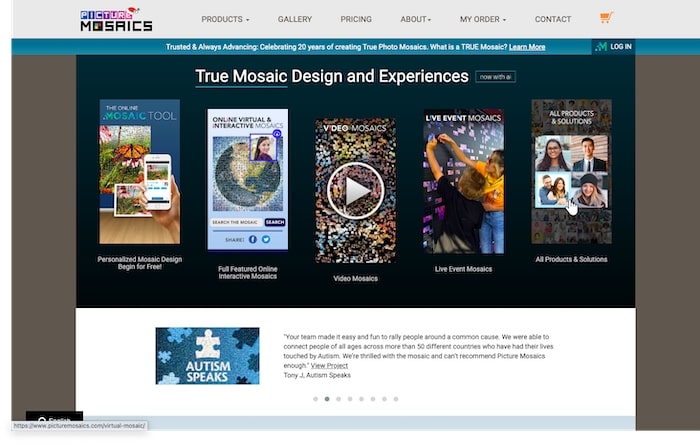 With Picture Mosaics, you can create a Mosaic by two methods. Either use the online Photo Mosaic tool or pick a designer. The first method is quick and easy if you are a novice. Visit the Picture Mosaics website and upload your images. Further, choose the desired settings to generate your Photo Mosaic.
However, the AI sometimes fails to produce a perfect Photo Mosaic. In such a case, you can create a personal order; a professional designer will manually create your photo mosaic. You can also find several paid services, such as Live Digital Mosaics, Live Print Mosaics, Live Sketch Mosaics, and many more.
5] WidsMob Montage
How about a professional Photo Mosaic software that supports both JPEG and PNG? 
If yes, then WidsMob Montage specializes in that!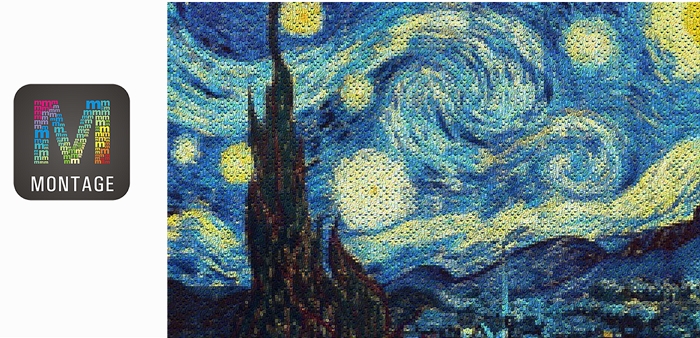 WidssMob Montage is undoubtedly one of the best Photo Mosaic Software. There are several reasons behind its popularity, be it its minimalistic interface or various tile sizes. Unlike other software, WidsMob supports both PNG and JPEG as the centerpiece.
When you upload an image in PNG format, you can use the mosaic templates or photo library for your masterpiece. Moreover, you would find several options to beautify the result generated.
You can add words, patterns, shapes, and borders to make your Photo Mosaic appealing. After creating the Photo Mosaic, you can share your artwork on social media or via Gmail. Thus, it is an excellent option if you are a beginner who wants to create a Photo Mosaic in a few clicks.
Conclusion
Suppose you had trouble finding the best software to create an online Photo Mosaic. In that case, you will have gotten your answer Mosaically EasyMoza, Fotor, Picture Mosaics, and WidsMob Montage are the best online software for creating Photo Mosaics. If you are a beginner, you can use WidsMob Montage, which is the easiest. Besides, Picture Mosaics is recommended for professionals as you can work with designers to create your Photo Mosaic.