If you are big fan of creating block posters or collages then you gonna absolutely fall in love with this tool. Shape Collage is a free software which allows you to create collage in any shape you can draw literally. A heart, circle, smiling face, your name or whatever you can imagine right now. Here is a sample for you.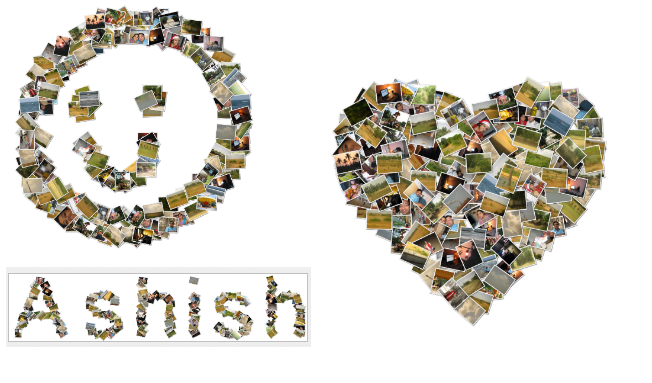 Creating a collage using this software is pretty simple. Here is how the application looks like.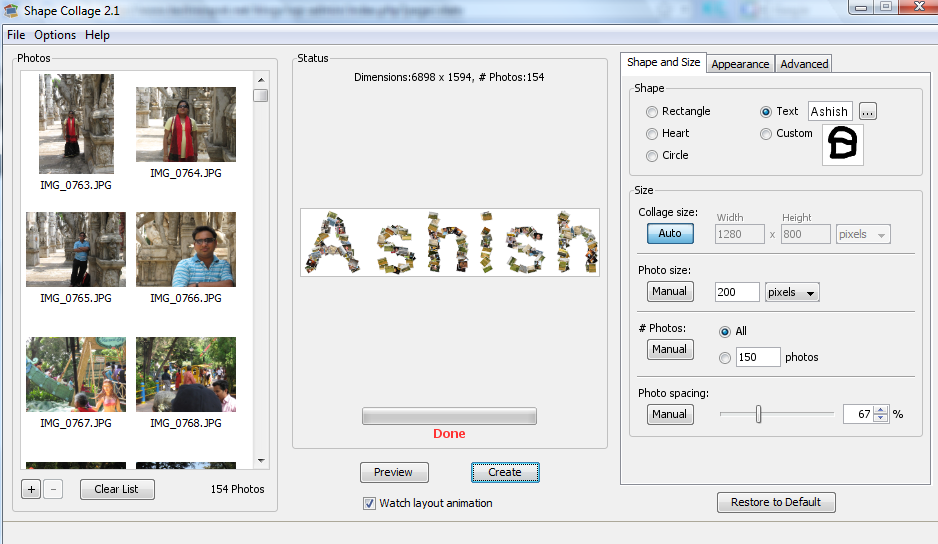 The first section contains the list of  pictures to be used for creating collage.  You can add any number of pictures in this list.
Second section act as a previewer of the shape of collage which will be finally created. Depending on the number of pictures it will try to fit in all and create an exact shape which you had selected in the third panel. You can even see the animation happening when you hit preview. You would see all the images getting arranged slowly. However you wont be able to see any of the pictures right now.
Third section is very important. This place you need to decide on shape, appearance and advanced setting  of the collage that you would like to create.
Shape and Size of Collage
Heart, Circle, Rectangle
A text
Or a mask image i.e. shape drawn by you. It comes with a small brush and eraser application for quick shape building.
Once you have decided on the shape, you can next decide on
Size of the collage
Photo size of each picture in collage
Number of photos.
Spacing between each of them.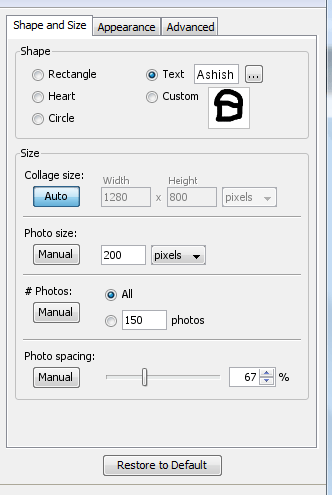 Appearance of images in collage :
Give photographs used a background and border.
You can even select another image as background and give colours for border.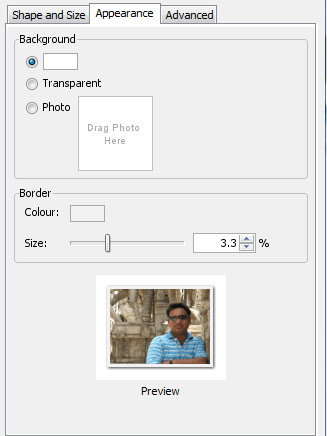 Advanced  section ( Rotation ) of shape collage :
Each of the picture used in collage is rotated to adjust all of them into the desired shape. If you would like more control on the amount of rotation and angles you can do it right here.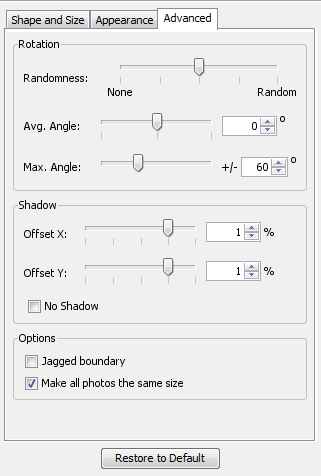 After you are done with all the settings, move to second panel and hit the create button. This will ask you to save the collage file name at particular place which you can select. Once destination set, it will create the image for you and then give you a real preview of how it looks like.
At the ending line, I would say this software is an amazing stuff if you really like to put pictures of your spent time in different shapes. You can imagine of getting this collaged image in tshirt or create a block poster out of it or maybe get printed on a coffee mug. Possibilities are endless, you just need to set your ideas free. Give Shape Collage a try