The new phone comes with a default set of ringtones and notification tones. But no need to settle for pre-set blah buzzes and bings. Custom ringtones are fantastic and simple ways to personalize your smartphones. We also use many ringtone apps, but we sometimes wish to use a part of our favorite song as the caller tune. Finding ringtones, alarm tones, and notification tones have become convenient. There are many apps to customize audios, but mostly they lack helpful features or are filled with distracting ads. This article will talk about some of the best free-to-use apps and online tools for creating customized alerts. Using these apps, you can create ringtones from songs or MP3 on any Android or iOS phone.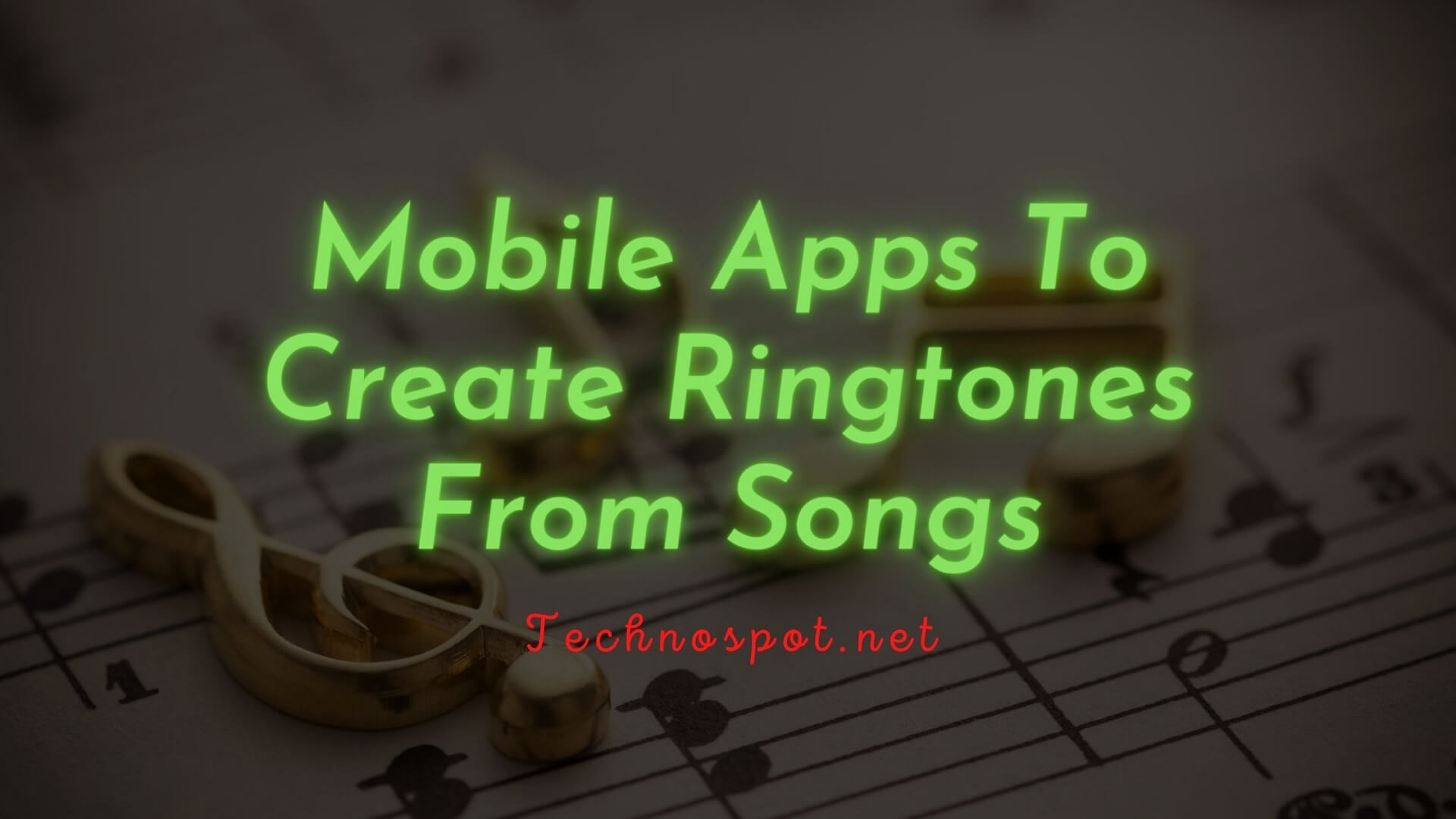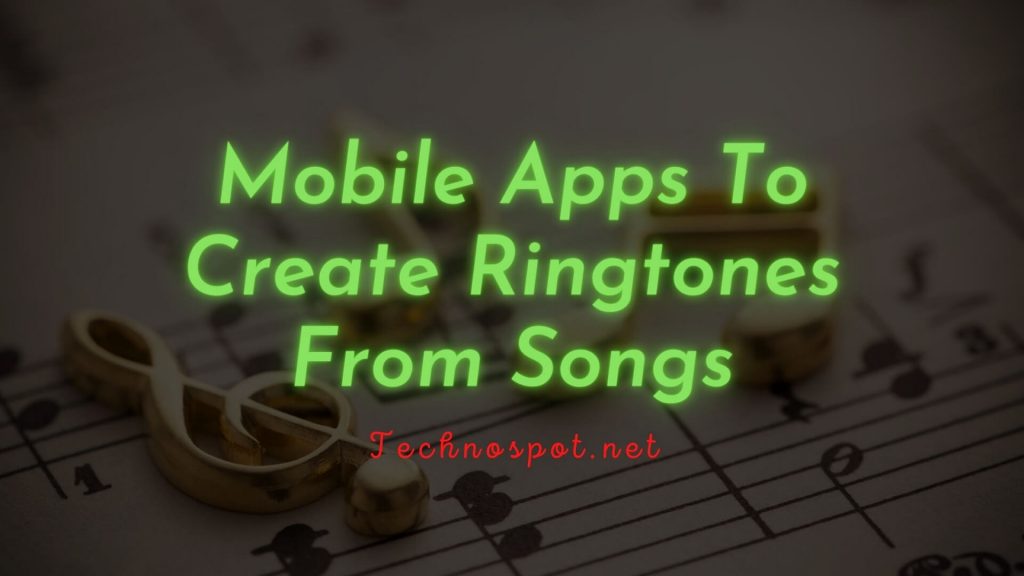 Create Ringtones From Songs or MP3 (Best Ringtone Creator Apps)
You can find many ringtone makers on the PlayStore and AppStore. Here are a few best ringtone maker apps for Android and iPhone with brief details:
Garageband
MP3 Cutter And Ringtone Maker
Ringtones For iPhone
Audio MP3 Cutter Mix
Ringtone Maker
Music Cutter
Cool Ringtones
Timbre
Ringtone Designer 2.0
RSFX
Garageband
Garageband provides you with all functions to create your alerts and then set it as your ringtone. It is an excellent music-making app on AppStore. It's easy to use the app, and you can create music using many virtual musical instruments.
Garageband is a multifunctional DJ app in which you can add different types of beat sequences that will let you perform DJ-style sound effects. It's a multifunctional ringtone cutter that helps you adjust the volume and cut a particular part of it to create a ringtone.
You can customize it by adding your voice to the music and recording your performance using this app. Then set it as your ringtone. Yet users often complain about too many commercials while using this app.
MP3 Cutter and Ringtone Maker
This app comes with endless ringtone-making features to make unique ringtones easily. Using it, you cut your favorite part of songs and adjust functions. An easy tutorial will help you learn how to make a ringtone using this app. Use an inverted red triangle as a select button to quickly select files and make the adjustments.
You can set the start and end timer to set the audio clip's duration. You can select your favorite song from the media player and use it to make ringtones. But sometimes, it has been noticed that it takes much time to upload large song files to trim a part of that using this app.
Ringtones for iPhone
Using Ringtones for iPhone, you can use your microphone and make extensive ringtones in your voice. This app has an excellent ringtone-making function. Use any voice of your friends and family members to set as their call ringtones and record your song too. Options like high-quality and multifunctional pitch and volume adjustment are of great help while making a ringtone.
This app can also be used with iTunes and can be used to convert video to mp3 then convert it into a ringtone. Trimming and cutting tones is also very easy. Some in-app purchases are also there for extra features.
Audio MP3 Cutter Mix
This app allows you to find an MP3 cutter for ringtones, change metadata fields, mix audio clips, etc. It has an MP3 converter with many formats (MP3, WAV, AAC, M4A encoder) and provides waveform support. You can create your ringtone and remix it with your voice recording.
Using inbuilt players, you can trim and cut a small part of the song, set as a ringtone for any particular contact. This software allows you to make remixes by mixing two audio songs. Additionally, in an MP3 converter, you can choose the sample rate like 32 Kb, 64, 128, 192, etc.
Ringtone Maker
Using Ringtone Maker, you can turn your favorite song into custom ringtones quickly and easily. Just select your favorite music, adjust the length and make it your ringtone. This software has a forward and back button to select the portion of the song ideally. By moving to selectors, you can set tone duration. By using the share, email your ringtone to yourself. You can set this ringtone in multiple applications. Moreover, keep a backup of your created ringtones in Cloud.
Music Cutter
Using this audio cutter, you can edit your favorite song and create custom ringtones and notification reminders. Just select the song, choose the desired part in it, and save it on your device. Enjoy listening to it later on, and you can set the edited file for every contact.
It is an excellent wave editor, where you can zoom waveform to trim music perfectly, but it is challenging to use for users. You can share it on social media. It comprises an MP3 cutter and a recorder with multiple options. You can trim the song in any sound format (mp3, Wav, aac, Ogg, m4a, etc.). It doesn't have a fade-in and fades out feature in this app.
Cool Ringtones
Cool Ringtones will help you create unlimited ringtones with endless customization, and you can set them as alert tones. There are many categories to select from, like country songs, pop songs, classical songs, etc. In this software, you will find fun sound effects like laughter or animal sound. Create ringtones of your favorite songs and keep them in a personalized tune collection.
While trimming, use pitch and volume adjustment options to customize your tone. It is effortless to use. You can create unlimited ringtones with endless customization. Plus, you can set phone ringtone for any particular contacts as well. This tool doesn't have any fast forward or back button for the ringtones and songs.
Timbre
Timbre software allows you to edit and merge audio and video files into one as per your choice, and you can split your audio or video file into two parts. It converts every file format from mp4 to mp3 or Avi, Mkv, etc., forms. Also, it can convert videos into GIF animated files easily. It lets you shorten the mp3 or m4a files. This software can remove audio from video format, and you can change video to audio format.
You can make a remix of the ringtone and change the speed of your audio or video files. Using this tool, by typing or pasting, you can convert text to speech. This tool doesn't support the playback option in video files.
Ringtone Designer 2.0
In Ringtone Designer 2.0, you will find a beautiful interface to adjust the standard length of your customized ringtone. Swipe the audio wave for a perfect short clip and set it as your alert tone. You can also create different ringtones or text tones for your friends and family.
This software has fade-on and fade-off options and gives a 30 seconds time limit for each ringtone. You can save all your ringtones into the ringtone folders of iTunes. The multiple alert system is the best part of this software.
RSFX
RSFX app helps you generate unique MP3 ringtones, notifications, and alarm alerts. In RSFX, you can save a part of your favorite song. Use the fade-in or out option to create a melody of your ringtone. You can control the ringtone volume by certain adjustments and boost bass and treble use EQ. For selecting proper start and end positions, the zoom option is also there.
The supported formats are WAV, AMR, MP3. But it takes so much time to upload a file on this software.
Are Ringtone Maker Apps Safe To Use?
Undoubtedly ringtone maker apps are safe. But make sure not to use any dangerous app that resembles a ringtone maker app. To avoid this, you can use the above-suggested apps. There is nothing complicated in ringtone maker apps. Generally, they don't ask for access to anything other than the media files and cab quickly create ringtones from MP3 or any song file.
How To Set Custom Ringtone On iPhone?
Use your computer and iTunes and follow the below steps:
Check your iTunes settings. Go to the Preferences menu and open General > Import settings. Check Import Using is set to AAC Encoder.
Upload the file on your computer, open iTunes, select File > Add to Library, and locate the file.
When uploaded, click File > Convert > Create AAC Version.
Change the version of the file to .m4r by highlighting it and going to File > Show in Windows Explorer ( Windows) or Show in Finder ( macOS).
Connect iPhone to your computer and locate it in iTunes and go to Tones. Find and drag your .m4r file from the open window to the Tones pane.
Let it upload.
Finally, to select your new ringtone, open Settings > Sound & Haptics.
How To Set Custom Ringtone On Android Phone?
For Android custom ringtones, please follow below steps
Firstly, get the ringtone onto your phone by email, Google Drive, or Dropbox, or connect your phone to a computer and drag the file over to the ringtones folder.
Once the file is on the phone, restart it.
Now, go to Settings > Sound > Phone ringtone. On Samsung phones, you'll use Settings > Sounds and vibration > Ringtone.
Locate your new ringtone and select it.
It's cool to have a different ringtone, and above ringtone maker apps will always help you create your favorite ringtones quickly. Finding ringtones, alarm tones, and notification tones have become more accessible these days. These apps are free to use, and it does there job pretty well. We strongly suggest you use the above apps and create your favorite ringtones from MP3 or any Song.