If you had ever watched a Windows Power user, you must have noticed that he does a lot of stuff right from the Run prompt. The person will seldom use the Program Files, shortcuts, or even opening the windows default download folder. It is possible because Windows has set up these shortcuts or alias and take set action required. For example, if you type in Excel in the run prompt and return, it will launch the Office Excel. In this post, we will share how you can create Run prompt-based shortcuts for all Windows users using Alias Manager software.
Create RUN based Shortcuts for all Windows Users: Win+R Alias Manager
Here we will create similar shortcuts or alias that can be launched from the run prompt. They will not be just for you but for any other user who has an account on the computer. It will be handy as you will make other users life more comfortable if they are not power users. And since this is easy to do, with zero learning curve, it will be an excellent productivity tool.
Introducing, Win+R Alias Manager from WinAero. It utilizes the inbuilt windows feature but gives you a friendly user interface to achieve this.  Here is what it looks like :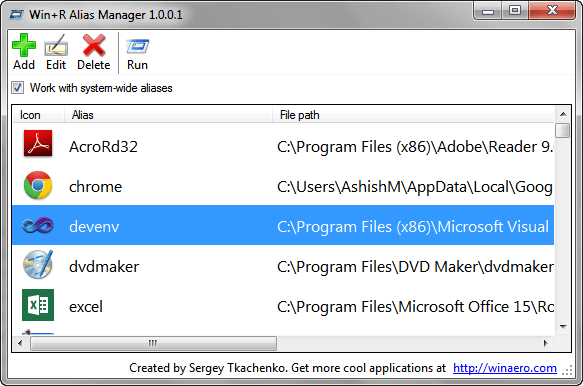 When you launch this portable application, it lists down all the shortcuts already built into Windows or created by other programs. You can view the details of application, Icon, Alias, and file path, which is launched when its used on the run prompt.
To Create shortcuts for every user, you can edit or add new alias and choose the option which says "System-Wide Alias (otherwise per user).  When you select this option and save, you will be prompted by Windows for admin permission. So make sure whenever this is being done, the user is always admin, else it will not work. To check if its working, first make sure to run it from the application itself and then from the other users account.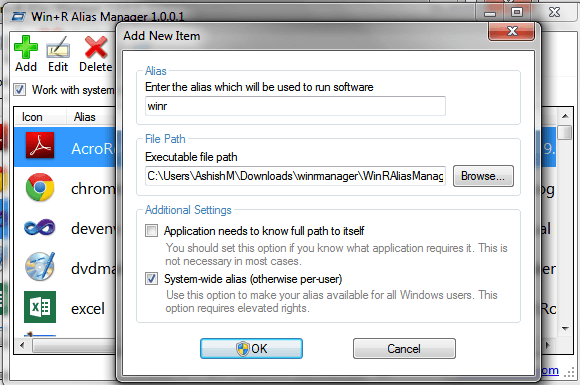 Make sure to use an Alias which is not used by some other application. Since you are free to do, you can always create an alias with your favorite alphabets. You may use only letters, digits, and dot in aliases. All other symbols are not supported.
Overall, its an excellent application for Windows users to access programs faster. I will highly recommend you to download and use it — download from here.