Creating partitions inside your USB drive is not possible because of the nature of the hardware but Rohos Mini Drive application uses a smart trick which lets you create partitions in your USB drive.  First let us understand what it does before we talk about rest of the features :
First it claims part of your USB drive Storage. So once you have the setup done it will have some percentage show as occupied.
Second,  For such partition on your USB drive it creates a virtual partition on your hard drive.
Number of Partitions = Number of such Virtual Drive = Number of USB i.e. For every USB you get a virtual drive.
This Virtual partition is linked with USB and is accessible using a password.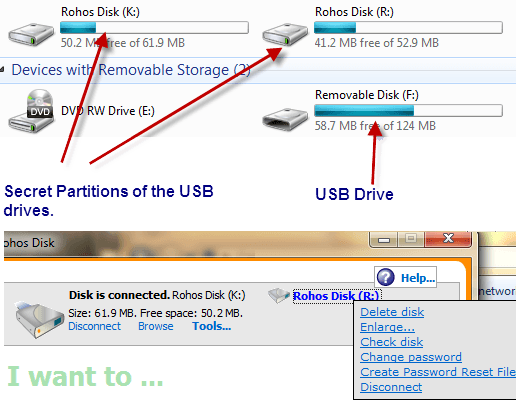 Did not get it ? Come back here when you finish reading the rest of the post.
Now lets start from basic. First download the application and install it. Insert your Thumb drive and launch the application.The plugged in thumb drive is automatically detected. Click on Setup USB Key to start.

Here you will details of How much Space is being taken to create the secret partition on USB flash drive and where the image of the drive is kept. Best is to keep it in your USB device so you can use it any where. Here you create password which will be required to open it later.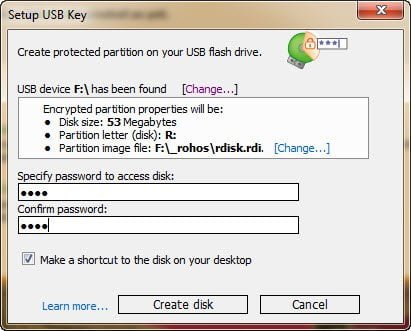 Once this step is complete you will see the list of drives on top of the application dashboard and virtual drive listed in My Computer. Whatever you store in this drive is stored in USB.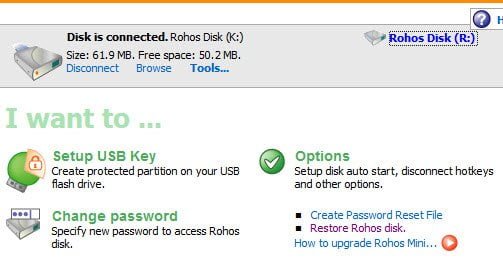 Also in USB flash drive you will see few files of Roho which is required to launch when you are on a different computer.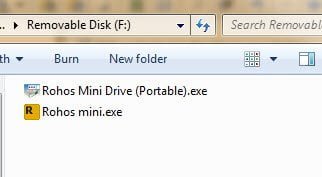 Now Rohos Mini Drive application has two versions. One which is free and supports creating virtual drive up-to 2GB and there is no limitation on the paid version.  This application also comes along with few tools which lets you manage the drive itself.  Here is the list :
Deleting the disk.
Expanding the size of the disk.
Check disk utility.
Change Password.
Create Password Reset File
The USB drive comes with a small utility Rohos Mini Drive (Portable). This is the browser tool which you can use to explore any image created by Roho Application. For example if you have saved images to somewhere else when creating it, you can still explore it any time with this portable application.