PC Tools Password Generator is a nice tool, which allows you to create 50 or less, passwords with one click, these passwords and highly safe and secure.
You just need to choose the character specifications of your passwords, and finally choose the number of passwords you want to create, as shown below.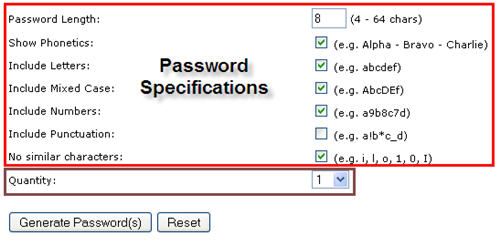 If you choose the 'Show Phonetics ', the passwords provided will Phonetic Pronunciation of each, making them simple to memorize, as shown below.

If you even find the passwords, tough to memorize, you can try some handy password manager like KeePass.
You can also download the offline version (PC Tools Password Utilities) of this which comes with two other utilities, a Password Checker, and a Password Revealer, Password Checker, tells you, how strong is your password, and Password Revealer works with Internet Explorer to reveal saved password that you have entered in web-forms but may have subsequently forgotten or lost. Simply bring up the hidden password in Internet Explorer, highlight it, and Password Revealer will tell you the saved password.
So if you are fed up of thinking new passwords for your different accounts, let PC Tools Password Generator, do it for you, just be cautious, these passwords are not east to memorize, so before you opt for any password provided by this tool, have some backup ready. Try  this Password Generator, and share your experiences with us.