Microsoft Office PowerPoint 2010 has an extraordinary out of the box feature which lets you create video right away, and it supports HD (High Definition Display)  960 X 720 which makes it even more presentable, specially if you are planning to upload to YouTube.  It also supports 640X 480 and 320X 240 for Internet and Portable devices.
Once you are done with your PowerPoint, go to Back Stage view >Save and Send > Create a Video. The video will :
Incorporates all recorded timings, narrations, and laser pointer gestures
Include all slides not hidden in the slide show.
Preserves animations, transitions, and media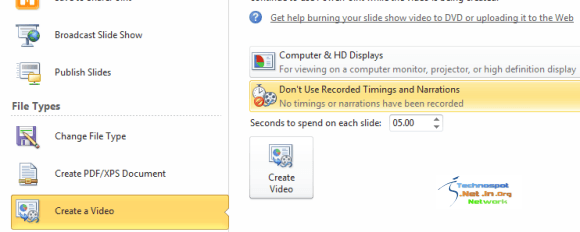 You can opt in or out to include Recorded timings and narrations and configure how many seconds it should spend on each slide. This makes sure that end users will feel like viewing the real slide show.
However if you choose to Record Timing and Narrations you will have two options here :
Use any of the existing recording which you might have tried it out before.
Or you can start recording and previewing instantly.