Microsoft has rolled a brand new application which allows you to create a Virtual hard Disk from your current partition which can be further used in Microsoft Virtual PC or Microsoft Hyper-V virtual machine without taking it offline.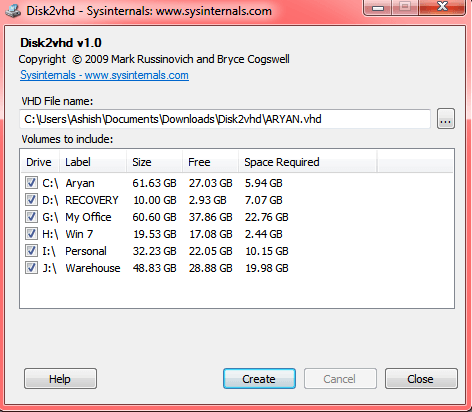 Like you can see it gives you complete detail on how much space is required for the VHD to be created and you can opt in to select all partitions or just one.
How do you use it ?

The article says To use VHDs produced by Disk2vhd, create a VM with the desired characteristics and add the VHDs to the VM's configuration as IDE disks. On first boot, a VM booting a captured copy of Windows will detect the VM's hardware and automatically install drivers, if present in the image. If the required drivers are not present, install them via the Virtual PC or Hyper-V integration components. You can also attach to VHDs using the Windows 7 or Windows Server 2008 R2 Disk Management or Diskpart utilities.
In simple words half of your work is taken care of because you made an exact replica and anything extra is installed once it gets plugged into the VM environment.  So I can carry my complete  partition with installed software and plug in on VM in my friends computer and test it out.
However the team says
do not attach to VHDs on the same system on which you created them if you plan on booting from them. If you do so, Windows will assign the VHD a new disk signature to avoid a collision with the signature of the VHD's source disk.
However if you have a virtual disk created with VM Ware , you will need this official converter to convert it into Virtual Machine format usable by Windows Virtual PC
Just run Disk2vhd on the system you want to migrate and specify the volumes for which you want data included, and Disk2vhd creates a consistent point-in-time volume snapshot followed by an export of the selected volumes into one or more VHDs that you can add to a new or existing Hyper-V or Virtual PC virtual machine.
Should take care of this point. Download it from here and find all details on the same.