iPad, rather iOS, allows you to choose any image in your album as wallpaper as it is. There is no option which can help you change it a bit unless you use an image editor and then set it as wallpaper. Though not many of us are bothered about it but if you are Stackpad, Wallpaper Designer App, is worth a try.
Stackpad starts with an empty blank wallpaper which you need to design. You can multiple image and then rotate and resize each of them to fit into that template. Once done you can add a nice background which matches with the images. Each image you add can be of different size.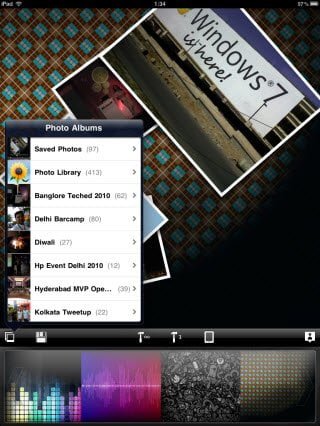 Features  of StackPad
#1 Arranging the images : If you are bit confused on how to arrange your photos, there are two random tools which lets you randomized rotation and location over the template. Also when nothing works out, one click to clear all.
#2 Using Multiple Images : What makes this app rock is using multiple images thus creating a mosaic like experience bring all the beautiful memories in one place as my wallpaper or on lock screen, more personal.
#3 Overlapping Images : Photos which you add to the template can overlap each other. This means you can bring any photo to front or send it back.
#4 Preview : Wallpaper on Lock screen is very tricky because of the lock button which cuts of the part of image. This app comes with a lock preview mode which gives you a clear idea on how images will look when used as wallpaper. So if you want to arrange images around the lock button, you can do that.
This app is free now, download from iTunes. Regular price is 1.99 USD
Also read : How to get free HD wallpaper for your iPad