The quality of CV (Curriculum Vitae) or the Resume, has never been something like a supernumerary player during a job hunt scene, its importance can never been denied.
Several formats and layouts can be found for creating a CV; people have their own opinion when it comes to best CV format. Now, imagine an online tool for creating a CV in few clicks, also you get a URL link for your CV clicking on which anyone can have a look at your skill sets, and guess what, all this comes for Free!!!!
Once you choose to sign-up with the service, you need to provide some basic details like full name, your location etc. and you also get to choose the URL for your CV.
Once done with sign-up, verification mail will be sent to your inbox, verify your account else it will be deleted within 4 days.
Now you can start updating your CV for Profile, Work Experience, Qualifications, Computing Skills, Language Proficiency, and any special skill set you have can be filed under 'Various', you generally need to choose the option which suits you best, typing in will not be required much, all it takes is, clicks.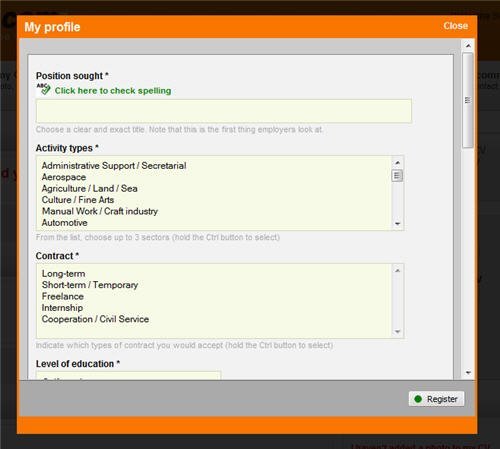 You can also set a level of Privacy for your resume, you can decide what part/parts of your CV should not be made available to everyone, a photo upload can be done, and if you want you can show off some of your skill set using the Video option, by uploading a video to be attached with your CV.
Once done with all this you can choose a template and colors for your CV, loads of ready made options are available.
Finally, you are ready to share your CV, several sharing modes are available to make a choice for you, widgets to share your CV on a blog, website, and Facebook like sites, and you can also choose to list your CV in the search engines as well.
Other features –
Options to download CV in PDF or Word Format.
You can choose the language for building your CV.
Very simple and easy to use.
Easy CV.com is definitely a useful tool; CV building is a tough job, especially when you don't have loads of work experience to make your CV look kind of overloaded, so in such cases this can be very useful for creating a eye-catching CV, All the best!!!! for your Job Hunt.
Try Easy CV.com