Are you a designer or someone who loves to create magic colors? Creating your color palette is one of the most important. Sometimes color expresses more than words, one of the most critical aspects of your design. Analogous, Triadic, and Monochromatic color schemes are incredible. Even color psychology says that red expresses anger, blue represents calmness, and which color is more, red or orange?
All these questions might revolve around when you are doing color creation. Choose your color palette whenever you don't look up at the color wheel. Color combinations express the mood of your design and speak to the viewer non-verbally. So, to save you time and help you design and decide the best color palette for you, in this article, we will tell you about eight tools where you can create your color palette library.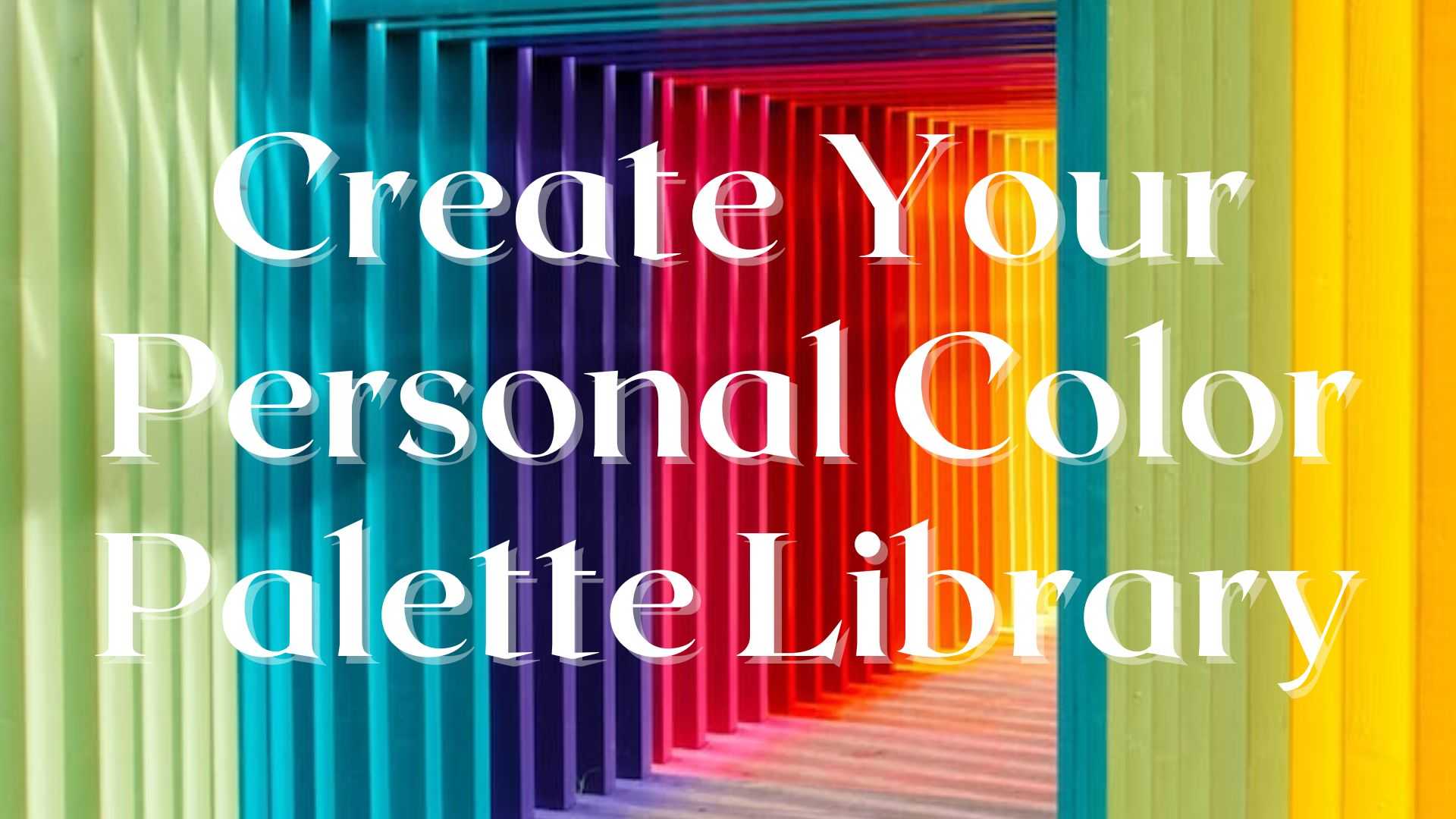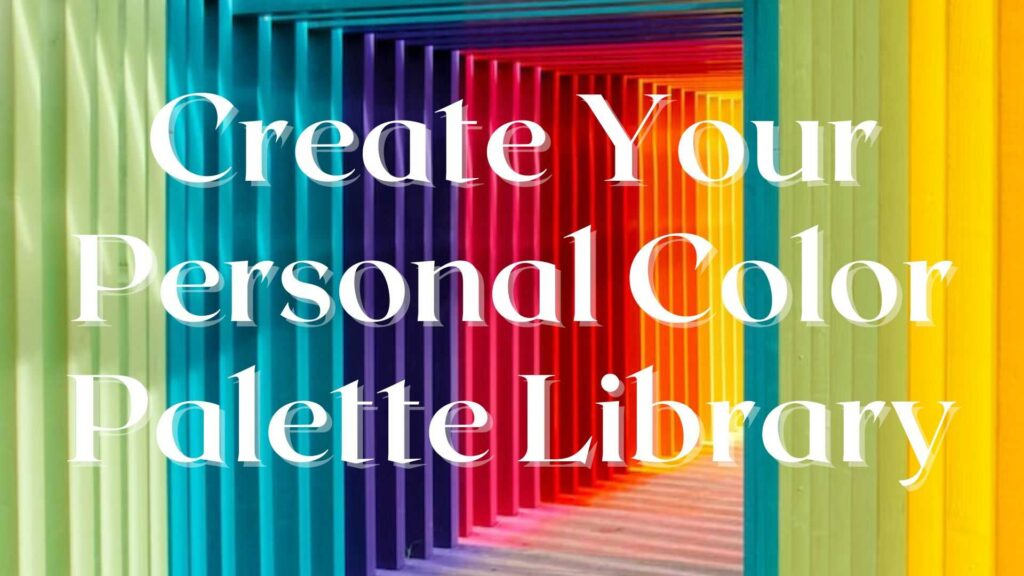 Best Tools To Create Your Color Palette Library
Creating your color palette can sometimes be a challenging task. But these tools can make your process of designing a color palette pretty easy and hassle-free. A color palette can give designs a new look to help your creations become more organized. Thus, it will help you to identify different colors to enhance your brand look or design.
Canva
Adobe Color cc
Khroma
Coolors
Color Tool
ColorSpace
ColorKuler
Designspiration
Good color psychology can boost your design, look and feel, which makes it eye-catching. If you are unsure which color represents the mood, it can be complex for you to convey an intended message to your audience through the design! But tools to create a personalized color palette are the ultimate rescue.
1] Canva 
Canva is one of the famous graphic designing tools that help create some fantastic creations for any brand. It's simple, easy, and convenient to use for anyone. Canva is free, and you can avail yourself of the paid version. In addition, you can find the color palette of any image on it.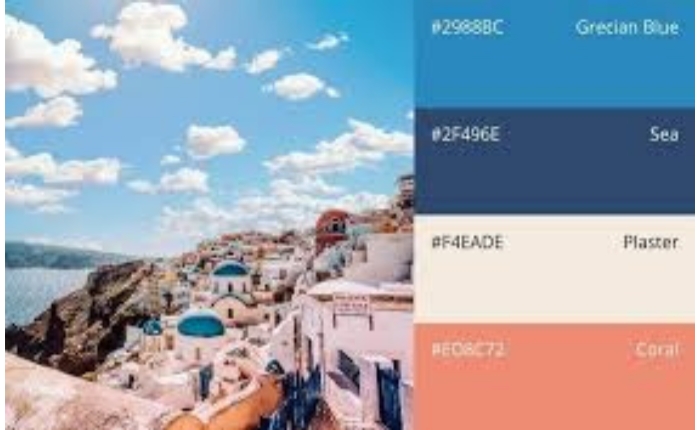 An option of uploading a picture will be coming, and you have to upload the photo showing all the color palettes below. It is simple to use, and you can download this app's mobile or desktop version. There are many designs available from which you can take inspiration for your design. To create your color palette and save it for later use, you will need a Canva pro subscription worth every penny.
2] Adobe Color CC
Adobe is heaven for creative people. Adobe Color CC provides the easiest way to create a color palette. It provides color schemes on a color wheel, making it more valuable. Besides, it works best in coordination with other Adobe apps. Once you land on the main page, you will see a color wheel to create your color palette accordingly.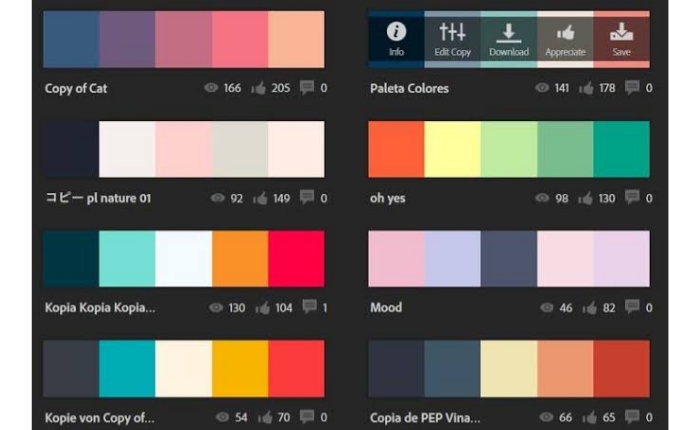 You can also download its mobile app. More options are available on the page, like Extract theme and Extract gradients which make the creative work much more accessible and convenient. If you want to know the color of any gradient or theme of any image or upload the photo, you will get all the details.
Related:  How to add color palette to Photoshop
3] Khroma 
Khroma is an AI-based technology for your color palette generation. You can generate 50 palettes from 50 colors, giving the exact results in the visualization of any creator. It will ask you to select the 50 colors, and then from your selection, it will show the color generation in 5 different types.
Unfortunately, it's currently on a BETA version, so you can't save or download the color palette on this platform. However, AI-based technology works flawlessly and provides unique and personalized color matches.

4] Coolors
Coolors is for advanced professionals. It is one of the best and most used platforms by designers to find the perfect and correct color combinations for their designs. When you land on their website and click start the generator, it will display randomly generated palettes.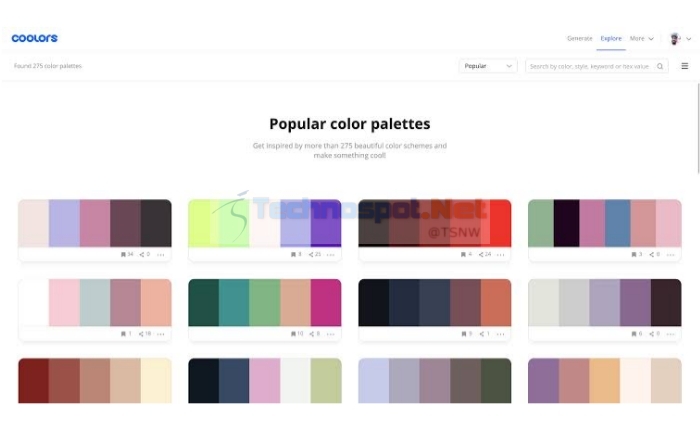 On clicking the spacebar every time, a new palette will be shown. You can select the color, drag the color, and set everything to generate your color palette. Besides, you can even upload your image to extract its color and gradient.  Also, there is an app available for Coolors.

Click here to learn more about Coolors. 
5] Color Tool-Material Design
Color Tool is a user-friendly and professional one to use for color palette generation. It's a tool where you can check on your UI/UX design color to see whether the colors match the design or not. Material Design is a design system developed by Google, and they use this all over their digital products to make visual appearance cohesive and integrated.
The platform selects the color from primary and secondary colors only but still provides various combinations to test your UI interface color design. As a UI/UX designer, colors matter a lot, and everything on a landing page must look cohesive. Thus, colors should be uniform for the design to become visually appealing.

6] ColorSpace 
ColorSpace comes to the game when you want to play with a single color or shade. It will give all the color combinations that best suit according to the color code entered. There are various options to pick a color using RGB code or a hex value. You can directly create it on the color wheel, get all the best possible combinations of the picked color and generate your color palette straightforward website with a clean UI.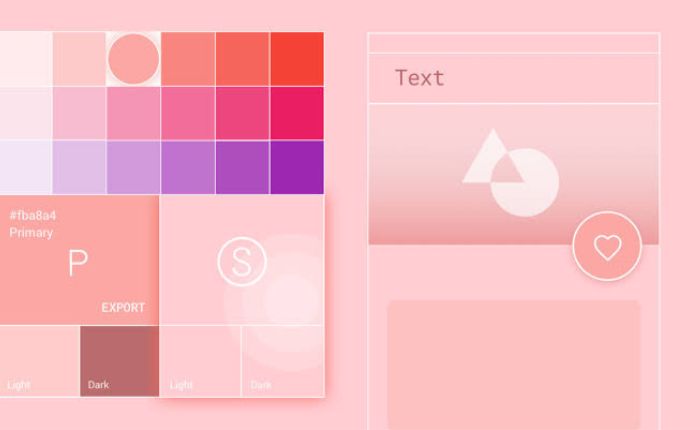 If you are a beginner, it is one of the sleekest options available. You get various options like different shades and hues of the same color you choose.

7] ColorKuler 
ColorKuler is one of the best platforms for picking up colors from Instagram. Many brands or companies post regularly and do social media marketing over Instagram. It is one of their most valuable tools to integrate their color into posts. Colorkuler is an Instagram profile color palette extractor that allows you to search your profiles through their platform and to use Instagram API with the username mentioned. It will show you all the different palettes.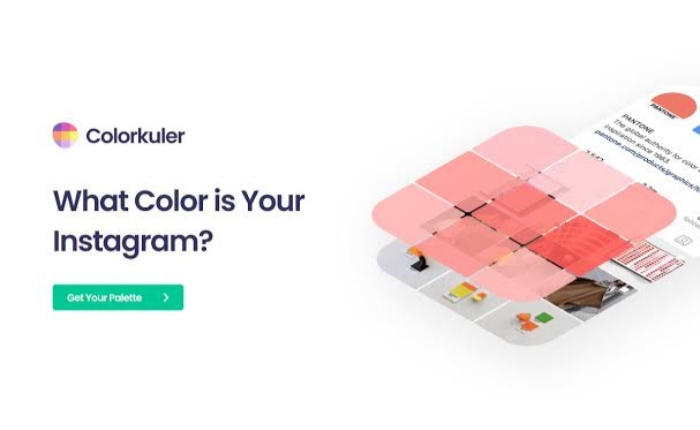 The free version of the app shows you the result according to the last post on your profile, and the paid version generates the palette using the previous 28 Instagram posts on your profile. It is one of the best color analysis platforms available in the market, and you can share, save or download a pdf of the analysis.
8] Designspiration 
Done with the color palette selection, but you are out of ideas now; what to create? No worries; every creator goes out of ideas someday. Designspiration is a platform that will solve this problem very quickly, and you can get numerous ideas from this platform after choosing the color of your interest.
You can create your color palette by choosing five colors, and then you can see various designs and pictures based on the palette you chose or created. There are various design options available through which you can take inspiration for your next design.
Conclusion
So, these are the eight platforms to create your color palette library. These accessible and simple-to-use professional platforms can help you choose and identify the best color combinations that suit your design and help you make the best creation.
Of course, every platform has its pros and cons, but it's totally upon the user on which platform you are getting comfortable. Some of the tools even have paid versions that provide some extra functionalities, making the process more worthwhile and helping to analyze more about the color palettes and design.