Mosaic is an art consisting of a design made of small pieces of colored stone or glass. This can be on almost on anything right from normal flooring.  So How about putting it on some photos and get some real affects.
This is what PicArtia does. It's is an online tool to create photo mosaics, creating and downloading the mosaics for free.  Let's get to know how the Mosaic concept works on pictures
Keeping the definition in mind, If you see the picture below you would notice that a normal picture has been applied another layer of collection of small pictures, thus giving the real Mosaic affects.
Now lets get to know the tool. Picartia has a very cute tool which allows you to  ( In steps )
Upload your picture from internet or your computer
Then they have galleries which contain lot of thumbnails of images. You can select any of them and this will act as mosaic for your uploaded picture.
Next you just need to give in your email and name so that they can send you the link.
All done and you will get the picture.  You will also be able to download the same picture from their site. The drop-dead simplicity of tool is really appreciable, and processing at each step is pretty fast, You would love it. Here is a Photo Mosaic I created to test.
Compare pictures with and without Mosaic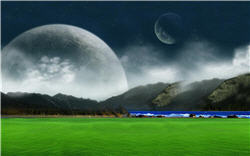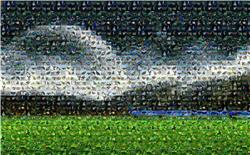 I realized that to get a nice Photo mosaic, the photo should be full of colors, photos with dull background or subject, will not give a beautiful mosaic.  Ashish even tried out with couple of facial pictures but seems to be not working out very nice. Probably you will have to be very sure what you need to upload.
Everything is free on this site except for ordering a high quality print is charged, and the costs for it start from US$3 for A3 size. If you are serious about it the price is affordable.