Are you eager to create mesmerizing photo gifts? In that case, you need to be on the lookout for the best photo booking printing website. One of the top-rated online portals for creating stunning photo books is Blurb. This post will share a Blurb review that will help you easily create professional-quality photo books.
Blurb App Review – A Stunning Way to Create Professional Photo Books
Blurb is an easy-to-use website where one can develop and customize photo books. There are various tools available that aid in the creation of photo books and magazines. It caters to both amateurs and professionals.
Blurb Salient Features
Blurb has many features, making it one of the best online photo book creators. Some of these are:
1. Cover Types
To create professional-quality photo books, you can choose from three cover options. These include Layflat, Hardcover, and Softcover.

2. Paper Types
There are various paper types you can select from. These include Mohawk ProPhoto Pearl, Premium Lustre, Standard, Mohawk Superfine Eggshell, and Premium Matte.

3. Templates
There are multiple options available based on the theme you want. For instance, you can opt for family, travel, baby book, etc.
4. Design Tool
The free design tool, BookWright, helps users create remarkable photo books. You need to follow three simple steps for photo book development. Not just that, it comes with the Adobe InDesign plugin, Adobe Lightroom Book Module, and Adobe Photoshop Wall Art plugin so that you can create books right from the apps you are using to edit the photos.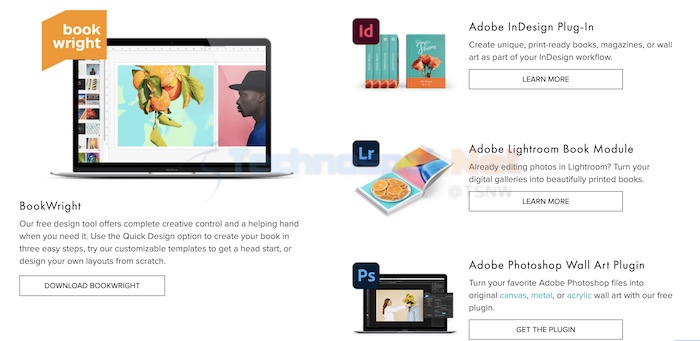 5. Publish and Sell
Professionals can create and sell photobooks with Blurb. The website offers a global platform to sell your work on Amazon or the Blurb Bookstore.
6. User-friendly Interface
The app is easy to use and doesn't have a complex learning curve. You don't have to be proficiently experienced technically to use the Blurb app.
7. Quick Shipping
It takes to process and deliver your photo book is around 4-5 days. However, if there is an emergency, Blurb does offer overnight shipping.
8. Support
The company offers constant support to the users. There are live chat and email options where users can reach out for help.
These are some of the best Blurb app features we like the most.
Templates and Formats
Blurb offers a wide range of templates to customize magazines and photo books. The photo book templates are categorized based on themes. For instance, you will get a collection of cookbook templates. Here, one can combine stories, recipes, and images perfectly.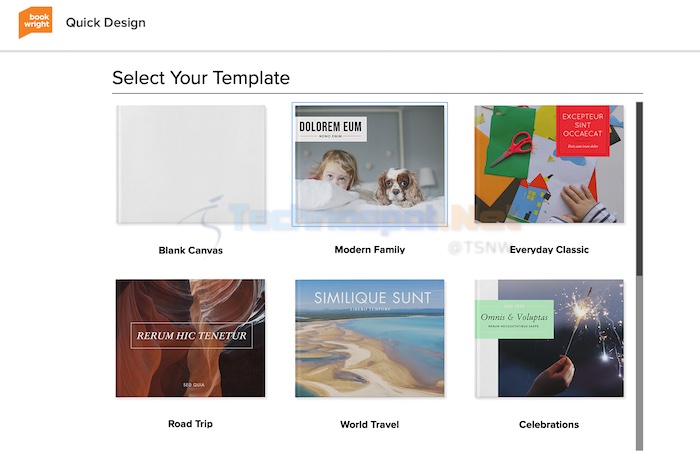 You can choose the family book templates to create fantastic family photo books. The distinct layout makes it perfect for text and photo addition. The next one is the travel book templates. In this case, you can immortalize your travel adventures with exciting stories and photos.
You can also choose the pre-build sizes you want to print your photo book.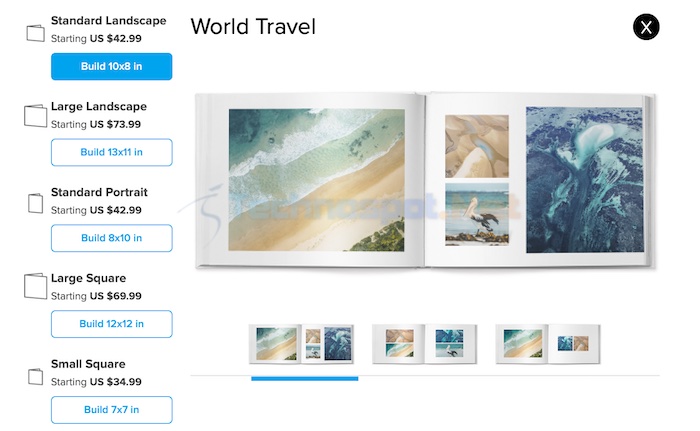 With the baby book templates, users allow parents to keep a memory of their baby's firsts. These milestones are precious memories that you can later boast to others. The last one is the portfolio book templates. This is dedicated to professional work and has two sub-categories – portrait and landscape.
Blurb provides five different formats – photo books, wall art, trade books, magazines, and notebooks. In photo books, you can compile the images you want and choose the paper you want to edit with the best design tool. After that, you can publish and sell it or get it shipped!
If you are fascinated with wall art, Blurb can help with that too! All you have to do is upload the photo, choose the style and size and start the customization with the design software. For professional work, you can opt for trade books. Here, you will get multiple format options such as size, cover choices, colors, etc.
For printing projects, you can choose the Magazines option. You can access numerous predesigned templates, sizing, and printing covers. Journals are highly personal, and this customization is imperative. You can choose the type of pages you want, add photos, select the cover, etc.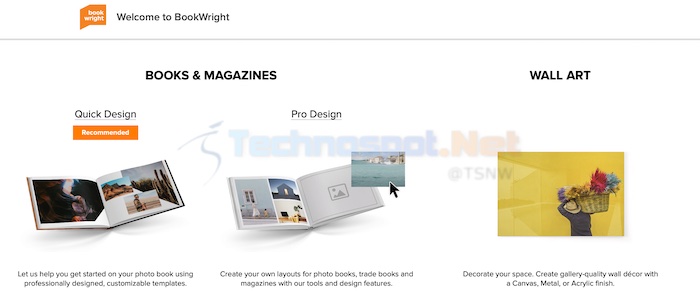 Pros of Blurb App
User-friendly
Comparatively budget-friendly
Ability to add text and photos
It allows some creative control
Availability of overnight shipping
Cons of Blurb App
Lack of editing options
Limitations in style options
Conclusion
Blurb is an excellent website for individuals eager to create photo books, magazines, etc. The quality of the images is pretty decent and is thus a good choice for formal projects. The online portal is easy to use and offers multiple formats and templates. You can opt for the predesigned formats if you are in a hurry!
However, it is vital to understand that the website doesn't offer too much creative scope. This is not for you if you expect a highly creative and customized photo book website.