Delay Delivery is an excellent feature in Outlook if you want to send emails later, i.e., Send a future email. You can use this feature in two ways. One by setting this option for the emails you want or second by creating rules where you can specify conditions that will make it delay. It is applied to Outlook connected to POP or Exchange Server connection and even IMPA service. It also works with Office 365, Outlook 2019, Outlook 2016, Outlook 2013, Outlook 2010. Let's learn how you can send future emails from Outlook
Delay Delivery: Send future emails from Outlook
There are two ways of doing it:
When creating a new email
Create Rules for delay delivery for all future emails.
Delay Delivery when creating a new email
After you are done writing an email from Outlook, switch to Options on the ribbon menu and look for the Delay Delivery button. If you can't find it, look under More options arrow from the Tags.

Once you open it, there are many things you can configure, including the delivery time, i.e., when the email has to be sent. You can select any date and time (which is predefined with a difference of 30 minutes). Select the Do not deliver before check box, configure and hit send mail.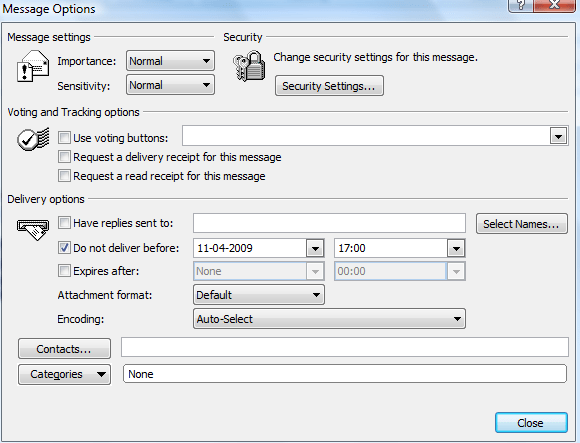 Now you can go and check the Outbox. The future-dated email will be available right there. For my IMPA connected emails, I don't have an Outbox for IMPA, but it used the Personal Folder Outbox for temporary storage.
Remember you should have at least one email account set for Personal Folder else it will be not included in the Send Receive group, and this will fail.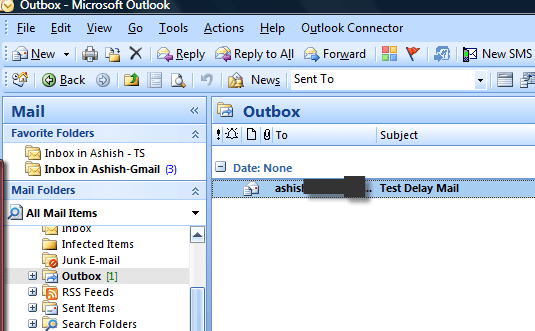 Now wait for the time, and your email will be delivered at the set date and time.
Related: How to Schedule emails in Gmail to send at a later date
Creating Rules for delay delivery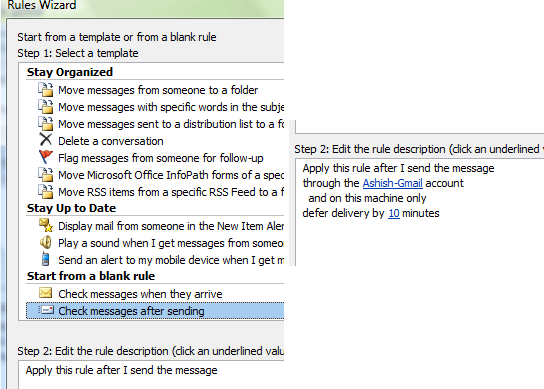 Now coming to our second scenario where you don't want to send emails immediately. You would like to delay the email by let's say 10 or 30 minutes. Why? I might have forgotten to attach any file, or I might get some other email details of which needs an update. These situations happen every day, which I see happening in Office and even when you want to send documents to clients.
So let's create some rules. It's clear that you would like to delay the sent emails only. So, click File > Manage Rules & Alerts > New Rule. It will launch the new rule wizard which will guide you through creating the rule.
Step 1] 
Select a template box, under Start from a Blank Rule, click Apply rule on messages I send, and then click Next.
Next, select the conditions list. Select the checkboxes for any options that you want and then click Next.
Select action(s) list, select the defer delivery by several minutes checkbox
Specify a name for this rule box, type a name for the rule.
Step 2] 
Edit the rule description (click an underlined value) box.
Click the underlined phrase several and enter the number of minutes for which you want the messages to stay in the outbox before it goes out.
Maximum Delay Delivery time can be up 120 minutes.
Step 3] 
Click OK, and then click Next.
Select the checkboxes for any exceptions that you want.
Click Next.
Select to turn on the rule
Click Finish.
Now try sending an email, and you would find emails first going to outbox and then delivered at a particular time.