It recently happened with me, a friend was using my laptop, and he downloaded some torrent files on it, later when I tried deleting them, all were gone, except one, and making an attempt to delete, rename, move, were in vain, I couldn't perform any, nothing worked, finally the help came from Kuntal Gupta of Extreme Tech Arena, Thanks Kuntal 🙂
I downloaded this free application named as Unlocker, which really helped and I was able to get rid of this stupid 0Kb file.
If you too are ever a victim of such file, grab this app, and feel free to get rid of it anytime. In general this isn't limited to just the 0Kb files, any file which gets associated with some other program in background, and doesn't allow you to move, delete or rename it, this application will unlock it, that means will remove the association with other programs and hence you can perform the action you want to. Unlocker, when installed, adds itself to the right-click menu.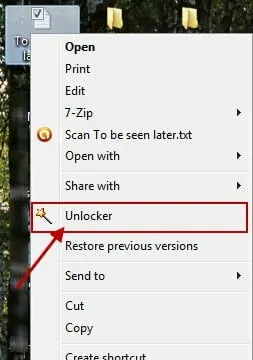 Select a file, right-click on it, select Unlocker, and you get the options popped out in front of you, as shown below.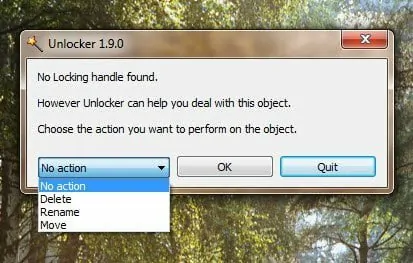 The file I chose to take this snapshot, wasn't a locked one, hence it displays, 'No Locking handle found'. You get all three options here, i.e. Delete, Rename, or Move the locked file.
This is a great must have utility for every Windows user, go ahead and grab it now. | Download Unlocker