That titles was little wiered, No? Yeah even I felt that but I guess got your attention. So lets get to the actual topic. So with everybody have a camera in their phone and posting them online, those moments are really short-lived and we never tend to re-visit them to recapture those moments and enjoy with family. We are so connected that if we really want to visit them back we get back to our PC or stream it to our TV and do that.
Our parents used to have them printed and put them in a nice looking frame so we all can look at hem and cherish back some sweet memories. That worked till have had point and shoot camera, taking a print was bit costly but now, we have so many of them, we just don't know which one to have them and if we should have all of them. So we make our job easier….Capture, Upload and Forget.
Meet Photine–A Smart Digitial Photo Frame–which lets you stream these forgotten moments ( from which stream pictures over WIFI from Facebook, Dropbox, iPhoto, Mac OSX, Windows, Flickr, Picasa, Google Drive and Instagram.) to a photo frame which looks very similar to one you already have at home except that it can change pictures the way you want and you can personalize it so much that each of the family member would feel that you have it for them.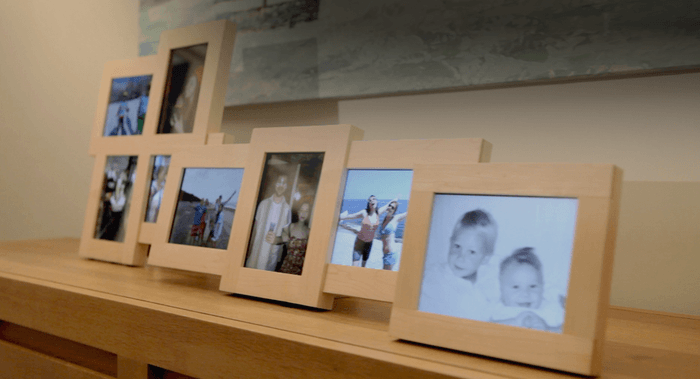 I happen to meet Charlie Jackson, who is the Managing Director & Product Design Engineer,  at SMW London and his overall idea definitely seems to be impressive and in this digital world where we all are connected one way or the other, this idea can be a great success. Also he is one of the unique guys using a mega large notebook and pen while rest of us where hooked to digital notes.
Demo Video:
Before you start watching the video, this is a Startup as of now and has a goal of £200,000 of which £14,000 will be spent on Indiegogo & payment Fees, £150,000 on the manufacture of the products and £36,000 on the final engineering development.  Below is Charlie's Pitch
Features:
Specific Albums: You can pickup certain albums to display instead of running random images from all the albums.
Works Offline: It stores upto 1000 images already displayed which means if your WIFI gives up, the digital album keeps kicking.
Dedicated : You can assign screens to a particular friend of family member to make their day special.
Multiple Online Services: Support for Facebook, Dropbox, iPhoto, Mac OSX, Windows, Flickr, Picasa, Google Drive and Instagram.
On/off timer: Photine can automatically turn itself on and off according to the time. So you can set it to never display when you're asleep and wake you up with the latest images of your family.
No duplicates.
Dedicated App to connect and manage your digital photoframe.
Easily connect with home WIFI with push of a button. This is something how Chromcast is setup.
Party Mode: You can also have a party mode where you tell the app who is coming over and it will make sure your Photine frame will display pictures where your guests have all been at the same events before.
Design:
Photine is the first digital frame which has gone multi-screen ( 1, 3 and 4) built using  Maple wood and  high quality LCD screens.  As a matter of fact this should be the first digital frame which actually talk to each other to keep duplicates off and also display panorama.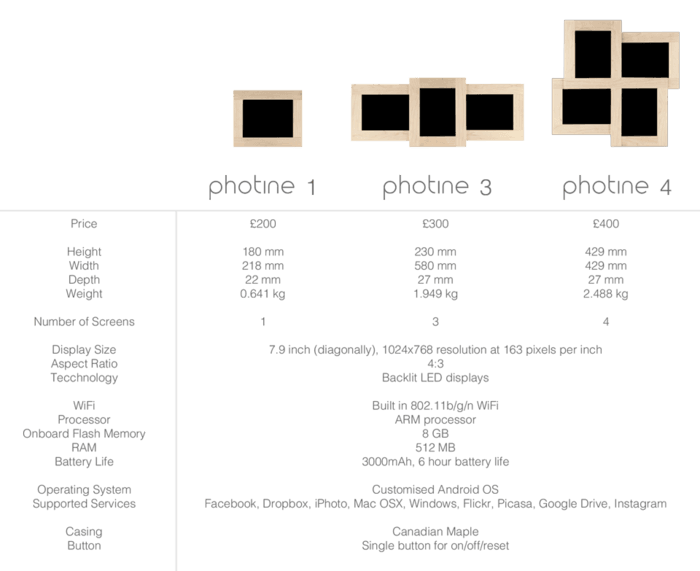 Also the Photine team has dedicated themselves for an Open Hardware Community at Nine Studios where they would give manufacturers, designers, other companies and hobbyists access to our technology and allow them to buy sub assemblies of our products.
An App:
There is also an app which lets you manage everything right from setup to changing the screens and managing the pictures. It seems to be available only for iPhone as of now.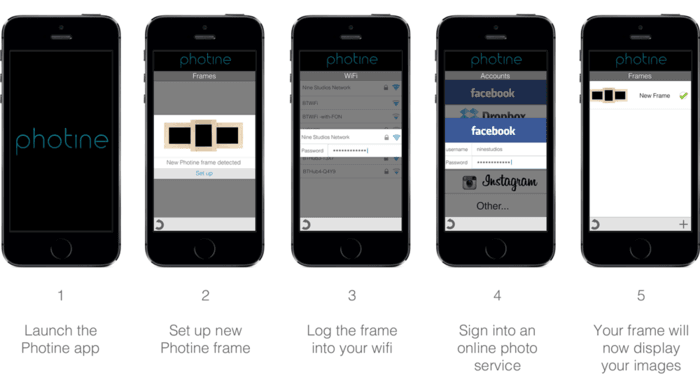 Like the ides here is how you can contribute
This startup is listed at Indegogo here starting at minimum of 150 Pounds for 1 Frame to max of 400 Pounds for 4 frame. That said, yes its bit expensive only if you really like the idea would love to have something like this in your home, you will be ordering one.
Wish him Good Luck!! If you have any question, please follow up at the project updates and comments.