Most of the Peer to Peer File sharing tools fail when it comes to sharing files between computer which are behind NAT or Network Address Translators. Computers which are connected to NAT has same IP for any one outside its boundary but inside they have different IP which NAT takes care of. Now when Peer to Peer File sharing tools encounter NAT, things get confuses because they cannot resolve.
DirecTransFile is file sharing tool which takes care of this situation and allows you to share files even if the computers are behind NAT and does not use any file name as key when you want to share files with somebody. However when both sender and receiver are behind NAT, a server is used in between.
How to use DirecTransFile ?
Once you launch the application, you have two options, First to download a File which is shared and second to start an upload session.
Uploading :
When I say uploading you do not actually upload it anywhere but instead  you create an upload share which can be accessed by anybody using a secret key which is as simple as "ABC".  This key is also called as Share Identifier.
You can either upload single file or select a folder and all files are added to the share. When a shared folder is downloaded it maintains the folder structure.
Once you are ready, you can register the share with them by clicking the Register Button. What happens here is all your files and its location are registered with them and you get a unique key for it.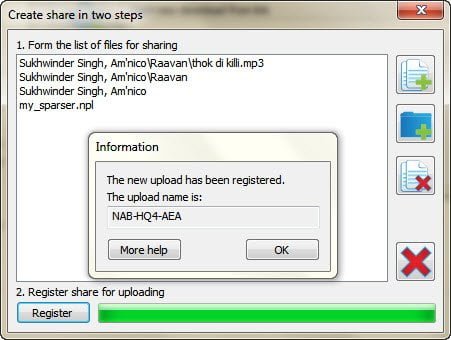 Downloading :
The key which you receive when creating a share should be sent to the user who will download them. As the key is simple it can be sent even over SMS if you are worried about email getting scanned.
The user needs to download the same client and select the first option in the wizard which says Start New Download from Link and has a text box. Once the person enters the key in the text box, he will have to choose the destination folder and download will start.
While the download starts in background the user has full control over the progress. He can Resume, Pause, Stop the downloads at his wish. A complete history of the downloads is maintained.
How to Remove Upload Share
Since this is not uploaded on to the server, any share you created is under your control. You can go to Upload, select the one you want to delete and nobody will be able to download it again.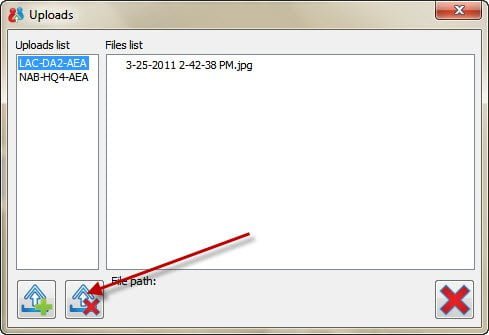 What makes this service stand out ?
You do not need to register
You do not upload any file to any web server
Supports Resume Transfer which is impossible in messenger services.
Works over NAT.
Simple and Easy to use Interface.