If you have tones of tiles on your start screen or when you make a search with lots of result, you must have noticed that scrolling of tiles and the background image doesn't go hand in hand. The background scroll is much slower compared to background.
While this animation effect is in place to make you feel of a very wide wallpaper in the background, if you wish to change that to go bit faster or completely stop it, Start Screen Animation Tweaker is what you are looking for.
This tool can help you fix this by changing registry setting named as Parallax, using its user interface. If you set the value of Parallax to Zero, you will see the background scrolling at the same speed as tiles or search results do.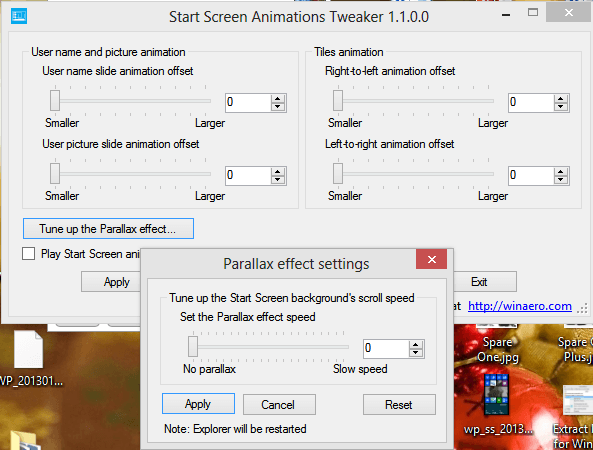 Every time you change the settings for Parallax, the explorer will be restarted. So I will ask you to save your work before trying it though I haven't lost any program because of the restart.
Sample Video :
Apart from this, the tool can be used for completely controlling the Start Screen Animations. Here is the list below :
Control how fast the user name animation happens. If you want the name to be shown instantly set it to zero.
Control how fast the user picture shows up
Tile animation for both left and right can be controlled.
It also comes with default settings which I will not recommend because it has very slow animation effect but you can always change it. Download Now