Are you wondering which browser to choose for your iPad? Though numerous browsers for iPad are available in the market, not all can offer a pleasurable experience. You don't want to feel frustrated or opt for a complex learning curve to use a browser. That is why choosing the best iPad browser is essential.
To make this decision, you need to know several parameters. Firstly, you must consider the safety that the browser delivers. Apart from that, you must also check out the ease with which the browser enables users to search the web. Besides, the browser must offer additional features that make it different from others.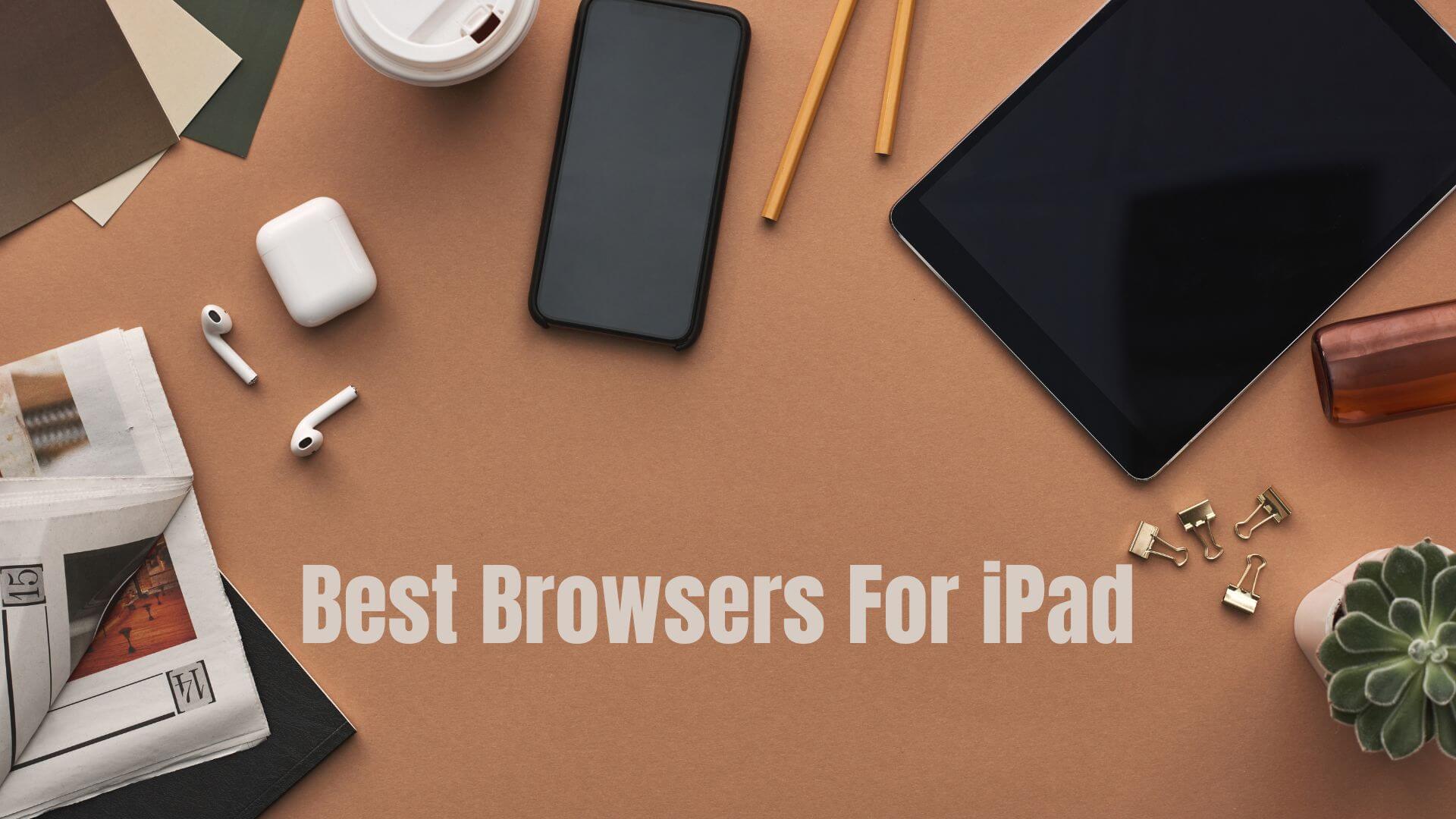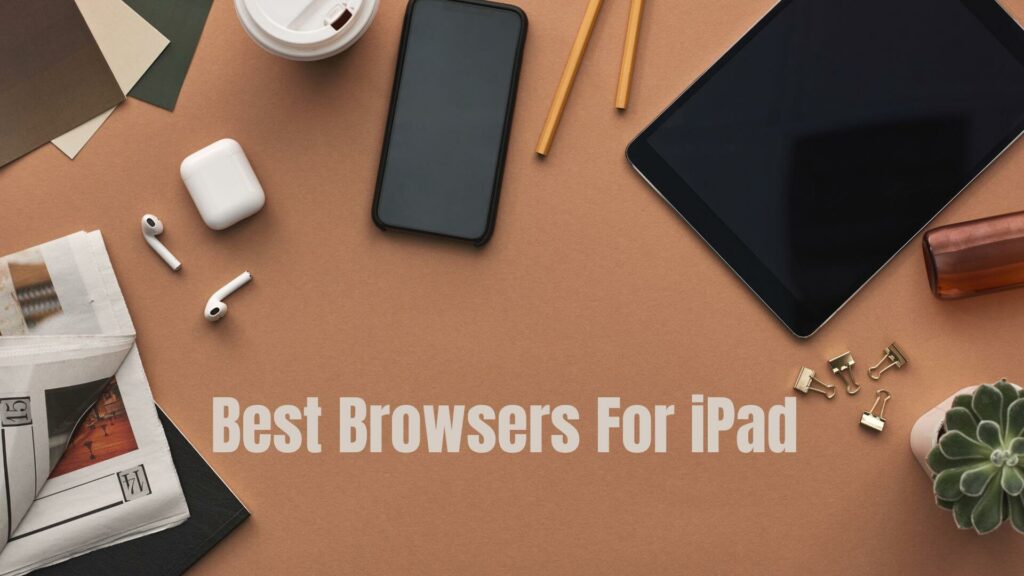 5 Best Browsers For iPad You Should Try
Choosing the best iPad browser might be tricky. That is mainly because there are too many options. To help you make the right choice, we have made a list of the top-rated browsers for iPad, along with detailed information on its features.
1. DuckDuckGo Privacy Browser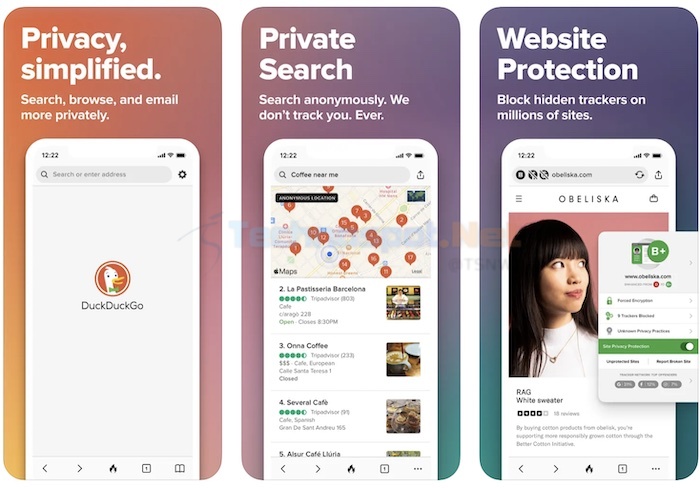 One of the best iPad browsers you can choose is the DuckDuckGo Privacy Browser. This excellent app offers top-notch privacy from different trackers with many features. The in-built DuckDuckGo Private Search aids users in using the web without worrying about being tracked. Besides, the Tracker Radar feature auto-blocks third-party trackers from collecting your data.
It also prevents cookie collection from most sites. Another impressive feature is Smarter Encryption, where the browser forces the site to use the HTTPS connection for data protection. The DuckDuckGo Privacy Browser prevents email trackers from collecting your address and other information with the beta version (available for free).
Apart from enhanced security, the app also offers excellent browsing features. You can use bookmarks and tabs to continue easy and hassle-free browsing. You can also use the Fire Button quickly to get rid of browsing data and tabs. Another unique feature is the in-built GPC or Global Privacy Control within the browser.
2. iCab Mobile (Web Browser)
If you are looking for an excellent iPad browser, you can opt for the iCab Mobile web browser. Though multiple web browsers are available for iOS devices, this app differs from the rest due to its useful features. It comes with numerous search engines, giving your multiple options to choose from. Apart from that, you can also upload files on the web pages without much hassle.
One of the most impressive features is its smooth integration with the Apple Watch. Using the browser on the Watch app, you can use zoom, open bookmarks, navigate, etc. Besides, you can use the browser to save forms on the web and restore them later. iCab Mobile also supports tabs and bookmarks, which you can use for better organization.
Another feature you can check out is the customizable filter. With this feature, users can block ads, resources, cookies, etc. You can also take advantage of the in-built Download Manager to download different file types from the net.
3. Microsoft Edge: Web Browser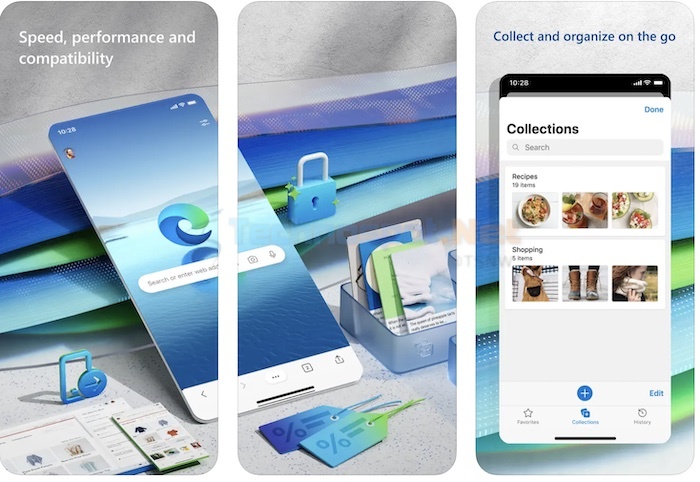 Do you want to use a reliable iPad browser? In that case, you can check out Microsoft Edge. It is one of the safest and fastest browsers available. The seamless experience and a wide variety of features contribute to its popularity.
The Microsoft Edge web browser securely lets users access saved information such as passwords, favorites, etc. You can also use the redesigned navigation feature to browse the web and look for your favorites. Integration with Microsoft Bing offers voice and visual search. Apart from that, you can also use the Immersive reader to enjoy an excellent reading experience.
The Microsoft Edge web browser gives you more security while browsing online. For instance, private tabs prevent storing browsing data, the in-built default tracking prevention blocks data loss, etc. Besides, you can also use the Ad Blocker to block ads and gain seamless browsing. With Microsoft Bing, you can earn rewards and locate excellent online shopping deals.
4. Opera Browser: Fast & Private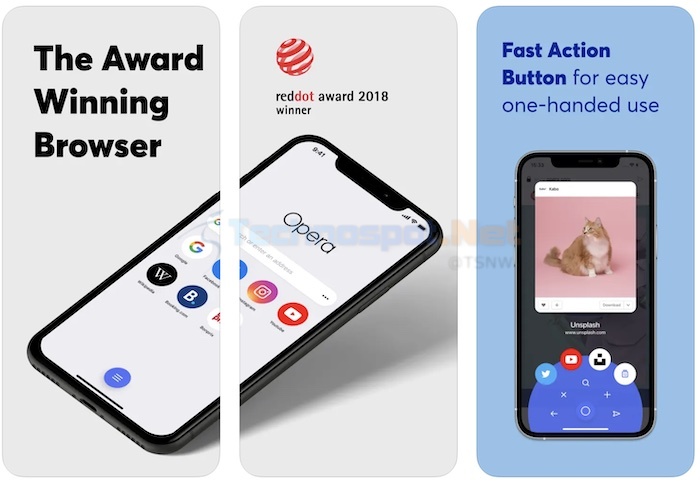 Did you know Opera Browser was honored with the Red Dot Award for outstanding user interface? It is an excellent web browser for iPads and is a crowd favorite with millions of users across the globe. Besides, it is the fastest iOS mobile browser, and with the Fast Action Button, you can use Instant Search.
Apart from that, Opera Browser integrates the latest technologies to ensure user safety online. The built-in Apple ITP or Intelligent Tracking Prevention prevents third-party cookies from gaining access. You can also use the Private Browsing Mode to remain anonymous while browsing the web. Another impressive feature is the Cryptojacking Protection which decreases battery low or overheating risks due to web browsing.
The web browser has an in-built ad blocker for hassle-free and quick browsing. You can also experience an excellent file-sharing experience with Opera Browser across mobiles and desktops. You only need to scan the QR code to share files.
5. Brave Private Browser Adblock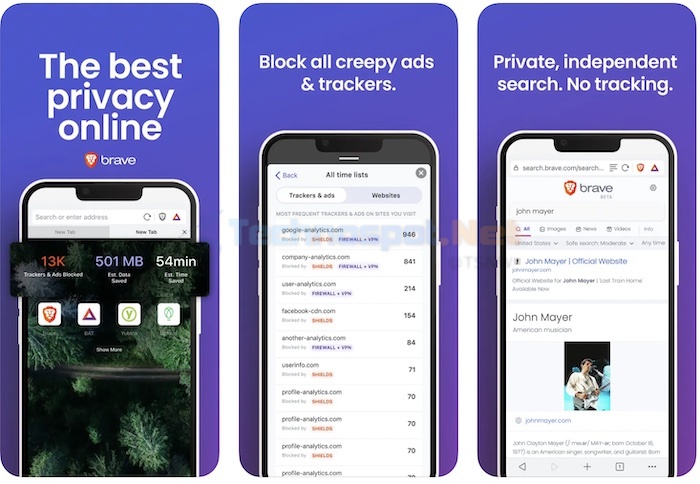 The last iPad browser on the list is the Brave Private Browser Adblock. It is a reliable, safe, fast web browser with over 50 million users. The integration of new features has made the browser even more popular. Use the Brave Search private search engine for seamless web browsing.
With improved security within the browser, you can gain protection from malware-infected ads. Besides that, Brave decreases page loading time and enhances the browser's performance. It aids in reducing data consumption and battery usage. The Brave Private Browser Adblock also offers excellent privacy protection.
Numerous security features aid users in having a safe and hassle-free web browsing experience. These include script blocking, HTTPS Everywhere, blocking cookies, etc. However, it is vital to note that the subscription prices may vary based on your location. It is charged through the iTunes account via the credit card yearly ($99.99) or monthly ($9.99) basis.
Conclusion
Now that you know the list of iPad browsers, you can make a well-informed decision. If you are looking for a fast lighting browser, you can choose Opera. However, opting for DuckDuckGo Privacy Browser is a good idea if you want more privacy and security.