Maxto is a windows software which allows you to divide screen into re sizable regions and let open windows dock into that. Its not like virtual desktop software but it creates regions within the same screen. This is useful when you want to keep 2-3 windows open and aligned in the same screen like the one you see below.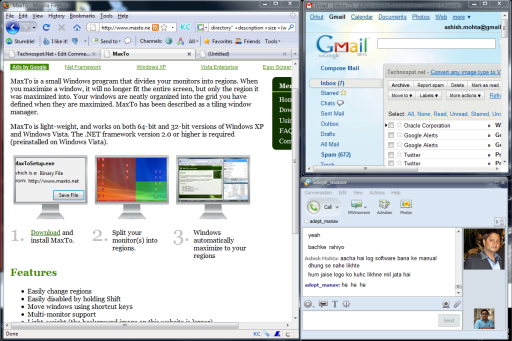 MaxTO gets installed on your computer and stays in the system tray. The first time you launch the program it asks you to create screen split settings. These split windows are configurable and easy to create.  All you will need is to choose to spli vertical or horizontal and then split the screen again in the same window. Here is a small animation to explain how you do it.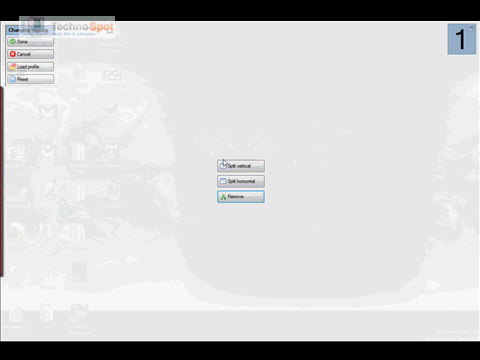 Using the window is bit tricky. Since the region isnt visible all you will have to remember it. Once you know where the regions are all you will need is
To drag the window in the region
Minimize it
Then restore the window  from the taskbar and it fits to the region. Even if you try to maximize the window its fixed to that resion.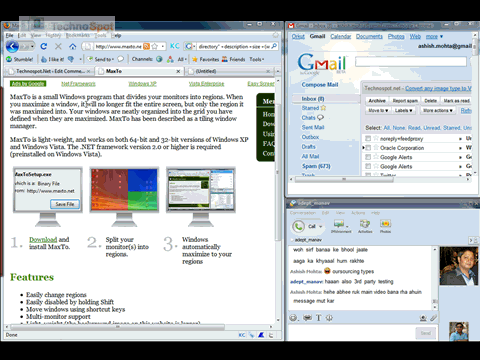 You can also switch between the regions by shortcut. It also allows you to create profiles so in different scenarios you can use different regions. Overall an excellent application if you don't want to use virtual desktop application