Generally we download files, and save them with the same name as they have it on the server where they are hosted. In such case biggest issue is faced when you know that you have the file, as you remember downloading it lately, but you don't know the name of the document file. Here is a search utility, which can scan your documents for the content based on the keyword you wanted to search.
DocFetcher is a small application, which can help you a lot in such case, because it has the ability to scan through the documents. When you enter a keyword to search, it scans for the keyword for the documents it has already indexed on your computer.
Once you install and run this application, you can allow it to create index, for this right click on the lower left panel, and there click on 'Create Index', as shown below.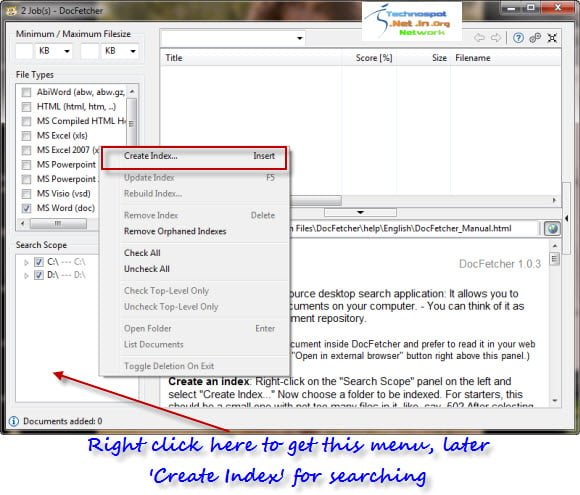 During the indexing you also get an opportunity to add the types of file baed upon the file extension, you can simply key in the extensions separated with space, or you can choose to select form a list of extensions.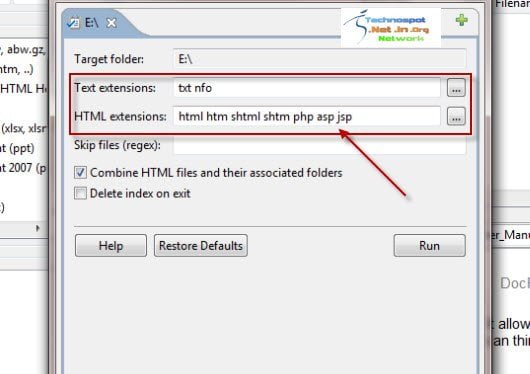 Once the indexing for all the locations where you keep your Documents is done, you are all set to do a search.
Here are the features for DocFetcher (as seen on the DocFetcher Page) –
Indexes are updated automatically when files in the corresponding folders are modified, even when DocFetcher isn't running.
Runs on both Windows and Linux. You can put all your documents in it and then freely move the entire folder around (i.e., DocFetcher + indexes + documents).
Detection of HTML pairs, e.g. "foo.htm" and a folder named "foo_files". Each pair will be treated as a single document. This feature may seem rather useless on first sight, but it turned out that this dramatically increases the quality of the search results when you're searching for HTML files, since all the "clutter" inside the HTML folders disappears from the results.
Search in source code files
Regular expression based exclusion of files from indexing.
Various file operations on the document repository can be performed through DocFetcher's interface (e.g. creating folders, inserting new files).
Preview panel with search-term highlighting and a simple built-in web browser.
Search results can be sorted and filtered by different criteria (filetype, filesize, path, etc.).
It supports multiple file formats, such as .doc, .docx, .pdf, .xls, .xlsx, .ppt, .pptx, .chm, .svg etc. So, go ahead and try DocFetcher, I tried it, and have used this search utility for a couple of days now, it works great.
If you are looking for some other app which can help you to search based upon the contents of documents, you can try, Pgrep word search utility, and in case you are fed up of the native windows search, you can try a simple and easy to use search utility, Everything.