If you love being on Facebook and posting new status updates pretty often is a part of your habit, then probably you would have regretted couple of updates which you posted on as your status updates, this probably has happened with all of us at some point of time. Deleting or rewriting the post is a way out here in such scenario.
Engadget just posted about a new Facebook app, named as WWLNS (What would Leonard Nimoy Say?), brought to you by TELUS which claims that it can improve Facebook Status Update and we thought of testing it out.
How does this app Work ?
First of all to make this app work, you need to like it and give permissions to access your profile, post updates, access friend list and etc. It's too much of permissions but some of them can be controlled through settings after you have given permissions.
Now coming back to working part, this app asks you to send status update to it first. This gets analyzed and a feedback is given to you with help of videos where Nimoy says something, sometimes he draws, sometimes he claps and so on. It also can analyze your friend's status update and get comment from him.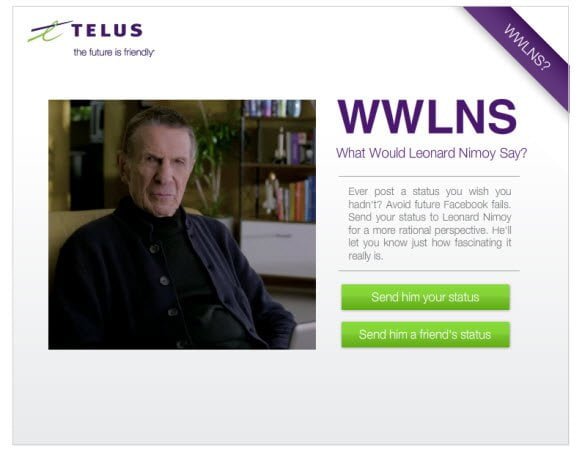 Status sent to Nimoy and what we got back  ?
Me : I am getting married next week. Nimoy : Congratulations.
Me : There is so much of corruption in the world. Nimoy : The real question is why
Me : I am celebrating my dad's birthday tomorrow : Nimoy : That is highly illogical
Me : Who is Nimoy ? Nimoy : I suppose the real question is why
Me : Got approved for YouTube Partners Program Nimoy : Writes 8.5 on Whiteboard
Me : Any body knows about recent Japan Earthquake Status  Nimoy : Claps
Me : I am really tired today Nimoy : How does that make you feel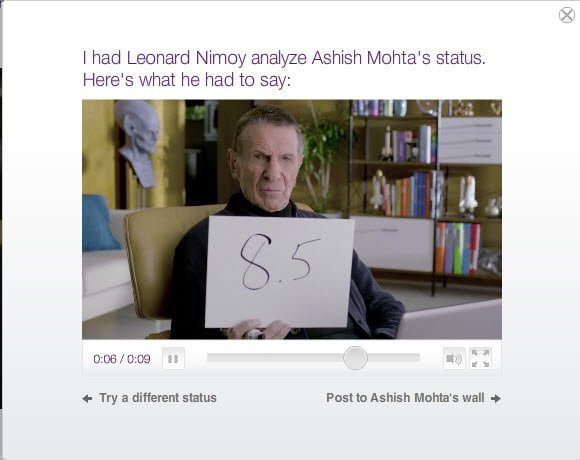 My Conclusion :
This app seems more of time waster than getting the status update corrected, at least for the responses I have received.  What do you think ?