We have posted about Kakomesssenger, which lets you send singing messages. Now, here is another service of the same kind, Blind Speak.
Using Blind Speak, you can send speaking messages to anyone, anywhere. The message you send to someone, Blind Speak sends a link in the recipient's inbox along with the message (MP3 file).
You simply need to insert the text and to send, choose the voice Male or Female, hit 'Speak!' to deliver the message.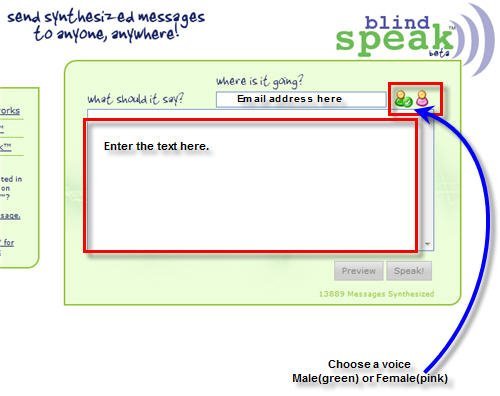 As I said the message is delivered to the inbox, with a link to listen the message at Blind Speak, along with the MP3 file.
This is really a nice method of sending voice messages, however there are few things which people may not relish, like, at the max a sender can send up to 5 messages in one day, every message starts by telling the listener that the message has been brought to you by Blind Speak.
Blind Speak definitely is a nice way to send speaking messages, so, this time when your friend, family member etc. has a birthday, anniversary or any other occasion for which you want to send a message, send speaking messages. Sounds good, isn't it? Share with us how do you feel about this service.