Dot Net Zip is an easy to use and excellent and free  replacement of many paid zip tools if you are looking for some advanced features like Split Archive and Encryption Support. Built as part of project this application can be use both by developers to develop their own application and end users on a regular basis.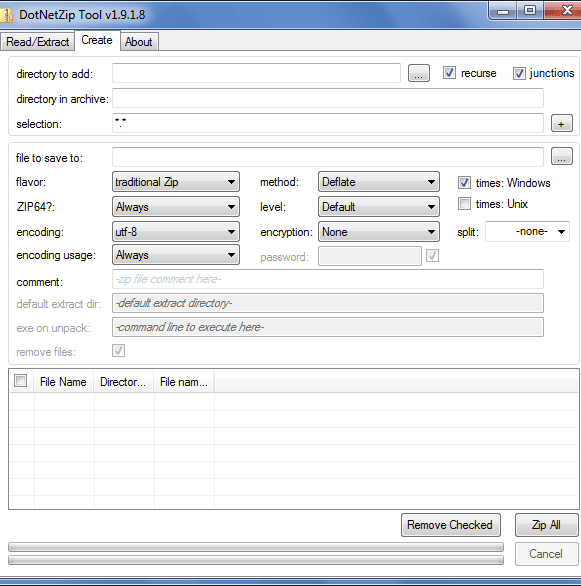 Features :
Read & Extract

Read & Extract Zip files which can be based on various encoding like UTF8, GB2312 etc.
When Reading or Extracting you can set filter to skip some of the files in the archive.

Creating Archives :
Supports recursive directories or sub directories.
It also supports Symlinks and Directory Junctions.
Create traditional zip, self extractor (command line or gui based)
Encrypting  using 128 & 256 bit algorithm.


Password protection

Allows to split archive into different sizes.


Add a comment to zipped files.
Like I said before, Dot Net zip is @codeplex meaning the library it uses can be used by even in projects developing on dot net framework.  This UI is like a demo of how powerful the library is. 
How to download and use it
You can download a copy the GUI from dotnetzip@codeplexe.  The download file contains loads of files which is basically for developers. So they will not have any issues finding the exe but end users might get confused. So below is the screenshot of the path where you can find the program. Just keep a copy of it and remove everything else.