When you are a blogger, social media creator, or small business, you would need blank template images for varied reasons. Most of the time, it helps you scale your business digitally. Further, you can also use them in your educational or occasional projects. It's not always affordable to pay for them. Hence, you would search for the best sites to download blank template stock photos for free. Here's where we have covered you with them!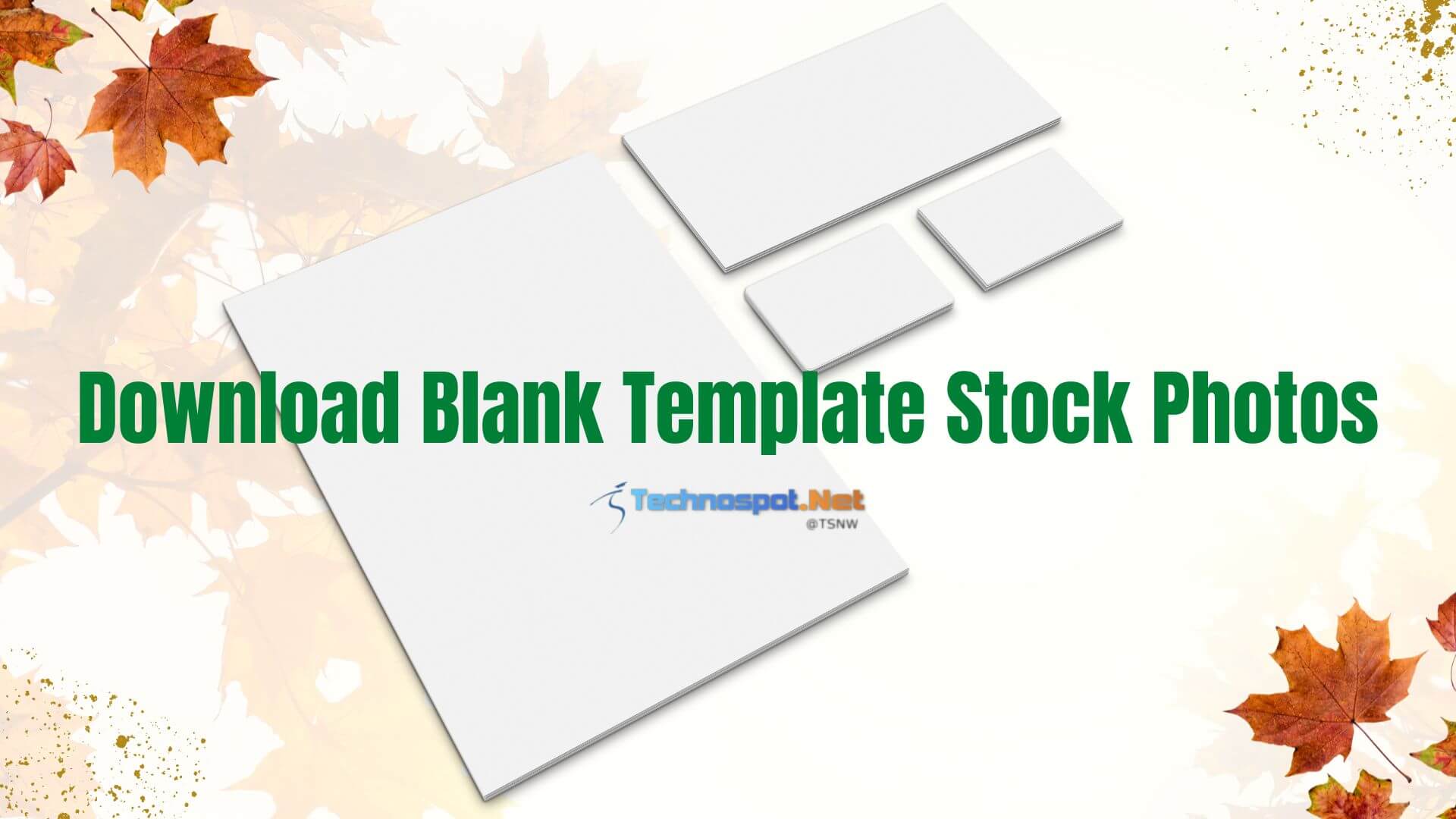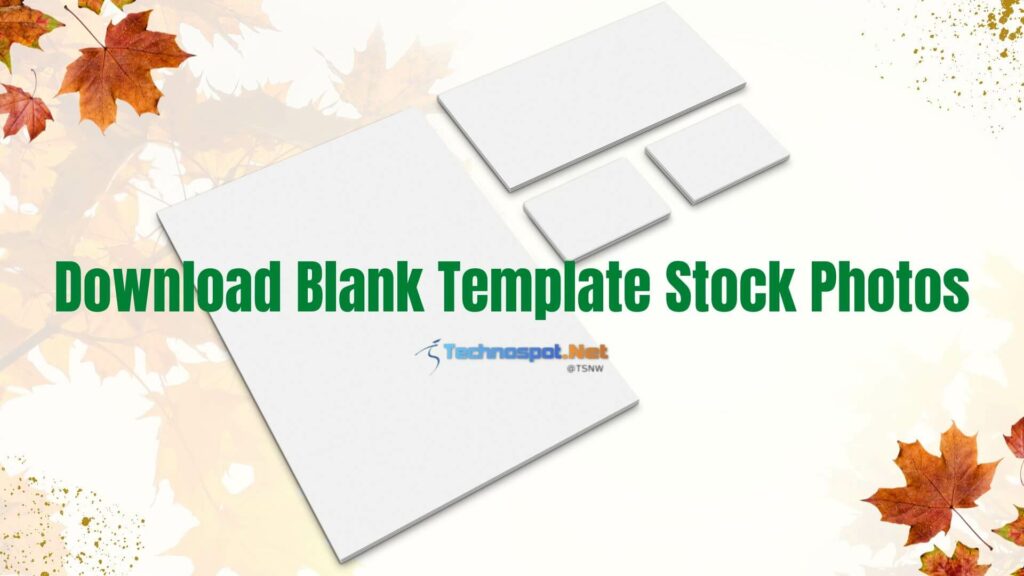 Best Sites To Download Blank Template Stock Photos for Free
Several sites feature blank template stock photos. However, only a handful are legitimately free of cost and have high-quality images.
Below mentioned is a list of the same:
Pexels
Freepik
Canva
Rawpixel
Pixabay
While you are thinking about what makes them exceptional, we have described them all!
1] Pexels Blank Template
How about a resource wherein you can sort the images as per orientations, sizes, and colors?
If yes, then Pexels is something that lets you do so!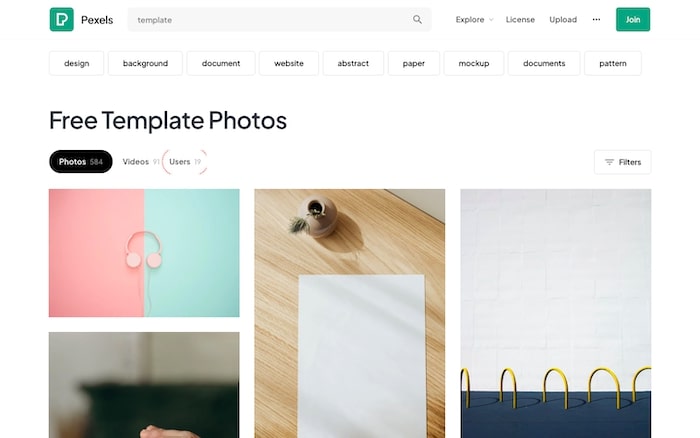 It has a collection of around 593 blank template Stock photos. You can sort them all according to the available filters. You can search accordingly if you have any particular orientation, like horizontal, vertical, or square. Besides, you can choose large, medium, and small sizes per your preferences. Moreover, you can also enter custom dimensions and extract templates accordingly.
What sets it apart from others is that you can fetch blank template Stock photos only of a specific color. You can choose one color from its library or use its hexadecimal color code. It's easy to download them without any mandatory attributions. Most images contain mockups that you can use for your social media posts or web stories.
2] Freepik Blank Template
How about some aesthetic and abstract blank templates for featuring some products?
If that's what you want, then Freepik has them all!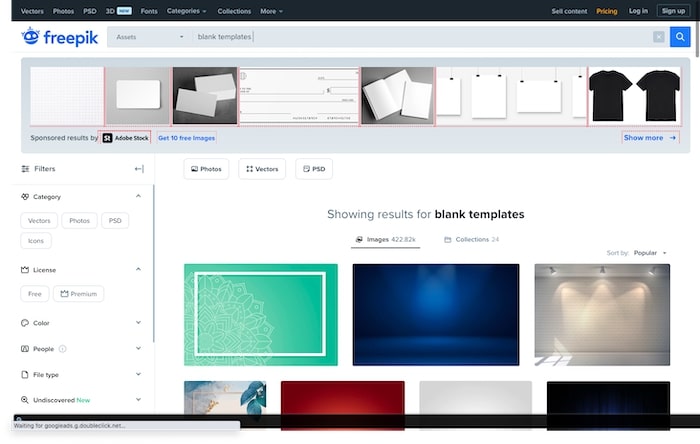 You can also select a category of blank template Stock photos by navigating to the Collections section. Whether it's Wall Art Mockups, Abstract frames or covers, or similar, you will find it all. You can also filter your search with ethnicity, style, publishing time, or category. You can select the file type and instantly share it with your social media profiles.
Its minimalist interface lets you quickly find the type of image you want. However, it does have one drawback. Though free yet, you would have to attribute the author for credits.
3] Canva Blank Template
How about a blank template stock photos library with the largest yet the best quality collection?
If yes, then we cannot forget to mention Canva.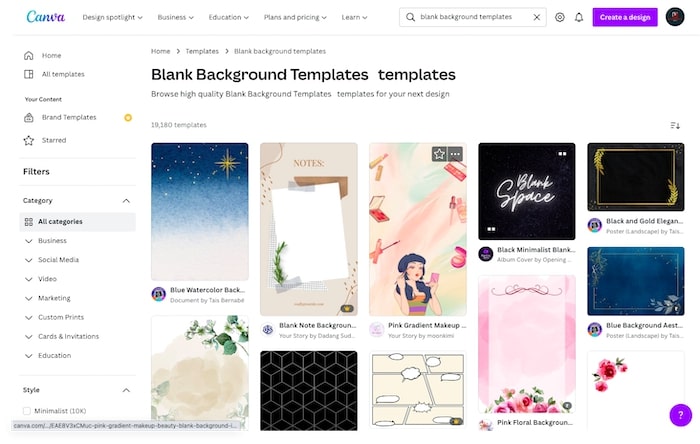 There's the rarest possibility that you would not have heard about it. It has a collection of around 18k templates of the same. Whether 3D, minimalist, professional, colorful, vintage, or any other, it has templates of all styles. Further, its plenty of filters enable you to highly customize images per your prerequisites. Whether you want to use a custom size or for a particular platform, you can use the Style filter to search for them. Sale, business, illustrious and other themes are available for the category.
Moreover, you can also choose the colors in which you want these blank templates. You can download these templates in your preferred format, like PNG, JPG, SVG, and PDF. A further ado is the customize template feature. Using it, you can change its colors and add text, effects, or filters per your need.
4] Rawpixel Blank Template
Do you want blank template stock photos for sales purposes or for writing quotes?
If yes, then Rawpixel is a must-check on your list!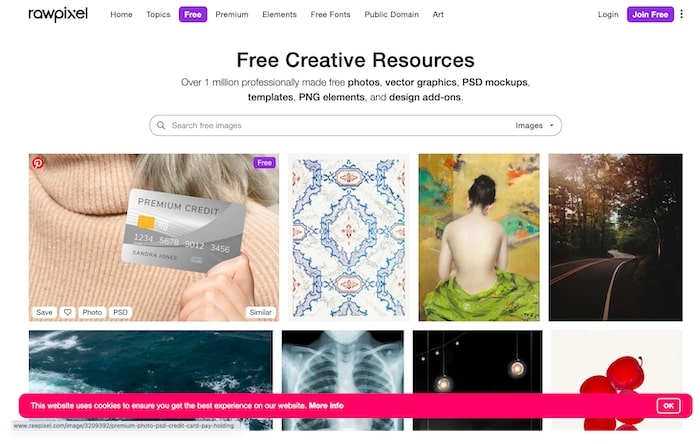 It has a limited but attractive collection of templates for commercial purposes. Using the New feature, you can filter the image type to find the trendiest images. You can also find blank templates with transparent backgrounds for editable purposes. You must navigate to its Stickers tab, and its database will fetch the results.
Whether it's background, textures, aesthetics, minimalism,  nature, mockups, patterns, or designs, Rawpixel has it all. Expanding the topics tab, you can sort your search from any of these categories.
All of them are mainly free to use without any attributions. So, what are you waiting for?
5] Pixabay
How about a free stock photo library with the most exceptional blank templates?
If yes, then Pixabay is something you cannot miss out on!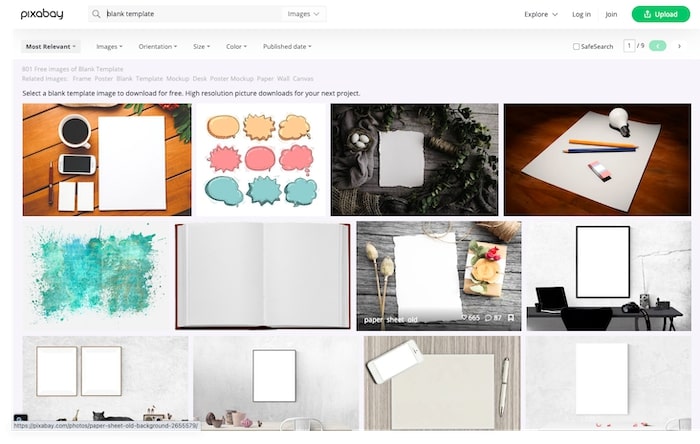 It has an extensive yet incredible collection of blank templates. Besides, you can sort the images as per Most Relevant, Editors Choice, Trending, or Latest. Thus, you can extract high-demanding images. It does not put an obligation to attribute the contributor. Upon opening an image preview, it displays its resolution and types information.
Thus, you can decide whether it's fit for your purpose or not. Moreover, with keywords related to the template, you can use them in your posts.
Conclusion
You would be finding out the best sites to download blank template stock photos for free and would have gotten your answer! Canva is the best for various images and styles and customizing the results according to your prerequisites. Pexels and Rawpixel again have the most valuable yet limited filters. Pixabay has a unique collection, while Freepik has the best aesthetics and Abstract art.