iBooks is an awesome free app for iPad, iPhone and iPod Touch, which allows you to download the books to your library, and later you can browse your library in  a beautiful virtual bookshelf, you can tap to select a book and later read it in flip style. Flip through action can be performed with a swipe or a tap. iBooks comes with an included iBookstore, which is a like a store for several types of bestselling books, classics etc.
Sounds amazing, isn't it? The feature list for iBook is huge, have a look at the feature list as given on the official app page –
Enjoy a complimentary copy of the beautifully illustrated classic, Winnie-the-Pooh by A. A. Milne.
Download many of your favorite books from the included iBookstore.
Read a free sample of any book on the iBookstore before making it a part of your collection.
Reorder your books on your bookshelf or browse them in a list sorted by title, author, or category.
Easily adjust your screen brightness to find the perfect lighting for any environment.
Change the font size and pick from six included type faces to make your books more comfortable to read.
Find a word, character, or phrase anywhere in your book with the built-in search feature.
Keep your bookmarks, notes, and your current page wirelessly in sync between iPhone, iPad, and iPod touch with the new automatic bookmark syncing feature.
Quickly find a specific page using the page navigator at the bottom of every page.
Read your books on white or sepia colored pages.
Choose left or fully justified text layout from Settings.
Highlight your favorite passages and add notes with the built-in bookmarking features.
Add books in the industry-standard ePub electronic book format to iTunes and sync them to iPhone, iPad, or iPod touch.
Add PDF documents to iBooks from Mail, or add them to iTunes and sync them to iPhone, iPad, or iPod touch.
Use iBooks with the amazing accessibility features in iPhone, iPad, and iPod touch – such as speaking the words on a given page.
Here are the snapshots of this app –
iPad –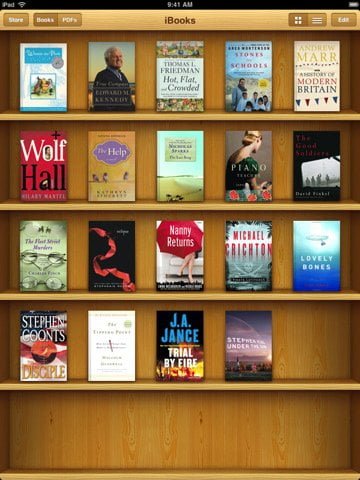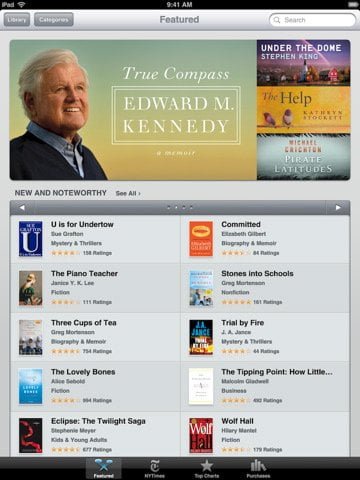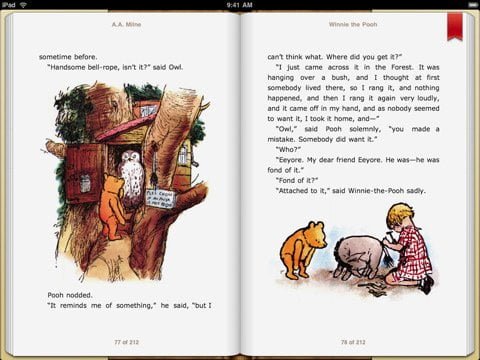 iPhone –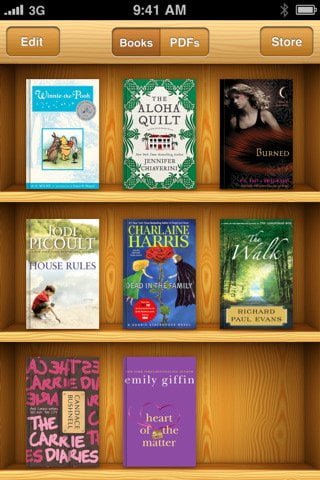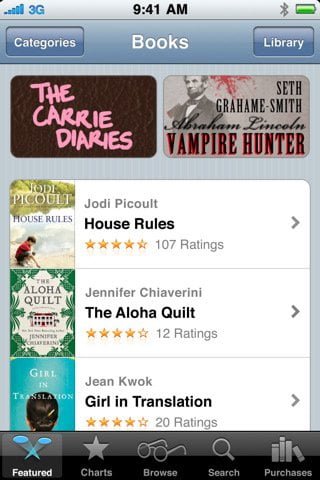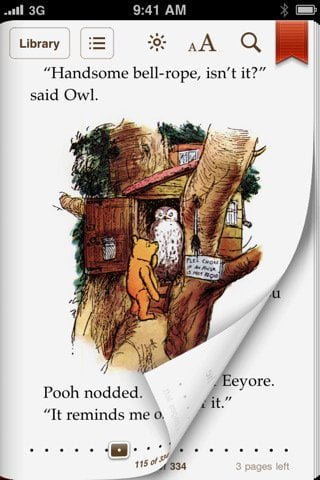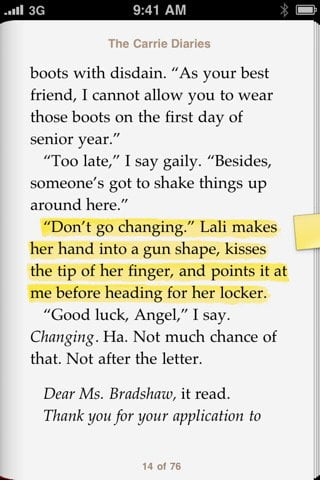 iBooks works fine with iPhone 3G, iPhone 3GS, iPhone 4, iPad, iPod touch (2nd generation), or iPod touch (3rd generation).
So, if you are one of those crazy booklovers, this is an app for you, go ahead and grab it on your device, and enjoy. However if you are looking for a PDF reader, iRead PDF is a great option, even Bookman too seems to be a great PDF reader app, it also supports the comics format, which makes it a lovable Comic reader app too.