If you are still thinking on buying Office 2010, here is another chance for you. MS Press is giving you access to download a copy of book titled First Look Office 2010 absolutely free. The size of the book is 10MB so make sure you hit it as soon as you read this.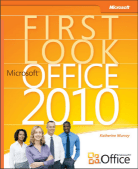 These are the following chapters available in Office 2010:
Welcome to Office 2010
Express Yourself Effectively and Efficiently
Collaborate in the Office and Around the World
Create and Share Compelling Documents with Word 2010
Create Smart Data Insights with Excel 2010
Manage Rich Communications with Outlook 2010
Produce Dynamic Presentations with PowerPoint 2010
Organize, Store, and Share Ideas with One Note 2010
Collaborate Effectively with Share Point Work space 2010
Create Effective Marketing Materials with Publisher 2010
Make Sense of Your Data with Access 2010
Putting It All Together
Security in Office 2010
Training Made Easy
Whats the use of the book if you dont have the software ? Worry not, Office 2010 beta is available for download and will be valid till October 2010, You can download a copy from here.
You can  peak into the details of tutorial which we wrote on office 2010 giving you hands on review which would compel you buy office 2010 if you are big time Office user, including set of reasons on Microsoft Office 2010 : Why you should buy ?.
Go grab your pdf from here