Tonzr is free mp3 ringtones and realtones finder which allows you to search and then send the ringtone / realtone directly to your phone free of cost. You can search according to artist or song name.
Search result for the song or artist name returns you a list of free ringtones list which you can listen right there. Like I searched for Flo Rida ringtone and it gave me a list of 131 versions of that song. Push the play button for listeing to the ringtone.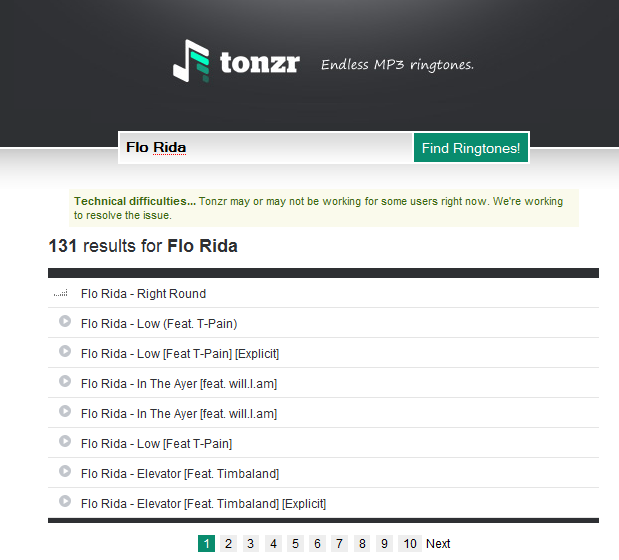 Once you are sure of the ringtone i.e. the one you need, click on the selected rigntone and you would see another menu which allows you to send the ringtone to your mobile phone. There are 4 ways to send the ringtone :
SMS GCD Link.
SMS Direct MP3 Link
MMS
and PC download in case your phone doesnt have MMS or internet connection.
I would suggest you to check out the FAQ page to find more details on carrier support and specially if you are a verizon customer as they need to use MMS feature for downloading. As of now there are 9,021,350 mp3 ringtones available for download and Here is a list of the top 10 ringtones :
Flo Rida – Right Round
Lady GaGa – Poker Face
Lady GaGa – Just Dance
The All-American Rejects – Gives You Hell
Kelly Clarkson – My Life Would Suck Without You
Taylor Swift – Love Story
Katy Perry – Hot N Cold
Kanye West – Heartless
Coldplay – Viva La Vida
Soulja Boy Tell`em – Kiss Me Thru The Phone
I find this site perfect for all your ringtone needs and all free of cost.  Visit Tonzr to find your favorite ringtone listed here.