PDF is the major used document format due to its portability. But sometimes PDF documents especially e-books are too big in size to download. So if you have created an e-book( which is a bit heavy to download ) and you want people to download it without any hassles what do you do?
One of the options is you can always zip but sometimes it's not effective, but with a PDF compressor (freeware)  you can reduce the size dramatically by 30 to 60%. This not only compresses it but also de-compresses pdf document.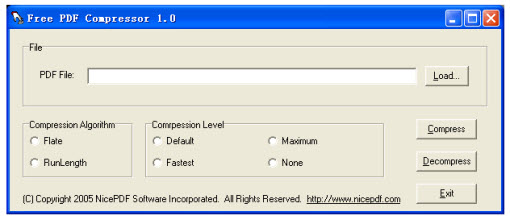 Free PDF Compressor: Reduce PDF File Size
PDF Compressor removes duplicate PDF objects,
Optionally takes advantage of new compression features of the latest PDF specifications that for many classes of documents compresses 30 – 60% better.
Users can choose the types of compression algorithm (Flate or RunLength compression)
User can choose the compression level
Decompressor expands any PDF file to its original size for better conversion from PDF to other formats.
If you want tools with more options, check out some of the best software to compress PDF files to reduce the size right away.
While the software works, some users have shared that it takes too many steps, and the compression technique might be outdated. But it doesn't cost to give it a try. Download from here