Windows Phone 7 is the next version of Windows Mobile which comes with all social integration, live tile concept. This OS has not only changed the way Mobile OS is though but comes with lot of features and its own set of drawbacks.
Users who have Windows Mobile and want to have Windows Phone like theme on their mobile, follow up with the list below. The second theme in the list is your best option as it works with all Windows Mobile phones.
By Developer Jax Bot
Developer, Jaxbot , at XDA Forum has release a Windows Phone 7 Series Theme which you can download for free and use it on Windows Mobile 6.5 XX.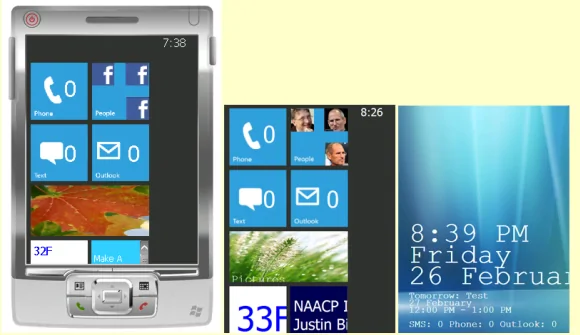 As of now you can
Set Phone, Text, Outlook, and People to a certain app
See upcoming appointments on lock screen
See information on live tiles
You have People Hub, Text Tiles, Outlook Tile, Picture Tile and Search.
Read more on this Windows Phone 7 Series Theme at the forum
2. By Arley12
He has developed this theme which has Animation for Home screen, Lock Screen with Battery Widget, System Launcher and shortcuts for each panel. Apart from there below is the list of features available with this theme:
Notifications with settings, access to WiFi, Bluetooth, Mobile Data on the Taskbar.
The home page is scrollable just like the Windows Phone Home screen.
Update Bing Page and Music Page.
Contacts are animated on the home page which is similar to animation that happens on WP7 when a contact is pinned to start menu.
ME Tile.
Picture tile with option to show thumbnails from any selected photo folder.
You also gave Games page where you can select an XBOX Live Avatar.
There are six accent colours  — Blue, Orange, Red, Green, Dark Blue and Yellow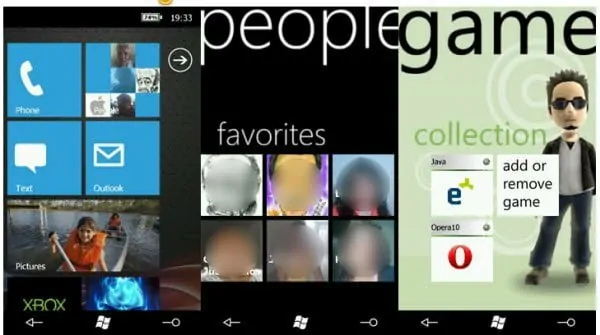 There are couple of tools require to install it. You will need to first install Throttle Launcher and copy the theme files to its Setup Folder. Once done, select Windows Phone Theme and start the launcher. This acts like a shell over everything. Below is a video demo.
http://www.youtube.com/watch?v=MVqdV5t-7Rc